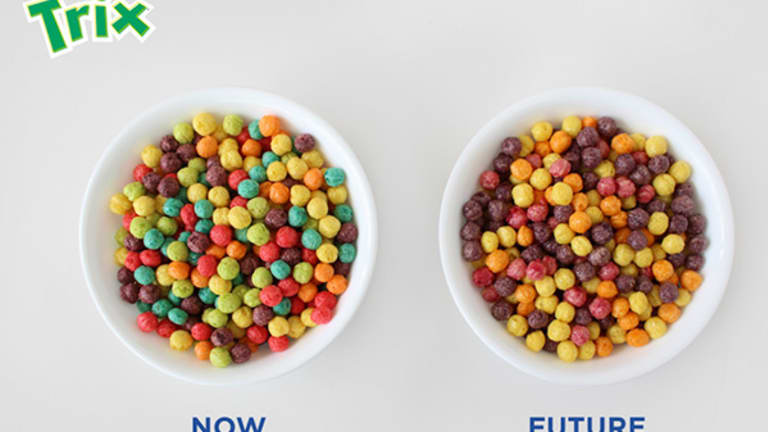 Why Your Trix Cereal Is About to Look a Whole Lot Different
Some popular packaged foods will likely have different looks and tastes in 2016 as the industry moves to use more natural ingredients.
Yes, silly rabbit, the fruit-flavored balls of Trix dancing around in your bowl of milk will look a lot different real soon.
That's because for the first time since Trix was introduced by General Mills (GIS) - Get General Mills, Inc. (GIS) Report in 1954, the brightly-colored cereal will be made without artificial colors and flavors starting this month. In their place, General Mills will be using fruit and vegetable juice for flavoring and spice extracts for color, replacing lab-made ingredients such as Red 40 and Yellow 6 that have fallen out of favor among more health-conscious consumers and parents. 
Gone entirely will be the blue and green pieces, which the company could not find good natural substitutes for.
Reese's Puffs, a peanut butter-and-chocolate flavored cereal, will also become available in January minus artificial colors and ingredients, using flavors such as natural vanilla to enhance the flavor.
"There is a lot of interest in these artificial ingredients ... as in consumers don't like them," said General Mills chairman and CEO Ken Powell in an interview. Powell added that "in the case of Trix, we have removed artificial colors and replaced them with naturally-derived colors, so you will see a different look -- but we think that because Trix is naturally-colored, and it has the same great taste, it will be a benefit for us."
By January, General Mills expects 75% of its cereals to be free of artificial flavors and colors, with the total reaching 90% by the end of 2016.
Execs at the company are banking on more natural-looking and tasting cereals to revive mixed sales results in recent months. General Mills' bread-and-butter cereal business saw sales in the U.S. fall 5% year-over-year for the second quarter, which ended Nov. 29. The performance marked a sharp reversal from the 4% gain in the previous quarter.

The new Reese's Puffs, pictured on the right, will be slightly less dark without the use of artificial colors.
General Mills cereal sales are still up 1% year to date, however, and according to the company, sales remain on track to increase during the full fiscal year, which ends in May.

From breakfast cereal to chicken noodle soup, the new year promises to bring a host of tweaked ingredient lists to well-known packaged foods to better address growing consumer demands for healthier products. As a result, people may notice slightly different looks and tastes to foods they have been consuming for years.
Campbell's Soup (CPB) - Get Campbell Soup Company Report , maker of its eponymous chicken noodle soup and Pepperidge Farm cookies, plans to remove artificial colors and flavors from nearly all of its North American products by the end of fiscal 2018. Additionally, the company will move away from using high fructose corn syrup in certain products, including the complete line of Pepperidge Farm fresh breads, as well as most new products launching this year within its Americas Simple Meals and Beverages segment.
"If there are ingredients in the products that aren't contributing to the value consumers perceive, we look to take them out -- which helps to have a cleaner label and manage the costs," said Jeff George, Campbell's Soup vice president of research and development for the Americas division in an interview.
One change that Campbell's has well underway is to remove the widely unpopular flavor enhancer monosodium glutamate, better known asMSG, from children's soups. The first batches of its kids' soups absent MSG hit U.S. supermarket shelves last August.


Kids' soups from Campbell's Soup will soon no longer contain MSG.
Explained George, "MSG delivers that kind of savory, umami flavor, so when we want to deconstruct it, we can't simply take it out -- we have to find a way to find a substitute ingredient that delivers that same experience so we don't comprise the taste." So in place of MSG, Campbell's Soup will tap other natural ingredients. "You can use mushrooms, which deliver a similar savory flavor as MSG -- in our case, most often, we use yeast, which also delivers that savory umami taste," said George.
By cleaning up ingredient profiles more aggressively in the years ahead, big packaged food companies such as General Mills, Campbell's Soup, Kellogg's (K) - Get Kellogg Company (K) Report and Hershey (HSY) - Get Hershey Company (HSY) Report are hoping they can tap into consumers' preferences for fresh items found in the produce sections at supermarkets. 
"The perimeters of supermarkets are doing well as people focus on fresh food, whereas the interior has been more challenged, and the big companies are now trying to associate themselves with fresh ingredients," said Darren Seifer, food and beverage analyst at research firm NPD Group. Seifer believes the maneuvers by the food companies are not designed for a short-term pop in sales, but instead are more reflective of them "preparing for the long-term trend of cleaner eating."
Unfortunately, some packaged foods will have to wait to be reinvented, as scientists seek to balance demands by people for greater health with the appearance and taste of key products. According to General Mills, it has not found a natural color option that works the way it would like to for its marshmallow cereals such as Lucky Charms and Count Chocula. The theme is similar at Campbell's Soup.
"We have set a standard that if we can't match those critical attributes that consumers value most, then we won't make the change -- we'll say we are not ready yet, and keep working at it, said George, conceding that, "it is difficult to produce the exact same experience, but our goal is to match."