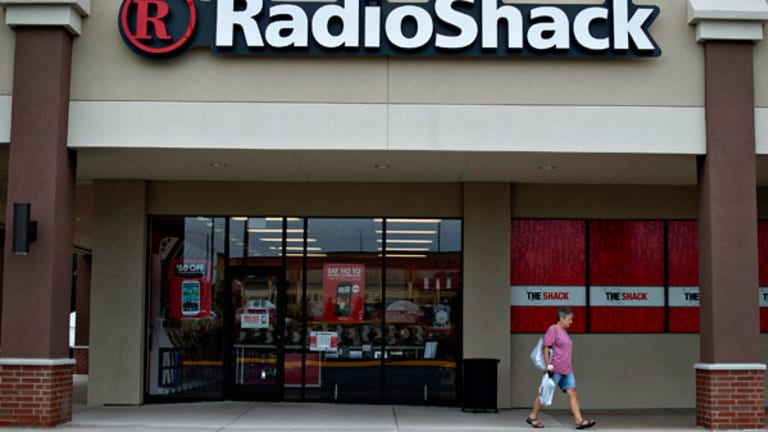 Why Your Dad Is Mourning Radio Shack
Once Radio Shack represented the cutting edge of computing.
NEW YORK (TheStreet) -- If the old guy in the office looks wistful today, or your dad seemed a little nostalgic over his breakfast eggs, the reason may be RadioShack (RSH) .
Why should anyone care about a musty, dusty, dying retailer that Tuesday reported an operating loss of $166 million for a single quarter, a $400 million loss for the full year and a 19% decline in same-store sales. One that also plans to close up to 1,100, or about one-fifth, of its stores.
Especially one that our own Herb Greenberg has a "hate affair" with.
Well, it's like this, kid.
[Read: Greenberg: My Hate Affair With RadioShack]
Back before Star Wars came out, when Fleetwood Mac was a supergroup, when I had some hair on top of my head and when hobbyists built their own computers from parts, RadioShack was an important place.
It was a local, franchised version of California's Homebrew Computer Club, a place where early geeks, even in Texas or Oklahoma, could gather to swap stories, search for parts and network with one another.
Once Apple (AAPL) - Get Report defined a retail PC as a TV, typewriter and something like a tape recorder, RadioShack's Tandy brand was in the market with the Tandy RadioShack (TRS)-80, part of the early "trinity" of PC makers alongside Apple and Commodore.
My favorite laptop of all time remains the TRS Model 100.
[Read: Back to Bad News for RadioShack]
The Model 100 weighed just three pounds. It had a keyboard with real travel in it, an internal modem, and it ran on AA batteries. In 1985 I could get all my stories written on it, and once amazed an audience in Japan by delivering copy from Tokyo, first to an editor in San Francisco, then one in London. I advertised myself as "Have Modem, Will Travel."
OK, it had only 24 kilobytes (12 pages) of memory, and the "screen" was just 40 characters across and 8 lines down, but it did what I needed done.
I distinctly remember that when PBS did a documentary on the 1984 Presidential campaign, the reporters turned away from the Mondale-Hart battle to ogle a Model 100, and the show turned into a user group.
So what happened? There are lots of theories on that.
First RadioShack couldn't scale with the PC revolution. When IBM (IBM) - Get Report launched its PC, RadioShack was stuck with incompatible CP/M machines.
[Read: Online Service Offers to Fire Your Financial Adviser]
It became an importer (the Model 100 was actually made by Kyocera in Japan), then slowly evolved into a parts store. By the early years of this century I would sometimes find myself dragging the kids into a musty RadioShack in a mall, searching for a cable or an obscure battery. I think they were scared of the place. It was next to a movie theater. They didn't know what a movie theater was, either.
As late as December 1999, RadioShack was worth almost $77 per share. The next year it traded for some time in the 60s. Then it slowly bounced downward, each peak lower than the last, each trough more worrying. But it still paid a dividend until 2012. On Wednesday morning, it's trading at about $2.30.
For some reason, RadioShack threw up a Super Bowl ad this year, filled with celebrities from the 1980s such as Hulk Hogan and Alf. The ad got good reviews, and lots of mentions on social media, but the horrible quarterly numbers were already in.
Some analysts think RadioShack's demise represents the end of retail as we know it. Amazon.Com (AMZN) - Get Report is taking over the world, they say.
Other analysts ask why RadioShack hasn't reinvented itself as a "maker space," devoted to 3-D printing, which they see as analogous to the PC revolution of RadioShack's heyday.
Certainly RadioShack's attempt to make itself a haven for mobile device lovers seems doomed. Phone companies have their own stores, cool kids go into Apple Stores, and there's nothing special about the company's mobile offerings that anyone would cross the street for.
The fact is that, like the celebrities it brought into its Super Bowl ad, RadioShack got lucky once. It fit the zeitgeist of a time, then woke up one morning to find its time was past.
So give your dad a hug today. When Yahoo (YHOO) gets bought out by Disney (DIS) - Get Report or Facebook (FB) - Get Report crashes and burns, you'll understand how he feels.
At the time of publication the author owned shares of AMZN, YHOO and AAPL.

This article represents the opinion of a contributor and not necessarily that of TheStreet or its editorial staff.