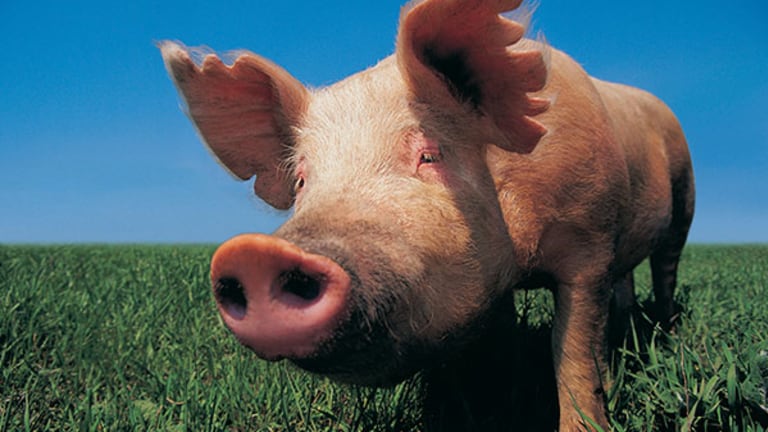 Why You Should Short Hog Futures
A pig virus has sent lean hog prices spiraling, but what will happen when the USDA releases its quarterly Hog and Pig Report today at 2 p.m.?
NEW YORK (TheStreet) -- Unless you are trading livestock, you probably haven't heard of the PED virus (Porcine Epidemic Diarrhea).
In the farming world, however, this disease has caused mass panic in the hog supply chain. As a result, the Globex Lean Hog April 2014 futures have shot up from $90 in mid-January to over $126 as I write this report.
Here is a look at the recent Lean Hog Index price chart, which mirrors the futures contracts:
Today at 2 p.m., the U.S. Department of Agriculture is set to release the quarterly Hogs and Pigs Report, a highly anticipated market-moving event.
The last time I shorted a commodity was cotton near $2.25 a pound in early 2011. That was shortly followed by an epic crash, making contrarian traders rich in the process. Unlike cotton prices which were driven by unrealized Chinese demand for the commodity, hog prices are being driven by supply concerns because of the PED virus.
Similar to the cotton run, the rally in hog prices has been characterized by daily "limit up" moves. That has trapped a lot of shorts as they aren't able to exit the trade, because the market never really opens day after day.
Shorts naturally panic when they cannot cover. Therefore, short-selling a commodity can be devastating, and this fuels the rally. Famous trader Jesse Livermore once lost 90% of his fortune on a blown cotton short.
The public has extremely bullish expectations from today's hog report. Anything less than monumental PED virus death levels will lead to disappointment. That is where I see the opportunity for a short trade.
But I am playing it with puts rather than with a futures short, and so if I am ultimately wrong, my losses will be limited to the option premium.
From the onset of the PED virus, the number of hogs affected has been unknown. Traders are guessing and so are the analysts. There hasn't been a report since the widespread outbreak.
With death from disease expectations so high, I don't believe that the odds favor them matching up with the actual USDA numbers.
We don't know enough about the virus or the reporting on the incidents of the virus to calculate with reasonable certainty the number of hog deaths. Yet traders are anticipating a worst-case scenario.
As usual, radio noise has fueled speculation. The price spike has been fast and furious and has likely overshot the reality of the current PED virus situation.
So I am betting that report won't be considered bullish for hog prices. That is, at least not bullish enough that it will drive this historic commodity even higher.
Any data below expectations will be sold off hard as traders who have rode this run up will quickly unwind their positions.
I like my odds on the short side here, and I'm playing them with a combination of April 2014 and June 2014 puts both in and out of the money.
For those without a futures trading account, you can get reasonable exposure with the iPath UBS Livestock Total Return Sub-index ETN (COW) , which mirrors the lean hog index fairly accurately.

At the time of publication, the author held short positions in lean hogs.
VisitCharlesMoscoe.com for live trading updates.
Follow @CharlesMoscoe
This article represents the opinion of a contributor and not necessarily that of TheStreet or its editorial staff.