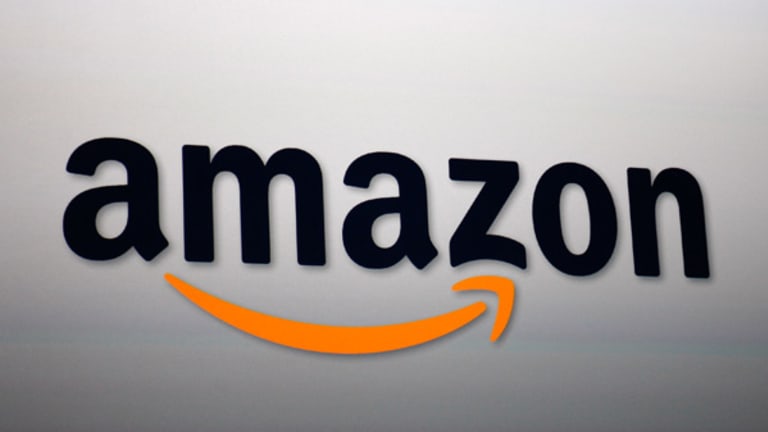 Why You Should Sell Amazon's Stock to Buy Microsoft's
There are good reasons why Amazon's stock has been falling fast.
NEW YORK (TheStreet) - If Microsoft's (MSFT) earnings multiple was as high as Amazon's (AMZN) , Microsoft would trade for over $800 and would still have a lower risk because at least it pays a dividend.
Face it, Amazon could take another decade before returning a reasonable return on assets in relation to its share price, and it will probably require a sub $100 stock price to make it happen.
You have to give Amazon CEO Jeff Bezos credit for creating a world-class online shopping experience and convincing shareholders that profits aren't important. He's redefined investor delayed gratification and replaced it with a "maybe someday before you die if you're lucky" approach. 
Still, analysts estimate Amazon will exceed Microsoft's $84 billion in revenue this year and may top $90 billion. The question is, how much longer can Amazon continue growing at the current rate. At some point, the law of large numbers creates such an obstacle that each dollar of sales increase requires exponentially greater marketing dollars, which creates pressure on profit margins. 
Shouldn't have Amazon's previous efficiency investments from 2000, 2001, etc. started to pay off and boosted earnings in 2012, 2013 and now in 2014? They should have, and the stock's precipitous fall from $400 demonstrates a growing uneasiness from shareholders that the greater fool theory may be coming to a head.
Meanwhile, Amazon is facing competition in the business of cloud computing, including from Microsoft. Rackspace (RAX) , IBM (IBM) , Google (GOOG)  and numerous other cloud competitors virtually assure that Amazon will have an incredible challenge to gain pricing power.
At the same time, the cloud business is quickly becoming commoditized. Shares in Rackspace fell under $30 last week and closed at the lowest price since 2010. In other words, cloud computing margins are under more pressure.
Last month, Google announced a 68% price drop for cloud storage and over 30% for Google Compute Engine. Google lowers the cost of using its cloud service through automatic discounts based on use, instead of contracts. Users are able to receive the best pricing without long-term obligations.
Let that sink in for a moment. Google is aggressively going after Amazon's cloud computing market share, and if there is any lingering doubt of what that means to Amazon's revenue, margins and profitability selling cloud services, take the time to review Yahoo! (YHOO) in 1999 and more recently, BlackBerryundefined.
Retail is never easy, and Sears (SHLD) , Montgomery Ward, Woolworth's, J.C. Penney (JCP) are reminders that nationwide, profitable, retail powerhouses can become unprofitable and sometimes close up shop. Unlike the above companies, Amazon has never been widely profitable relative to sales.
In order to facilitate continued growth, Amazon is focusing on customers from Walmart (WMT) and Target (TGT)  while the brick-and-mortar retailers are dedicating more resources to capture online sales. Walmart recently stated the company may increase spending for online sales promotion by 36%. The company's global web sales rose 30% in fiscal 2013, and it expects more of the same this year. 
Amazon investors are in a precarious position. Holding the carrot of future profits as a motivation to buy the stock ignores the obvious elephant in the room that there will always be competition. Becoming as big as you can for the sake of scale is a means to an end, not the end in itself.
Dollar for dollar invested, Microsoft is a world apart from Amazon and is a better long-term investment.
At the time of publication, Weinstein had no positions in securities mentioned.
This article represents the opinion of a contributor and not necessarily that of TheStreet or its editorial staff.