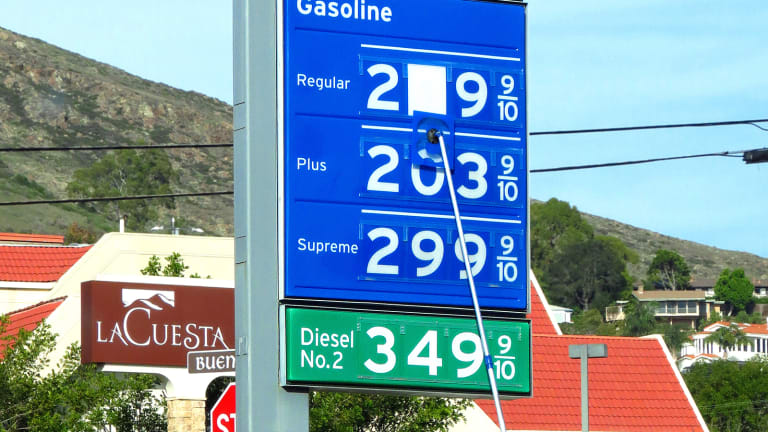 Why You Should Dump These 3 Large-Cap, High-Yield Energy Stocks Now
High yields sometimes come with a price. If you own any of these stocks, you'd better sell them before you get left holding the bag.
Often investors lose sight of the big picture, entranced by the lure of double-digit dividends. But every meteoric income-graph has an underlying story that warrants a wary eye.
We flag three such stocks that are enormous yield-generators but have lost their sheen with a dismal market performance over the last year. They belong to an entire group of horrible stocks that are poised for collapse in 2016.
ETP
data by
1. Energy Transfer Partners (ETP)
Energy Transfer Partners is a natural gas company. Its activities include intrastate transportation and storage, midstream services as well as retail marketing.
As with most oil and gas utilities, 2015 has been a difficult year for the company, with a year-to-date fall of near 40%. There are several major issues plaguing the oil major (its five-year market yield is at a woeful -24%). Even trailing returns have been lower than both the oil and gas midstream index and the S&P total returns index by big margins. 
The current dividend yield of 10.92% is a non-event in the prevailing scenario.
Jim Cramer's charitable trust just bought shares of ETP. Find out why here.
Most analysts' estimates reveal a disappointing landscape with sales and profit figures revised substantially downwards from a year ago. Revenues for the full year ending December 2015 have been scaled down to $41.13 billion (from $58.11 billion in 2014) while revenues for December 2016 should be even lower, at $39.95 billion.
Revenues have reflected a declining trend in the last five quarters with the most recent quarter being the worst with a drop of 57% to $6.6 billion from $ 11.54 billion.
The company's current price-to-earnings ratio of 70.3 is way above the industry average of 40.4 and 19.3 for the S&P 500. It also looks highly unsustainable going forward in the context of a challenging environment in the oil and gas sector and the resultant adjustments required in investments, costs and expenses for almost all major oil and gas companies. Further, Energy Transfer Partners is also battling a higher debt management risk and a weakening profit outlook. This energy stock offers a high yield, but it's among several investment dangers now lurking in this volatile market.
WPZ
data by
2. Williams Partners (WPZ)
The unit price of Williams Partners has fallen sharply over 2015, as a result of the uncertainty over the pending merger of its parent Williams Companies with Energy Transfer Equity.
Although the deal is cruising towards completion by the first half of 2016, (as per CEO Alan Armstrong) the merger is still under scrutiny and is being scanned for regulatory issues.
Weak oil prices are also a major concern for Williams Partners. However, dramatically low natural gas liquid (NGL) prices in the most recent quarter haven't deterred the company from continuing its strategy of investing in fee-based projects to counter the impact of low oil product prices. Williams is betting big on a surge in demand for natural gas and its derivatives from new projects in petrochemicals and the power sectors over the next few years.
If the market price of Williams Partners is any indication, the stock is clearly struggling to scale a slippery slope. Its stock price has tanked by 42.69% year to date while its three-year yield is also at a negative 12.41%. 
The company has had a pedestrian third quarter for 2015 with a net loss of $ 194 million, compared to an income of $233 million in the third quarter of 2014. The unfavorable change was driven by impairments of $477 million associated with certain equity-method investments, as well as declines in NGL margins and higher operating, depreciation and interest expenses.
Year-to-date net income was $195 million, as against $806 million for year-to-date 2014.
Analysts' estimates indicate growth for both revenue and earnings has been revised downwards in the last four weeks. Going forward, the company's outlook is clouded at best, despite the double-digit dividend yield of 11.30%.
data by
3. Eco Petrol (EC) - Get Ecopetrol SA Report
Eco Petrol, an integrated oil and gas provider, is among the top 40 oil companies in the world. Besides Colombia -- where it generates over 60% of the national production -- it operates exploration and production activities in Brazil, Peru, the U.S. (Gulf of Mexico) and Angola.
2015 has been tough for the company with shares in a tailspin. Its stock has depreciated by 48.66% year-to-date. Investors who've held this stock for three years and five years have seen erosion in value of over 85% and 80% respectively.
The company's shares have also underperformed against the oil and gas integrated index and the S&P 500 total return index. Although the dividend yield has improved from 7.13% in 2013 to 13.49% in 2014 and is currently at 11.16%, it's not enough to address the steady fall in market value. Analyst reports suggest bleak growth and earnings outlooks for the next couple of years.
Revenues dropped from $38.96 billion in 2012 to $ 29 billion in 2014. Revenues are slated to exhibit a negative growth of 44.20% in 2015 and improve by 8.80% over 2016. The company will clearly struggle in the next couple of years to maintain, if not improve upon the current growth estimates.
Eco Petrol must effectively manage a plethora of challenges that include low crude oil prices (necessitating downward adjustments to costs and its planned Capex) and the devaluation of the peso. Stay away from this stock and if you own it, sell it immediately.
Download our free report that details the most dangerous stocks in the world today. The report reveals overvalued and fundamentally weak stocks that are popular but poised for a crash. Do YOU own any of these stocks? Click here to find out more.
This article is commentary by an independent contributor. At the time of publication, the author held no positions in the stocks mentioned.