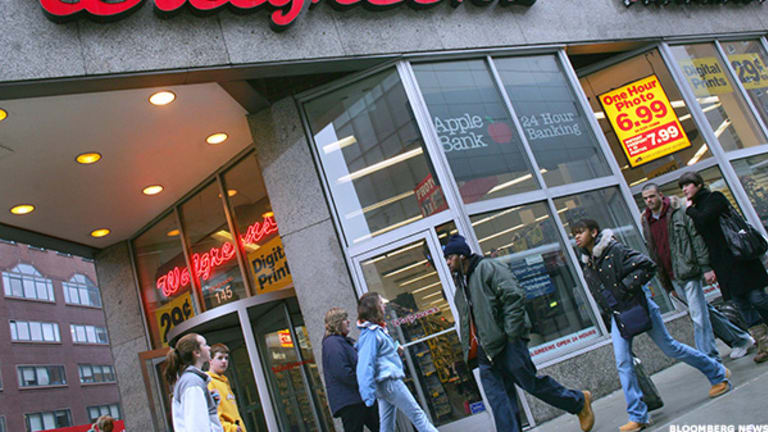 Why You Should Buy Walgreens Boots Alliance Stock Right Now
Walgreens Boots Alliance is intent on crushing the competition on a global scale, a lust for market dominance that positions it to reward investors for years to come.
The leading drugstore chain in the U.S. made it clear on Tuesday that it's embarked on global conquest. Not content to be the No. 1 company in the U.S., it's aggressively pursuing yet another strategic acquisition that will drive shareholder returns for many years to come.
Walgreens Boots Alliance (WBA) - Get Free Report announced that it will purchase Rite Aid  (RAD) - Get Free Report in a $17.2 billion deal that will greatly enhance Walgreens Boots Alliance's clout with pharmaceutical makers and managers of pharmacy benefit plans.
The proposed merger is yet another indication of the accelerating consolidation under the Affordable Care Act (a.k.a. Obamacare), as insurers, health care providers, drugmakers and other players in the booming health sector join forces for greater economies of scale and marketplace influence.
(If you're looking for other "world domination" stocks, click here for your free report.)
The Walgreen-Alliance Boots merger, completed at the end of last year, did little to slake the corporate parent's appetite for expansion. This should make you salivate as an investor, because one of the surest ways to reap reliable returns over the long term is to own what I like to call "world domination" stocks that enjoy unassailable market power.
Now's the time to pick up Walgreens Boots Alliance shares, while the company's valuation still trades roughly in line with its peers and before regulators give their expected stamp of approval to the proposed merger.
Also on Tuesday, Walgreens Boots Alliance reported better-than-expected quarterly earnings, boosted by cost cutting. Fourth-quarter earnings came in at $26 million, or 2 cents a share of 2 cents, compared with a loss of $221 million, or 23 cents a share, a year earlier. Excluding special items, Walgreens Boots Alliance posted EPS of 88 cents, which beat the average Wall Street estimate of 81 cents. Revenue increased to $28.52 billion from $19.06 billion.
In April, Walgreens Boots Alliance initiated a program to slash $1.5 billion in costs by the end of fiscal 2017, an effort that's already bearing fruit as witnessed in Tuesday's robust operating results.
Walgreens Boots Alliance was created from the combination of Walgreen and the European chain Alliance Boots. Walgreens Boots Alliance operates more than 8,200 locations in 50 states; the company also manages pharmacy benefit plans and in-store convenient care clinics. Through Alliance Boots, WBA runs a chain of pharmacies in the U.K. and more than 3,300 health and beauty retail stores in 11 countries around the world. Alliance Boots' wholesale business supplies pharmacies and doctors in 21 countries.
The Alliance Boots deal vaulted Walgreens Boots Alliance to the position of world's largest pharmacy chain. And now Walgreens Boots Alliance has Rite Aid in its sights.
As the economic recovery gains steam, drug chains such as Walgreens Boots Alliance are expecting greater sales in 2016. An improving job market and resurgent household wealth are lifting consumer spending, resulting in greater business in the pharmacy and at the merchandise cash register. The stock also serves as a defensive consumer sector play, if the market stumbles this year.
According to research firm Lucintel, the aging of the world's population combined with rising affluence in emerging markets will propel the global retail drug industry's annual revenue to $1.4 trillion by 2017, for a compound annual growth rate of 3.6% over the next five years.
Obamacare is another tailwind for Illinois-based Walgreens Boots Alliance, as retail pharmacies get ready to serve an estimated 32 million newly insured Americans.
Prescription drugs make up about two-thirds of Walgreens Boots Alliance's sales; the remainder stems from general merchandise, cosmetics, over-the-counter medications and groceries.
Walgreens Boots Alliance boasts one of the best track records among the S&P Dividend Aristocrats, which are those companies that have boosted their dividend payout annually for at least 25 years. Not surprisingly, the company made the list again for 2015. With a current dividend yield of 1.6%, the company has consistently paid a dividend for more than 80 years.
Walgreens Boots Alliance is well positioned to benefit from the generic alternatives that will flood the market in coming years as patents expire on blockbuster drugs. For drugstore chains such as Walgreens Boots Alliance, generic prescriptions provide less revenue than branded drugs, but they're roughly twice as profitable.
Walgreens Boots Alliance enjoys several advantages over its main rivals, CVS Caremark and even Walmart, as it continues to reap efficiencies from shrewd strategic partnerships.
With a market cap of $103.9 billion and $3.9 billion in net operating cash on its balance sheet, WBA has a history of using bold acquisitions to expand its grip on the drug chain sector. Notably, in 2010, Walgreen bought Duane Reade for $1.1 billion, making Walgreen the biggest pharmacy presence in New York's five boroughs, a particularly lucrative drug retail market.
Walgreens Boots Alliance already is in a position to buy generic drugs cheaper than anyone else, and also to sell them for cheaper. A merger with Rite Aid would only cement its world domination of retail drugstores.
Walgreens Boots Alliance's trailing-12-month price-to-earnings ratio is now about 22, still a fair value compared to the P/E of 17 for its sector of drugstores. That modest premium is well worth the price for Walgreens Boots Alliance's enormous growth prospects.
(If you're looking to forge a world-dominating portfolio, here's a list of other stocks that crush the competition.)
John Persinos is editorial manager and investment analyst at Investing Daily At the time of publication, the author held no positions in the stocks mentioned.