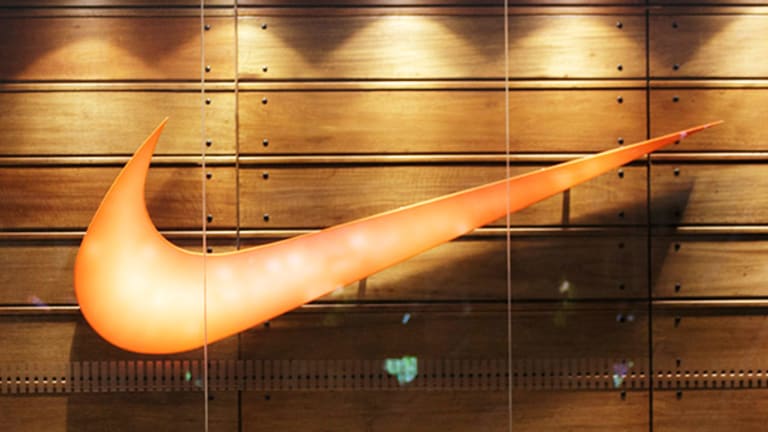 Why You Must Keep Your Eyes Peeled for Stock Splits
Nike has profited handsomely since splitting its stock. Here are others.
Looking for a rare investment opportunity?
Stock splits are not common -- there have only been about two or three a month this past year -- but they've been found to be a better way to beat the market in the short term and the long run.
Like any investment, they are not without risk. For some companies a stock splie is a sign the company feels its stock will keep rising. For others they are a desperate bid to sell two or more for the price of one when investors aren't interested. An exchange-traded fund that tracks stock splits, the USCF ETF Trust (TOFR) , has narrowly fallen short of the S&P 500 index since it was formed 15 months ago.
But some stocks do very well using splits. Case in point: When athletic superstar Nike (NKE) - Get Report announced its two-for-one split Nov. 19, its shares had been up 18% of the previous six months compared with the S&P 500's 3% loss. As of Wednesday's close, Nike is up 36% for the year to date while the S&P is up close to 1% for the same period.
Can the stock go even higher? Sporting long-term earning forecasts in the teens, 19 of the 24 analysts that follow the athletic equipment maker and are tracked by Zacks Investment Research have strong buys on the stock. TheStreet's Jim Cramer calls Nike a "technology company that's in the shoe business," adding it "deserves all the accolades, and it just keeps making money for shareholders." 
Edwards Lifesciences (EW) - Get Report  is as different as a company could be from Nike but it tells a nearly identical tale. The heart valve developer announced a two-for-one split, the most common type, on the same day as Nike. Its shares were up 18% the preceding six months, too. 
Analysts are similarly enthusiastic about the future for the shares of Edwards Lifesciences. Earnings forecasts are even higher in the teens than with Nike. Eleven of 16 analysts tracked by Zacks have strong buys on the shares.
Hormel Foods (HRL) - Get Report rounds out the November class, according to StockSplits.net, with a staggering 9% gain since the food company announced its two-for-one split late last month. The increase was on top of a 20% gain in the previous six months.
Although it would be hard for any stock to maintain such a sizzling pace, Hormel is expected to churn out double-digit earning gains over the long run. Analysts still rate it a buy overall. This is another stock Cramer likes because the company is in the process of reinventing itself by moving into more natural and organic foods.
By contrast, shares of BofI Holding (BOFI) , a bank, fell after its internal auditor filed a wrongful termination lawsuit when it announced its split. It was the second of two stock splits in October. While the ratio was four-for-one, the slide has yet to go into reverse.
This article is commentary by an independent contributor. At the time of publication, the author held no positions in the stocks mentioned.