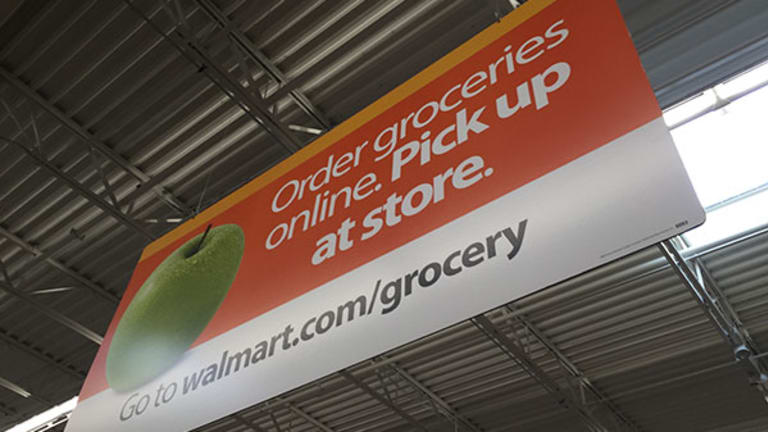 Publish date:
Why You Can No Longer Discount Walmart Stock
Shares are up and the retailer is doing all the right things to keep them that way.
Shares are up and the retailer is doing all the right things to keep them that way.
Year to date, shares of Walmart (WMT) - Get Report  are up 19%. Can the momentum continue?
In mid-August Walmart, reported revenue of $119.41 billion, up 0.1%, and earnings per share of $1.07, 5 cents better than the consensus estimate. Earnings were driven by positive same store sales of 1.6%. This was the eighth consecutive quarter of positive same-store sales and the seventh where traffic was positive (1.2%).
Consolidated operating income increased 1.6%, which included a one-time gain of $535 million on the sale of its Chinese grocery business Yihaodian. Without the gain, operating income would have been down 7.2%.
Walmart's performance has been pretty good when you consider the company has been able to absorb 100 basis points of negative food deflation. Inventory levels appear to be solid and gross margins are up about 53 basis points.
The company is benefitting from lower gas prices, low unemployment and rising wage growth. In addition, the company has worked hard to hold expenses down, which has helped margins and earnings. Second-quarter gross margins were up 53 basis points to 25.1%.
Worldwide e-commerce growth was up 11.8% in the second quarter. The company recently completed the acquisition of Jet.com. Analysts believe the deal with help strengthen Walmart's ecommerce efforts.
Under CEO C. Douglas McMilon, Walmart has been working hard to turn around the beleaguered retailer. The company started the year by spending nearly $5 billion to increase employee pay, enhance the customer experience and make its e-commerce business more competitive. The company boosted its starting wage for sales associates from $9 an hour to $10. The company instituted new training programs to help employees advance. It has added an additional 8,000 department managers and given them mobile devices to better manage their sections within the store.
It has improved inventory stocking and increased its focus on fresh food and health and wellness.
Walmart is determined to be more competitive on price and has pledged several billion dollars over the next two years towards that end. The company also launched a plan to spend as much as $20 billion to buyback its stock and raise its dividend. The current dividend is $2 per share.
In addition, management has gotten a lot more serious about closing under performing stores. The company closed 102 Walmart Express locations and another 167 underperforming stores in the U.S. and Latin America.
While you could nitpick each quarter since the turnaround started, I think the company has made amazing progress, especially considering it has over 11,000 stores. I think the turnaround can continue and I think the company can get very close to $5 per share within the next two years.
For fiscal 2016, analysts are expecting earnings of $4.34 per share and $4.47 next year. This year revenue is on target to hit $487.3 billion and $500 billion next year. With solid same-store sales and better store traffic, I think the company can continue to win back customers.
Historically, Walmart shares trade between 15 and 18 times forward estimates. With the company's more consistent results, I think investors will grant the company a better multiple. I can see the shares trade over $80 per share over the next year as investors gain confidence in the company's turnaround.
This article is commentary by an independent contributor. At the time of publication, the author held no positions in the stocks mentioned.