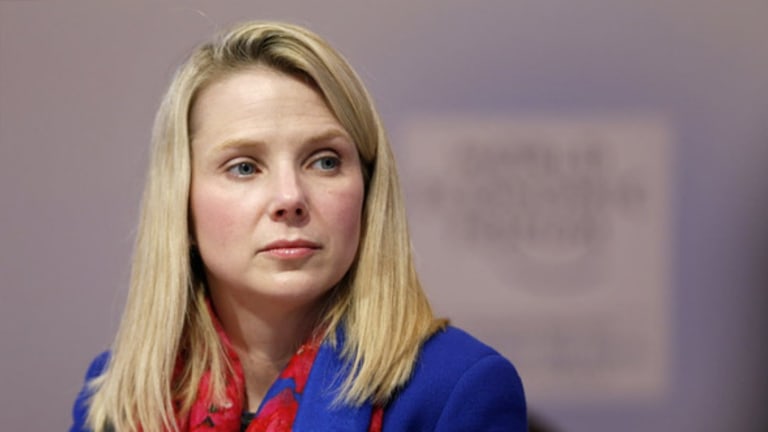 Why Yahoo!'s Shareholder Meeting on Thursday Will Likely Be Marissa Mayer's Last
Multiple rounds of bidding for Yahoo!'s assets increase the odds that the beleaguered internet company will get sold.
Yahoo! (YHOO) will hold its annual shareholder meeting on Thursday afternoon in California, but don't expect any big news to come out of the event.
Although shareholders in attendance are sure to ask embattled CEO Marissa Mayer and the board for an update on the sales process, they are likely to fall back on previous statements they've made and say nothing new.
While many observers have said that we are now in the midst of the third and final round of bidding for Yahoo!'s core business and that a decision will be made in July, I understand from someone involved in the process that there will be a fourth and final round of bidding.
According to this contact, the third round of bids is due by the middle of next week. Then, a fourth round of bidding will conclude around July 18th. That suggests a decision could be made by the Yahoo! board by the end of July on whether to accept the best bid, or continue running the business independently.
The purpose of Yahoo!'s advisors insisting on this multi-stage bidding process, now with a fourth round attached to it, is to , of course, help drive up the price that the core will be sold for.
Will it work?
So far, it appears to be helping. Verizon (VZ) - Get Verizon Communications Inc. Report had initially suggested in reports in the Wall Street Journal that they were only willing to pay $2-3 billion for the core and weren't interested in the company's real estate and patents. Yet, other bidders such as Dan Gilbert and AT&T (T) - Get AT&T Inc. Report , as well as private equity firms, indicated in other press reports that they were willing to pay in the $5-6 billion range for all these assets.
With Verizon still in the process, we imagine that they have indicated to Yahoo!'s advisors that they are willing to go higher to match these prices in further rounds.
The key things to watch for next week after the third round of bids are submitted are if any new bidders have entered the process over the last few weeks. If so, that could indicate that bids for Yahoo!'s real estate, patents and core business -- despite its challenges -- might go even higher than the $5-$6 billion price that was mentioned often after the 2nd round of bids closed.
For Yahoo! shareholders, even though this process has dragged on, it appears to be serving their interests in getting the best possible price for the core business.
A sale still seems to be the most likely outcome here for Yahoo!'s core business, especially if the bids come in north of $5 billion. That is something all Yahoo! shareholders should be happy about.
That means today's shareholder meeting will likely be the last for Mayer as CEO.
"Is Yahoo my favorite stock? No, I happen to like AT&T and Verizon, and Verizon's looking at Yahoo, but Yahoo has more to it than people realize, said Jim Cramer, TheStreet's founder and manager of the Action Alerts PLUS portfolio. "I think Yahoo's assets are being valued as negative. Anything that makes Verizon more of a programming company gives it a higher multiple than it has now."