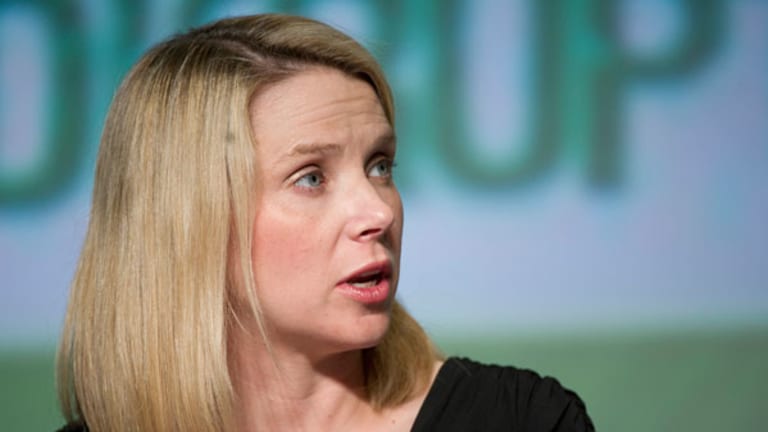 Why Yahoo! CEO Marissa Mayer Needs to Listen to Starboard
Here's why Yahoo! management should follow activist investor Starboard Value's plan for the company and not conduct a cash-rich split-off.
Here's why Yahoo! management should follow activist investor Starboard Value's plan for the company and not conduct a cash-rich split-off.
NEW YORK (TheStreet) -- Starboard Value sent a stern letter to Yahoo! (YHOO) CEO Marissa Mayer Thursday.
In it, the activist investor argued that Mayer should separate Yahoo!'s Asian investments from its core business. Starboard also urges Yahoo! not to pursue a cash-rich split-off as a way of doing this.
The letter notes there has been recent speculation that Yahoo! is considering a cash-rich split-off, in which Yahoo! would swap assets and cash with Alibaba (BABA) - Get Report .
Also Thursday, you had tech blogger Jason Calacanis on CNBC saying that all the criticisms of Mayer are unfounded. He implied that activist investors don't realize how hard it is to run a tech company and that they should just go away and let Mayer make the choices she wants to make -- as if she has dual-class control of Yahoo!.
But Yahoo! isn't a dual-class company like Facebook (FB) - Get Report . It's a regular public company. In our democratic system of capitalism, if you choose to take money from public investors in this fashion -- as the Yahoo! founders did 20 years ago -- then you agree to have the possibility that some shareholders might voice an opinion from time to time.
Other shareholders can ignore those opinions or they can support them. Company management can go out to canvass shareholders and tell them why their operating plan is right and why criticisms are wrong. In general, shareholders tend to trust management more than a one-off shareholder. But sometimes a shareholder can make a compelling argument that has merit. In this case, other large shareholders tend to nudge company management and ask, "What about it?"
If the arguments are compelling and obviously going to benefit all shareholders, and not just a few, company officials tends to favor those arguments, as the officials are usually big shareholders themselves.
Here's why the Starboard argument from Thursday's letter makes sense for all Yahoo! shareholders (including Mayer):
To satisfy Starboard, Yahoo! could use the tried-and-true method of a reverse Morris trust to split into two companies, and it could do this tomorrow, as it's in the full discretion of Yahoo!'s board. A cash-rich split-off, on the other hand, needs the agreement of either Alibaba, SoftBank or both.
Why would Alibaba and SoftBank sit down to enter into an agreement now? There are no guns pointed at their heads. They could just simply sit back and wait. If Yahoo! pushes them to the negotiating table, it's likely Yahoo! shareholders will end up with a worse deal.
Yahoo!'s managers have painted themselves into a corner by publicly promising -- twice -- to announce a tax savings plan for the company's Asian stakes "at or before" the next earnings call, scheduled for Jan. 27. They said that. Public investors didn't force them to. What happens if they don't announce a plan? The market will probably -- and rightly -- be surprised, and Yahoo!'s stock price will probably drop. Management's credibility will take a hit.
What happens if Yahoo! tries to wheel and deal to get a cash-rich split-off done before Jan. 27? A cash-rich split-off is much more complex than a reverse Morris trust. The risk to Yahoo! shareholders is that Yahoo! won't negotiate a good deal with its counterparties under such a time crunch.
A cash-rich split-off would require Yahoo! to swap its 384 million remaining shares of Alibaba, worth $40 billion untaxed, in exchange for up to (it could be less) two-thirds of that amount in cash ($27 billion) and one-third ($13 billion) in some other asset. It's going to be hard for even Alibaba to come up with $27 billion in cash in three weeks.
Let's assume Alibaba can get its hands on $27 billion in cash. What asset worth $13 billion does it have? It doesn't. Alibaba could go out and buy a company or multiple companies for $13 billion and then pass them over to Yahoo!. But there are two problems with this. If you're Yelp (YELP) - Get Report , for example, and your market cap is $4 billion but Alibaba comes to you and says it needs to buy you in three weeks to pass you over to Yahoo!, how much would you sell your company for? A lot more than $4 billion. Are you going to overpay if you're Alibaba? It's possible. Alibaba just wants to get its 384 million shares back at an agreed upon price. What Yelp is worth doesn't really matter. Also, if the deal needs to happen in three weeks, Yelp will drag its feet -- unless it gets paid.
Another problem with the cash-rich split-off structure is that if you're Alibaba or SoftBank why do you want to agree to a deal that helps out Yahoo! with tax savings while you don't benefit from those savings? Put yourself in their shoes. Also, if Yahoo! sells 384 million shares in Alibaba in one go, its stake is likely not going to be worth $40 billion untaxed, but less. And the clock is ticking. Three weeks goes by fast. If Yahoo! wants a deal done, it will have to make sacrifices in a number of areas.
Contrast all this with the idea of a reverse Morris trust. Yahoo! could have announced this structure back in November. It's all within Yahoo!'s discretion. Yahoo!'s core business goes into a separate entity and forces the market to put a value on that business. Maybe the market says it's worth a measly $6 billion (which is only 4.6 times the company's enterprise value-to-earnings before interest, taxes, depreciation and amortization). That's unlikely, although that would be more than what it's currently valued at. Maybe the market says it's worth $10 billion to $15 billion. That's more likely. The stock price will go up even though it looks to tech bloggers that nothing's happened but financial wizardry. Hey, $15 billion is $15 billion. Don't look a gift horse in the mouth. And the stakes in Alibaba and Yahoo! Japan will continue to trade at their full value but even higher because now the market knows there won't be a tax owed on the stakes later on when they're sold.
Reverse Morris trust = Certainty. Cash-rich spin-off = Uncertainty and Risk.
Mayer is a huge Yahoo! shareholder. At the current stock price, I estimate her five-year compensation plan is worth $500 million. If she pulled the trigger on a reverse Morris trust, it's likely that her compensation plan becomes worth well more than $650 million. Yes, you read that correctly. That's an astounding amount of compensation for a big-time CEO for five years of work. Look it up.
And no Yahoo! shareholder would begrudge Mayer for that success. That's what she negotiated. All shareholders would have participated in the upside of the stock appreciation.
Mayer would be in a very strong position to deflect a proxy contest from Starboard if it chose to move ahead with one.
I think there's a straightforward path here with a reverse Morris trust announcement, which would be a win for Mayer, a win for the company, and a win for its shareholders.
This article is commentary by an independent contributor. At the time of publication, the author held shares of YHOO and BABA.