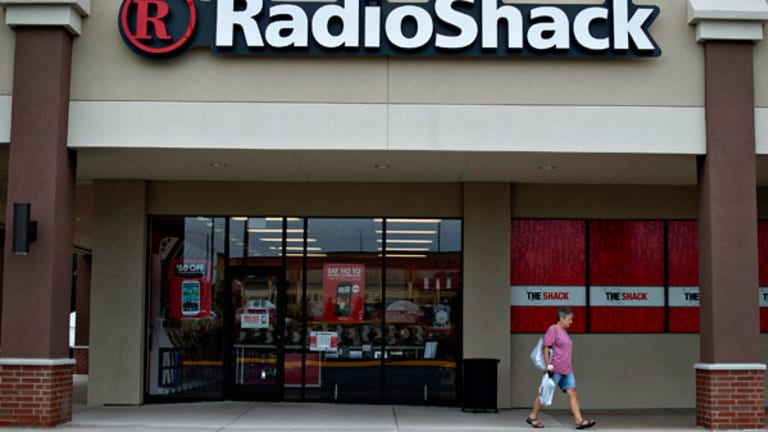 Why We Don't Shop At RadioShack Anymore
Even before RadioShack began closing 1,100 of its stores, its lack of inventory and dearth of basic customer service drove away customers who once prized the chain for its convenience.
PORTLAND, Ore. (TheStreet) -- When a company like RadioShack (RSH) announces huge losses and its intent to lop off more than 20% of its stores, the old folks start to get wistful.
They haven't been to RadioShack in years, but they're wistful nonetheless. Our Dana Blankenhorn lamented the long-dead Tandy RadioShack personal computers and the store's devolution from a "makerspace" to a lifeless mobile retailer that wouldn't recognize a 3D printer if it extruded a model of a dying mall right onto its sales floor. Herb Greenberg detailed his "hate affair" with a retailer that had thousands of convenient locations, but lacked simple conveniences like inventory and customer service.
Even our Brian Sozzi, the retail industry's lead photo essayist and obituary writer, notes that a chain once committed to technological progress is now a series of tiny, glossy shops filled with low-margin products and short on actual gear.
I wondered when the last time I'd actually stepped into a RadioShack was. Five years ago. A few weeks after I'd started working at TheStreet, I'd already crushed two pairs of Apple earbuds with my desk chair thanks to a tower PC setup that kept the headphone jack close to the floor.
I went looking for headphones and, just across the street from a Borders (rapidly becoming a relic in its own right at the time), I found them at a RadioShack. They were a whopping $40 and a whole lot more costly than a few pairs I'd found online, but I didn't have time to hold out and RadioShack had them in stock.
But during a time when Radio Shack was trying to rebrand itself TheShack and facing increasing pressure from both online and bricks-and-mortar retailers, there was no such thing as a quick visit to their stores. The store's lone employee, whom I neither blamed nor envied, held me at the counter in an attempt to upsell me on batteries, a new smartphone and a new mobile plan. I declined each offer and lost about 10 minutes to the entire exchange.
The experience reminded me that it had been a number of years since my previous trip to a RadioShack, another memorably awful experience. In early 2007, my old cassette-tape voice recorder from college finally breathed its last and prompted me to pick up a digital version on the way to an interview in Manhattan. Short on time, I popped out of the subway at the Port Authority and stopped into their RadioShack to pick up the digital recorder I still use today. It wasn't easy to locate, its accessories were in another area entirely and, when I tried to purchase it, I was treated to a scripted pitch about the merits of a Microsoft (MSFT) - Get Microsoft Corporation (MSFT) Report Zune.

I had come in for a recorder and was being upsold to a media player nearly twice its price. The poor commission-baited employee behind the counter pushed the sale so hard that his last words to me were "C'mon, you want to buy one, right?" No.
That's one story of two visits in the last eight years, but that's my microcosm of why we, collectively, don't shop at RadioShack anymore. Coupled with logistical advances that made it possible for Amazon to get you just about anything you want in two days, the simple fact that Amazon has the items you're looking for in stock and doesn't dangle commission to make its employees push a ton of other stuff toward your cart at checkout made shopping RadioShack a painfully unnecessary experience by comparison.
We don't avoid RadioShack because we thought it was still stocking boom boxes and copies of Oregon Trail for Dee Snider and Alf to steal. We do so because we remember when it had the items we needed in stock and got us in and out of there quickly -- and because it hasn't done that in a long time. Yes, the store charges way more for HDMI cables and other accessories than its counterparts and doesn't dabble in the tech obscurities that once made it indispensable, but the fact that it just doesn't function well as a store anymore is what drove everyone away.
RadioShack's absence will be felt in the nation's dying malls and outdated strip malls (plenty of parking, folks!), but not by U.S. consumers. Until that $8 million Super Bowl commercial aired, a whole lot of us just flat out forgot it existed or, worse, didn't care anymore.
That may make the old folks wistful, but we get over it pretty easily. Isn't that right, Blockbuster?
-- Written by Jason Notte in Portland, Ore.
>To contact the writer of this article, click here: Jason Notte.
>To follow the writer on Twitter, go to http://twitter.com/notteham.
>To submit a news tip, send an email to: tips@thestreet.com.
RELATED STORIES:
>>Why Your Dad Is Mourning Radio Shack
>>RadioShack Turnaround Stalls As It Closes Stores
>>My Hate Affair With Radio Shack
Jason Notte is a reporter for TheStreet. His writing has appeared in The New York Times, The Huffington Post, Esquire.com, Time Out New York, the Boston Herald, the Boston Phoenix, the Metro newspaper and the Colorado Springs Independent. He previously served as the political and global affairs editor for Metro U.S., layout editor for Boston Now, assistant news editor for the Herald News of West Paterson, N.J., editor of Go Out! Magazine in Hoboken, N.J., and copy editor and lifestyle editor at the Jersey Journal in Jersey City, N.J.