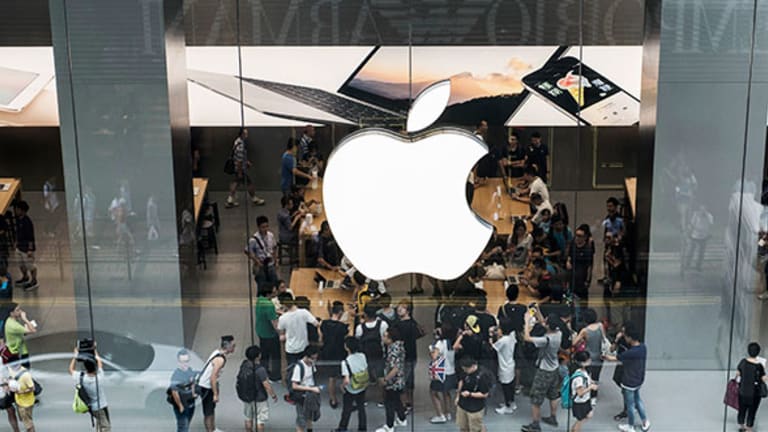 Why Warren Buffett and Peter Lynch Would Both Buy Apple Now
Apple passes both Warren Buffett's and Peter Lynch's proven calculations with flying colors. Buffett doesn't own Apple right now, but he should.
NEW YORK (TheStreet) -- Warren Buffett doesn't own Apple (AAPL) - Get Report stock, but the data says he should. Apple gets a 100% Buy rating from our Warren Buffett model and 93% from our Peter Lynch model. 
Buffett doesn't own Apple, of course, eschewing technology stocks as he does, but, if he followed his own principles and patterns that have made him the world's most successful investor, he would buy it right now.
Trading in the middle of its 52-week range at $115, buy Apple now for continued long-term, market-beating returns and a 1.8% yield.
The ubiquitous computer and phone manufacturer passes all nine of Buffett's key financial criteria and qualifies as a "Buffett-type company." The competitive barrier created by the strong Apple brand is a key element of Buffett companies. 
Apple's numbers are compelling and its stock performance has been excellent over the past decade. Here are three of Buffett's nine key criteria:
Earnings Predictability. For starters, Apple has had an extraordinary decade of growing its earnings-per-share (EPS) every year except for two years ago when it suffered a 10% pullback. Apple's 10-year average EPS growth rate has been 28.9%, while the consensus analyst estimate for future EPS growth is a respectable 13.5%.
Return on Equity. Buffett only invests in companies that have a 10-year average return on equity (ROE) of at least 15% and that earn at least 10% in any of the individual years. Apple has averaged 27.4% ROE over the past 10 years, thus it easily passes this test.
Ability to Pay Off Debt. Apple earned $50 billion over the past year and has debt of $54 billion. Buffett loves that, if Apple chose to do so, it could pay off its entire debt in less than two years.
Is Apple a Good Buy at $115?
Once Buffett determines if a company is sound or not, he then determines if the current stock price would allow him to earn a worthwhile long-term return. Buffett uses two methods, ROE and EPS growth, to determine the expected future stock price and average annual return.
ROE Method. Our Buffett model calculates that EPS will grow to $46.64 from $6.45 in ten years, based on its current book value of $22 and its historical ROE of 27.4% (times its 83% earnings retention rate). If we multiply the $46.64 projection by the current trailing price-to-earnings ratio of just 13.4, we foresee Apple trading at $625 in ten years. Add $31.70 for dividends to be paid out over the next ten years, and you would earn an 18.9% average annual return on Apple stock.
Average EPS Growth Method. This method is the same as the ROE method, but instead of using the last ten year's average ROE of 27.4%, Buffett uses the analyst's consensus EPS growth rate of just 13.5%. The result, including dividends, is a projected stock price of $442 and a 14.3% average annual rate of return.
The average of the two methods results in a 16.6% return, which exceeds Buffett's bar of 15%. Thus, at the current Apple stock price of roughly $115, Buffett's methodology rates Apple as a strong Buy now.
Peter Lynch Would Also Buy Apple
Legendary investor Peter Lynch would categorize Apple as a "fast grower" and measure it primarily by its price-earnings-growth ratio (PEG). Currently sporting a price-to-earnings ratio of 13.4 and an average EPS annual growth rate of 28.9%, Apple's PEG Ratio is a very healthy 0.46.
Apple also passes five of Lynch's seven tests while scoring neutral on the other two.
Lastly, Lynch is known for advising people to buy what they know. As a consumer, do you understand what Apples' products do and the value they will continue to provide to the market? If yes, you may want to buy Apple now for continued market-beating performance.
This article is commentary by an independent contributor. At the time of publication, the author held AAPL.