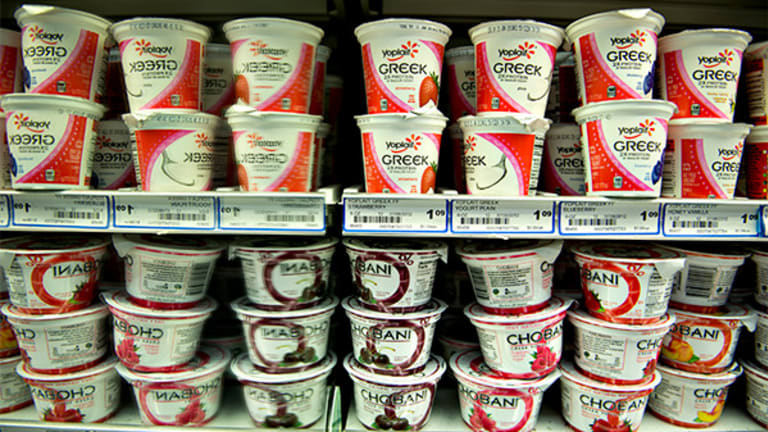 Plunging Dairy Prices Wreaking Havoc On Yogurt Makers?
General Mills produces better-than-expected fiscal third-quarter earnings, but sales in the U.S. remain sluggish.
Editors' pick: Originally published March 23.
Cheap dairy prices may be good for yogurt eaters, but not necessarily for yogurt makers.
On Wednesday, General Mills (GIS) -- maker of Yoplait and organic yogurt from Annie's -- detailed a 10% plunge in sales of yogurt at its U.S. retail segment in the fiscal third quarter. The root cause of the decline? Low dairy prices that are spurring intense discounting by many yogurt makers.

"The key factor is that dairy prices are at a 20-year low, and because milk is the primary cost of good in yogurt, we have seen the category become more promotional as a number of players have invested some of those savings into lower prices," General Mills chairman and CEO Ken Powell explained to TheStreet. "Our prices over the course of the fiscal year have not been competitive -- we have been working to adjust prices, and we should see our sales declines moderate in the fourth quarter because we have a stronger promotional plan scheduled."
Powell doesn't believe General Mills needs an acquisition to bulk up its yogurt business, which would help to drive more volume and counteract industry discounting triggered by low dairy prices. According to data from Nasdaq, milk prices have nosedived about 19% since May of last year. 
While General Mills delivered some positive earnings numbers in the quarter, investors had been looking for a bit more. Shares of the cereal and snack giant fell slightly as total third-quarter revenue of $4.0 billion lagged behind estimates of $4.08 billion.
The top line was dented by 4 percentage points because of a strong U.S. dollar that curbed overseas sales and the absence of the Green Giant veggie business, which General Mills divested in November. Adjusted earnings of 65 cents a share surpassed forecasts of 62 cents, helped by cost reductions such as job cuts and lower advertising spending.
Executives reiterated their outlook for fiscal 2016, which they had reduced in December. The company anticipates net sales, excluding the impact of the strong U.S. dollar, to decline by a low-single digit percentage while profit climbs by a similar percentage from $2.86 a share a year ago.  
Sales fell 7% to $2.48 billion in the U.S. retail business, with profit relatively unchanged year over year. General Mills said the Green Giant divestiture reduced sales in the unit by 5 percentage points. Excluding that, revenue fell 2%, pressured by sales declines in yogurt and cereal.
On the positive side, General Mills said sales for the seven brands it has recently updated by removing artificial colors and flavors increased 6%.  A year ago, sales for the group fell 6%.  
General Mills remains on track to have 90% of its cereal business free of artificial colors and flavors by the end of 2016, up from 75% today.