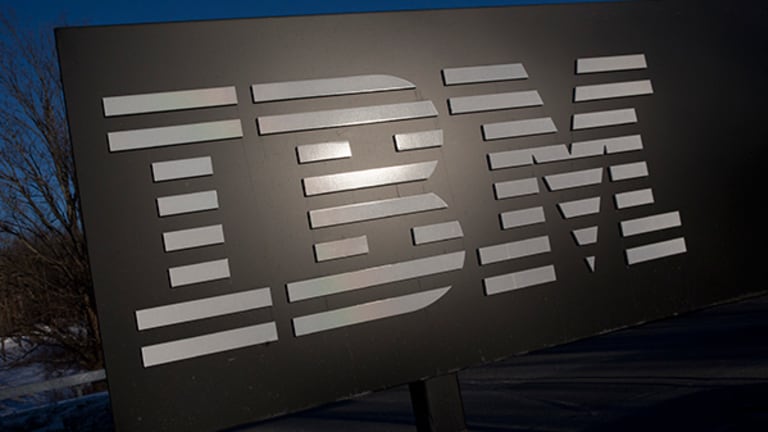 Why Wall Street is Wrong and Warren Buffett Is Right About Beaten-Down IBM
As Berkshire Hathaway increases its stake in beleaguered IBM, it's apparent that the granddaddy of tech stocks faces a brighter future than many think.

Many investors see IBM (IBM) - Get International Business Machines Corporation Report as a washed-up technology "has been" that hasn't kept pace with the latest industry trends. In comparison to the big-name tech giants now in vogue on Wall Street, such as Apple and Alphabet, it seems that IBM is a dinosaur floundering in the La Brea Tar Pit of computer hardware.
As usual, the investment consensus is dead wrong. The real story is that "Big Blue" is adroitly executing a strategic re-positioning that will hold it in good stead for 2016 and beyond.
data by
For confirmation, look no further than Warren Buffett, who seems to understand IBM's hidden potential. Buffett's Berkshire Hathaway boosted its stake in IBM by roughly 2% in the third quarter to 81 million shares from 79.6 million, for a value of about $11.7 billion. That makes IBM Berkshire Hathaway's fourth biggest holding.
As you adjust your portfolio for 2016, it pays to follow the investment lead of Buffett. Here's why the investment herd is wrong -- and the Oracle of Omaha is right -- about IBM.
First, let's look at the bad news that has been punishing IBM's stock. The company announced third-quarter 2015 diluted earnings-per-share (EPS) of $3.02, a year-over-year decline of 13%. Third-quarter earnings came in at $3 billion, compared with $3.5 billion in the same period a year go, for a year-over-year drop of 14%. Revenue of $19.3 billion was down 14% from the same year-ago period.
Management now expects full-year 2015 operating EPS of $14.75-to-$15.75, from its previous forecast of $15.75-to-$16.50.
Small wonder, then, that IBM's stock is down 13.79% year-to-date (YTD), compared to a 4.89% YTD gain for the Technology Select Sector SPDR ETF and an essentially flat S&P 500.
But here's what most investors are missing and what Warren Buffett understands: IBM is in the midst of a profound corporate reinvention that will soon bear fruit. The company is shedding its declining hardware businesses to emphasize the higher-margin areas of cloud computing, analytics and big data.
And this re-positioning is already gaining traction. In the third quarter, combined revenues from the company's three top strategic imperatives -- cloud, analytics, and mobile engagement -- grew 17% year-over-year. Total cloud revenue soared more than 45%; business analytics revenue grew 9% year-over year; and revenue from mobile engagement more than quadrupled.
IBM also is making a big bet on medical technology, the sort of niche with momentum that Buffett likes. IBM's cognitive computing technology, dubbed Watson, already is being put to use as a "robot doctor" at Memorial Sloan Kettering Cancer Center in New York City.
IBM, founded in 1911, is the grandfather of technology stocks. As such, the Armonk, NY-based company often seems out of touch with the hipper environs of Silicon Valley. However, the company's shrewd segue into the multi-billion-dollar medical technology sector could put the company into the vanguard of one of the hottest technology trends of the decade. According to a report from Research and Markets, the North American health care information technology market is forecast to grow at a compound annual growth rate of 7.4% to reach $31.3 billion by 2017 from $21.9 billion in 2012.
IBM's stock now trades at a ridiculously low trailing 12-month price-to-earnings (P/E) ratio of 9.6, compared to 18.93 for its industry. While you wait for IBM to rise on the strength of its strategic initiatives, you can enjoy the robust dividend yield of 3.86%.
Warren Buffett has been increasing his stake in IBM. What else is he buying and selling today? For our free and detailed report on the Oracle of Omaha's latest investment choices, click here. Our report tells you exactly what Buffett is adding to Berkshire Hathaway and why.
John Persinos is editorial manager and investment analyst at Investing Daily. At the time of publication, the author held no positions in the stocks mentioned.