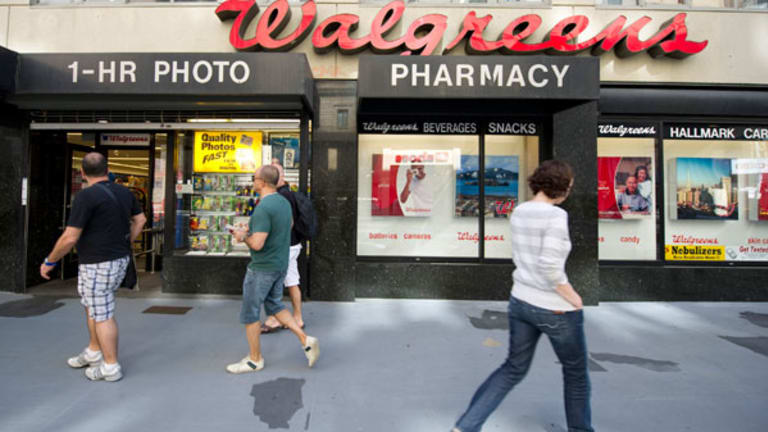 Publish date:
Why Walgreen Acts Like Walmart, Not CVS
Walgreen is positioning itself to function like a Walmart -- leveraging its tremendous purchasing power to squeeze profit from its suppliers (drug manufacturers) as well as maximizing efficiencies on the distribution side of the business.
Walgreen is positioning itself to function like a Walmart -- leveraging its tremendous purchasing power to squeeze profit from its suppliers (drug manufacturers) as well as maximizing efficiencies on the distribution side of the business.
NEW YORK (TheStreet) -- When Walgreen (WAG) announced its acquisition of U.K.-based Alliance Boots almost two years ago, the self-proclaimed "world's largest purchaser of prescription drugs" sent shock waves through the health care industry.
Simultaneously, Walgreen reached an agreement with Express Scripts (ESRX) to end a nasty dispute, which was costing the company billions in profit. Since then, the drug store operator has continued to pursue transformative deals, expansion beyond traditional pharmacy services and is reaping the ever-elusive "synergies" from its deal-making. And if the company's recent growth and earnings trends continue, Walgreen may just be getting started.
Through strategic acquisitions, Walgreen has managed to achieve continued growth in its core, U.S.-based retail business, while also becoming one of the largest retail pharmacy chains in the U.K. and Europe. Furthermore, Walgreen is well positioned to disrupt the existing pharmaceutical chain through its vertical integration strategy.
Rather than following CVS Caremark's (CVS) - Get CVS Health Corporation Report PBM-retailer integration mode, Walgreen is positioning itself to function more like a Wal-Mart (WMT) - Get Walmart Inc. Report, leveraging its tremendous purchasing power to squeeze profit from its suppliers (drug manufacturers) as well as maximizing efficiencies on the distribution side of the business.
At a PE of 23, investors are getting a company that is one of the three largest U.S pharmacy chains, has revenue and earnings growth and is well positioned to capture international opportunities in other developed countries. Therefore, I believe long-term investors should take a closer look at Walgreen.
Walgreen is the largest pharmacy chain in the U.S., with more than 8,000 community-based drugstores, as well as specialty pharmacies, home infusion and respiratory services, work-site health and wellness centers and retail clinic businesses. The company has consistently used acquisitions as an active part of its growth strategy, such as Duane Reade for $1.1 billion (helping it crack into the Big Apple's market) and Drugstore.com for more than $400 million (expanding its digital presence).
Walgreen stumbled badly in 2011, when it tried to square off against the pharmacy benefit management giant Express Scripts. Relationships between pharmacies and PBMs are often complex, as PBMs can behave as customers -- pushing for lower prices (through their preferred pharmacy networks), as well as competitors -- through their mail-order pharmacy businesses.
Walgreen left Express Scripts' network for just under a year, losing 80 million patients and $4 billion in annual revenue, according to analysts' estimates, before negotiating a deal. Walgreen has managed to win back customers, and currently holds 19.4% of the retail prescription market share. Of particular significance to investors, the company has reported year-over-year growth in its revenue for three consecutive quarters. In fact, fiscal 2013 (ended in August) was a splendid year for the company, with revenue ($72.2 billion) and free cash flow ($3.1 billion) reaching record levels.
Additionally, Walgreen returned $1 billion to shareholders through dividends. The company is on track to break that record again in the current fiscal year. First-quarter results included a record quarterly revenue of $18.3 billion, and a 66.1% increase in diluted earnings per share vs. the year-earlier quarter. So just based on the company's U.S. performance, Walgreen is clearly in growth mode. And the market has been rewarding Walgreen for these results, with the stock up 65% over the past year.
In June 2012, Walgreen announced a deal to acquire 45% of Alliance Boots for $6.7 billion ($4.0 billion in cash and 83.4 million shares), creating the "first global pharmacy-led health and well-being enterprise." In addition, Walgreen received the option to buy the remaining 55% of the company within 2 1/2 to three years after closing (August 2012) -- that is, sometime in 2015. How likely is it that Walgreen will complete the full acquisition? Considering management described the initial deal as a two-step process that would allow "thoughtful integration" of the two companies, I'd say the odds are overwhelmingly likely that it will happen.
Alliance Boots was formed through a merger in 2006 of Alliance UniChem, one of the largest pan-European wholesalers and pharmacy groups, and Boots Group, the U.K.'s largest retail pharmacy chain. In other words, Alliance Boots was the "Walgreen" of the U.K. and a major player throughout Europe. So the acquisition instantly transformed Walgreen into a leading pharmacy chain and wholesaler on the international front.
Furthermore, the merger offered a tremendous opportunity to unlock synergies between the two companies, given that they are in the same industry but had zero geographical overlap.
Synergies are the commonly cited (yet often never realized) reason for mergers. However, in this case, I am less of a skeptic. When the deal was announced, Walgreen projected the combined synergies across both companies to be $1 billion. The companies set up a Swiss joint venture (Walgreen Boots Alliance Development) that is specifically responsible for unlocking the potential synergies between the two.
And in fiscal 2013, Walgreen reported that the joint program delivered net synergies of $154 million, exceeding the previously expected range of $125 million to $150 million. So management is clearly focused on delivery results, and early data show success on this front.
One of the most significant opportunities identified by Walgreen's management team is in procurement synergies -- in other words, lowering the cost to acquire prescription and over-the-counter drugs. Walgreen built on this through the deal it announced last year with AmerisourceBergen (ABC) - Get AmerisourceBergen Corporation Report, one of the "big three" wholesale pharmaceutical distributors in the U.S.
Walgreen entered a 10-year agreement with AmerisourceBergen for pharmaceutical distribution, which AmerisourceBergen's management said was worth $28 billion in fiscal 2014. Walgreen and Alliance Boots were granted the right to acquire a minority position (up to 7%) in AmerisourceBergen, as well as warrants that will allow them to purchase additional 8% blocks of equity in 2016 and 2017. So over the next three years, Walgreen could have a 23% equity stake in AmerisourceBergen.
And remember, Walgreen has the option to purchase the rest of Alliance Boots in 2015. Can you say "Massive consolidation meets vertical integration"?  
In addition, the higher volume puts Walgreen in a better negotiating position when setting contracts with PBMs and insurers for reimbursement. So if there is ever a "round 2" to its showdown with Express Scripts, Walgreen will have much more leverage.
At the time of publication, the author held no positions in any of the stocks mentioned, although positions may change at any time.
This article is commentary by an independent contributor, separate from TheStreet's regular news coverage.