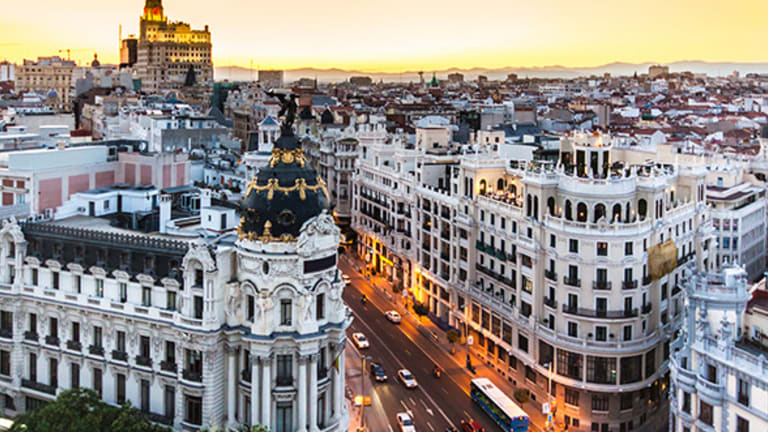 Why U.S. Investors Are Pouring Money Into European Stocks
Despite continued worries over Greece, Europe's economy is starting to recover -- and stocks there are rallying as a result
 FRANKFURT, Germany (The Street) -- Yield-hungry American investors are discovering Europe this year. 
That's right, Europe. Despite continued worry over Greece, Europe's economy is starting to recover -- and stocks there are rallying as a result.
"Money is moving out of the U.S. due in part to the fact that 2015 may be first year since 2010 that both Japan and Europe will avoid a recession," said Jeff Kleintop, chief global investment strategist atCharles Schwab.
Germany's blue-chip stock index, the DAX, has seen returns of 17% over the last year and a whopping 85% rise since 3 years ago. France's CAC stock index is also up 17% for the year, and up 69% over three years. The London and Swiss stock markets are also performing well.
U.S. investors have noticed. They've been pouring money into eurozone stocks: The amount invested in March was three times January's total.
American interest in the eurozone is unlikely to wane soon. According the most recent Bank of America/Merrill Lynch fund manager survey, 63% of fund managers want to invest more in Europe this year.
"Bullishness towards European stocks has reached uncharted territory," said Manish Kabra, European equity and quantitative strategist. According to Morgan Stanley, European stocks are selling at the steepest discount they ever have since data on them began to be collected in 1979.
The primary driver behind the Europe's economic rebound is the stimulus program launched in January by the European Central Bank (ECB). Much like the Federal Reserve did, the ECB is pumping money into the economy by buying sovereign national bonds issued by member governments -- a policy known as quantitative easing or QE. 
"Europe is finally starting to get its fiscal and monetary policies on a path that will lead to growth, and is finally rebounding from its 2011 sovereign debt crisis," said Kevin Kelly, chief investment officer of Recon Capital Partners.
Kelly thinks that Germany and the U.K. are the best places to be for investors.
"[Germany is] 30% of [Europe's] GDP as well as having the strongest balance sheet out of any government," he said. "The U.K. is strong as well. They should be able to capitalize not only on [Britain's] special relationship with the U.S. but its special relationship with Europe."
Not everyone thinks the rally will continue, however.
"I would warn against the DAX," said Michael Hewson, chief market analyst at London-based CMC Markets. "I think there is potential for a little bit of a reversal simply because of how far it has come over the last six to 12 months."
Still, some pros think European stocks are still relatively cheap.
U.S. investors looking abroad right now are not primarily tempted by overpricing at home, but rather value abroad, said Paul Christopher, a stock strategist at the Wells Fargo Investment Institute. While some have been tempted into the market via exchange-traded funds hedged for currency risk, Christopher does not believe that F/X is the predominant focus for investors looking to Europe right now.
"The euro's slowing pace of depreciation gave another buy signal, as people worried less about whether to hedge," he said. He believes that  dollar-euro parity will continue through next year. While the dollar may not stay as strong as it is now against the euro, "this should not necessarily dissuade investors from Europe, because the weaker currency should eventually trigger normalizing inflation and support spending and a recovery in bank lending and trade," he said.
Kleintop concurs. "The return of profit growth to Europe would help reveal value masked by elevated P/Es," he said. "For the long-term individual investor, hedging currency rarely pays off."
While ETF's, hedged or not, are not everyone's cup of tea, their performance so far this year remains a clear indication of the strength of the overall market. According to the investor research site ETFdb.com, the 58 U.S.-traded European ETF's are posting returns that mostly range from 8% to as high as a 19% yield, year-to-date. Beyond German, British and French based funds, Swiss ETF's are also doing extremely well as are euro-based, pan-investment funds.
The MSCI Finland Capped Investable Market Index Fund (EFNL) has yielded a respectable 6.91% year-to-date, the FTSE Portugal 20 ETF (PGAL) has yielded 16.18%, and the iShares MSCI Austria Capped ETF (EWO) stands at 11.2% yield for the year.
According to Kelly, "The sector we remain focused on is the industrial sector, which incorporates the German car manufacturers -- like Daimler, which posted 41% revenue growth in Q1. We also like Volkswagen, which is set to become world's largest car maker within the next year."
There are other stocks that investors should be looking at.
"Companies that have been in focus this week are Vodafone (VOD) in the telecom space," Hewson at MC Markets told TheStreet TV. "Utilities have also found that their values are artificially depressed, via companies like Centrica and United Utilities."
Must Read:
Do Euro Zone Stocks Signal Euro Deflation?
This article is commentary by an independent contributor. At the time of publication, the author held no positions in the stocks mentioned.