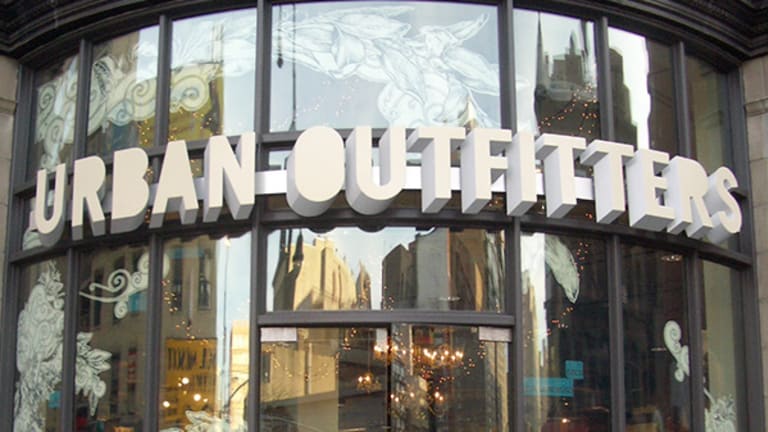 Why Urban Outfitters Is Selling Anti-Trump And Pro-Hillary Swag
For the struggling apparel chain, the move is a crafty way to stick out in a sea of retail sameness.
For years, Urban Outfitters (URBN) - Get Urban Outfitters, Inc. Report  has seen its market share dwindle at the hands of cheap fast-fashion names such as Forever 21, so it makes sense the company would try to tap into a contentious election season by selling politically charged swag.
The retailer has started selling anti-Trump pins, t-shirts and mugs boasting slogans including, "Vote Trump 20Never" and "IDK Not Trump Tho 2016." It's also hawking pro-Clinton merchandise such as the "Hillary Runnin' Thangs Tour 2016" t-shirt, the Bernie Sanders "Feel the Bern" t-shirt and a book entitled "Quotations From Chairman Trump," a collection of rather hilarious quotes from the Republican presidential candidate.
Urban Outfitters playing the political card right now makes strategic sense. For starters, it helps differentiate Urban since Forever 21 and Zara are unlikely to want to enter the political fray, raising the potential to sell products at full-price amid the current sea of bland apparel. Plus, it likely aids in staying emotionally connected with the city-dwelling hipsters in black glasses that tend to shop at Urban Outfitters. And hey, it's also a social media marketing tool that is being funded by consumers.  
Of course, the move carries with it some risks, as some conservatives have accused Urban Outfitters of being unfairly partisan. 
"The book is doing real well," said Carol Pogash, the author of "Quotations From Chairman Trump" in an interview. As to who may be purchasing the book, which is a riff on the classic Communist manifesto "Quotations from Chairman Mao," Pogash believes it's a diverse group of people. Some may be looking for a little comic relief at the expense of Trump, while others are Trump fanatics who would actually like to read his quotes.
Pogash says Urban Outfitters originally bought 5,000 copies of the book, and that publisher RosettaBooks just printed another 20,000 copies.
Urban Outfitters could use every cent that Trump and Clinton-themed merchandise are able to generate.
According to Bloomberg data, Urban's operating profit hit an all-time peak of $414.7 million in 2013, but clocked in at $353.6 million last year. Same-store sales have slowed for three consecutive years, and shares are down about 13% over the past year, lagging the S&P 500's 5% gain.
"They know their market and what people are shopping for," Pogash says of Urban's decision to unleash a dose of politics in its stores. Suffering investors sure hope that's the case.  
Urban Outfitters did not respond to an email seeking comment, but it told Fox News in a statement that "these t-shirts are novelty items, not a political statement on the part of URBN."