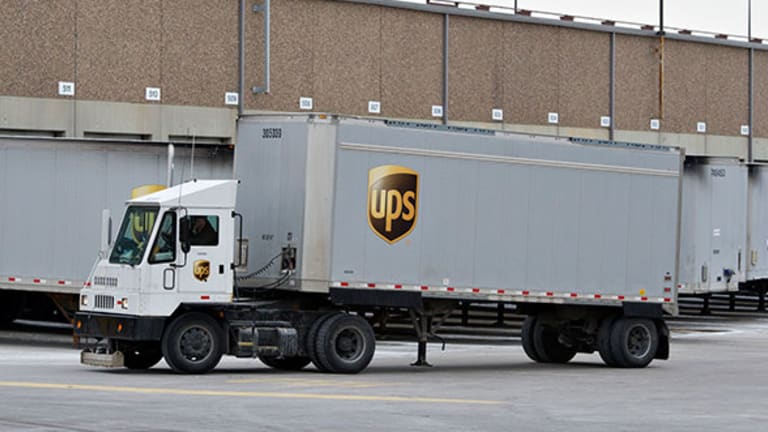 Why UPS Belongs in Your Stock Portfolio Now
UPS affirmed its full-year earnings outlook, suggesting it can grow despite global economic uncertainty.
If we've learned anything from Amazon's (AMZN) - Get Report monster earnings Thursday it's that consumers are spending more money shopping online than they are at brick-and-mortar stores. This should continue to bode well for UPS (UPS) - Get Report , which delivers many of those packages.
UPS reported second-quarter earnings Friday that showed it has already begun to capitalize in online shopping. Not only did its revenue rise across its business segments, the management affirmed its full-year earnings outlook, suggesting it plans to beat its results despite global economic uncertainty. So why would you not want this stock, which pays a 3.00 yield, in your portfolio? Take a look at the chart, courtesy of TradingView.
The stock trades at around $108 and is down after its earnings results were released. The shares, which are up 12% year to date, have declined about 3% since earlier this month reaching their 52-week high of $111.83. This compares to a 6% rise in the S&P 500 (SPX) index.
From the chart, you can see that UPS shares are now below their 20-day moving average of $109.71 (blue line) and are heading towards the 50-day (pink line) and 100-day (yellow line) averages, suggesting investor are looking for the exit. But now's the time for new investors to jump in and hold for the long term. The chart shows UPS stock has support at around $104 (green line), while the mid-term bullish trend indicator points to $112.
Fundamentally, the stock is cheap, too, trading at just 17 times fiscal 2017 estimates of $6.23 per share, which is inline with the S&P 500 index. In the next five years, the company is projected to grow earnings at an average annual rate of 10%, which is four percentage points above the S&P 500 index. Not to mention, the growth rate doesn't yet factor in the retail trend towards online shopping.
In short, here's a bellwether that just increased revenue of its core U.S. domestic package business to just over $9 billion and is positioned to grow earnings by double-digits in the next five years and pays a solid dividend. The stock belongs in any portfolio.
This article is commentary by an independent contributor. At the time of publication, the author held no positions in the stocks mentioned.