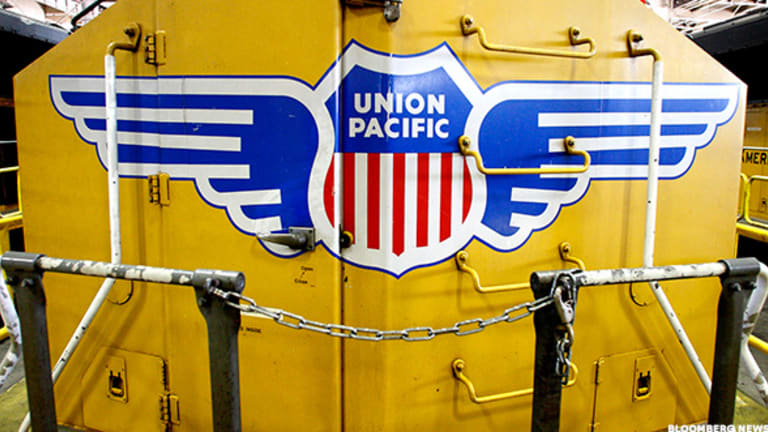 Why Union Pacific Is the Railroad Stock You Should Buy Now
Merger talks between Norfolk Southern and Canadian Pacific are in the news, but we've found a far better stock to ride the transportation sector's resurgence.
Release the doves! Janet Yellen continues to work her magic on the markets. The Federal Reserve chair in a speech on Tuesday reiterated the central bank's decision to go slower this year in raising interest rates, and the news pushed stocks higher.
The S&P 500 undefined has gained about 3.9% over the last month, erasing losses from the year's terrible start. Continued signs of economic recovery, combined with a dovish monetary policy, have been manna for cyclical stocks, especially in the transportation sector. The trick is finding the right stocks that will benefit from economic growth but that also boast inherent strengths to weather a downturn.
As banking, energy and other sectors struggle, we're keeping our eye on the reviving transportation sector. The SPDR S&P Transportation ETF (XTN) - Get SPDR S&P Transportation ETF Report is up 6.8% year to date and 6.1% over the past month.
On Tuesday, the stock of railroad operator Norfolk Southern jumped 2.4% in the wake of its announcement that it would be willing to consider a sale to Canadian Pacific Railway if the suitor raised its bid and regulators approved the deal's structure.
But there's another railroad that we like better, and it's trading at a bargain price right now: Union Pacific (UNP) - Get Union Pacific Corporation Report . The railroad is scheduled to report first-quarter fiscal 2016 earnings on Thursday, April 21. The analyst consensus is for adjusted earnings per share to come in at $1.14, compared with EPS of $1.30 in the same quarter a year ago.
This expected operating performance is ostensibly disappointing, but it actually shows Union Pacific's strong fundamentals and resilience in the face of lower oil and commodity prices.
Not only is Union Pacific stock poised to ride the transportation sector's resurgence for significant capital appreciation this year, but it's also a reliable, high-dividend stock that should appeal to income investors.
When energy and commodity prices started to hit the skids in mid-2014, the railroads that carry these materials took it on the chin. But as prices recover somewhat and economic growth accelerates, railroads are on an upward trajectory again. This time around, they're keen to forge greater economies of scale, through mergers and acquisitions.
These trends position Union Pacific as the railroad most likely to survive as the strongest operator in the industry, with its stock on track for outsized growth in 2016 and beyond.
Union Pacific's rail network comprises nearly 32,000 miles linking Pacific Coast and Gulf Coast ports, with major rail hubs in the the Midwest and eastern U.S. Founded in 1862 and headquartered in Omaha, Neb., Union Pacific is a bellwether of the economy's overall health.
Union Pacific is embarked on a multiyear campaign of operational streamlining that will make it one of the most cost-effective railroads in the nation. Union Pacific's capital program in 2015 totaled $4.3 billion, for a year-over-year increase of $200 million.
Union Pacific invested about $33 billion from 2006-2015 in its network and operations, setting the stage for growth when the rebound in commodity and energy prices at last sticks. Union Pacific operates in 23 states in the central and western half of the U.S., valuable territory with a high barrier to competitive entry, giving the railroad enormous price elasticity.
Union Pacific's operating ratio (expenses as a percentage of revenue) continues to fall, as the railroad gets an ever-tighter grip on costs. The operating ratio is a key metric of profitability in the capital-intensive railroad industry. Union Pacific's operating ratio in 2015 was 63.1%, down from 63.5% in 2014, which is favorable compared with the current operating ratios of its peers (Canadian Pacific: 64.7%; Norfolk Southern: 69.2%; and CSX: 71.5%).
Union Pacific's trailing 12-month price-to-earnings ratio is 14.4, compared with the trailing P/E of 18.2 for its industry.
In the railroad industry, a lowered operating ratio drives EPS growth, and combined with a bargain valuation creates conditions for stock price appreciation. Union Pacific now stands in this "sweet spot" for future growth.
Union Pacific shares currently trade at $79.14. The average 12-month price target from analysts covering the stock is $87.50, which suggests share can gain more than 10% this year. While you're waiting for the stock to rise, you can enjoy the robust dividend yield of 2.8%.
Best biotechnology stock under $10: We've found a small-cap biotech "rocket stock" that's about to take off. UCLA researchers are stunned by a Nobel Prize-winning cancer breakthrough that's proven in clinical trials to eliminate lethal forms of cancer with a single dose. One small company owns the patent to this life-saving treatment. Now trading at about $5 a share, the stock of this innovative company is projected to surge 2,700% on an imminent FDA announcement. To download the full report, click here.
John Persinos is editorial manager and investment analyst at Investing Daily. At the time of publication, the author held no positions in the stocks mentioned.