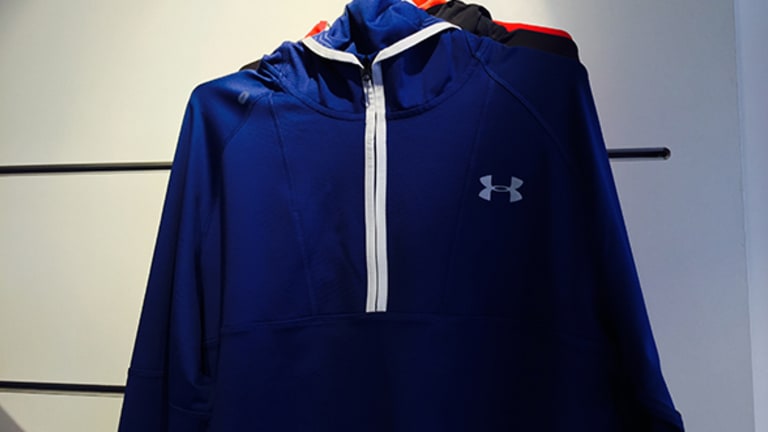 Why Under Armour's Shares Are a High Quality Long-Term Investment
The athletic apparel company has the tools and formula to go the distance for investors.
Despite Under Armour's (UA) high valuation, patient investors with a long time horizon would be wise to buy shares of the athletic apparel company.
Due to various reasons, Under Armour has the tools and formula to become a much larger company.
One of the first things that is crucial to look at when analyzing a company is its management.
Under Amour's Founder and Chief Executive Kevin Plank is the epitome of a leader. He is knowledgeable, motivated, and has a strong and clear vision of where he wants the company to go. 
A former Division I college football player, Plank understands hard work and more importantly, teamwork. This understanding, combined with his leadership ability and business expertise, make him one of the best chief executives in the game. 
Plank truly believes that Under Amour has the opportunity to become the biggest brand in the world, and the fact that he is just 43 gives him more than enough time to make that happen. Given his leadership ability, his motivation to be the best and his proven formula for success, there is no telling how far Under Armour can go.
A vital part of establishing a well-known and trusted brand is picking the right people to represent that brand. Under Armour has an uncanny ability to seek out the best of the best, and not only does the company pick great athletes but great role models.
These include NBA star Stephen Curry, Washington Nationals outfielder Bryce Harper, Carolina Panthers quarterback Cam Newton and professional golfer Jordan Spieth.
Getting athletes such as these to represent a brand directly translates to sales. 
Another important thing to consider when analyzing a company is its marketing strategy. Under Armour has put itself in a prime position to eventually be the industry leader.
A perfect example is Under Armour's Alter Ego brand, which is all about finding one's inner superhero. This marketing strategy is designed to gain the trust and loyalty of the younger generation, but it has also been wildly popular with older people. 
Under Armour understands that in order to maximize sales it has to get both men and women to love the company's products. Over the past few years, Under Armour has aggressively implemented new ad campaigns aimed at women.
These ad campaigns include model Gisele Bundchen, ballet dancer Misty Copeland and alpine ski racer Lindsey Vonn.
Although Under Armour is primarily known as a clothing and accessories company there are those who also see the brand as a technology company. There is no question that wearable technology has a huge future, and Under Armour is a good bet to be a strong player in this field.
Of course, Under Armour is known for products such as backpacks, bags, balls, belts, cleats, gloves, hats, headbands, jackets, pants, protective gear, sandals, shirts, shoes, shorts, socks, sweatshirts, tank tops, underwear, watches, water bottles, wristbands and yoga pants.
The Under Armour logo is a symbol of quality, and as the company continues to gain the respect and trust of people all over the world, the brand will have endless opportunities for expansion.
Brent Botwin is a value investor and previous Fortress Challenge winner. He is a stock specialist who is constantly monitoring the market and uses strong fundamental and technical analysis to provide timely investment advice over a wide variety of sectors. At the time of publication, the author held no positions in the stocks mentioned.