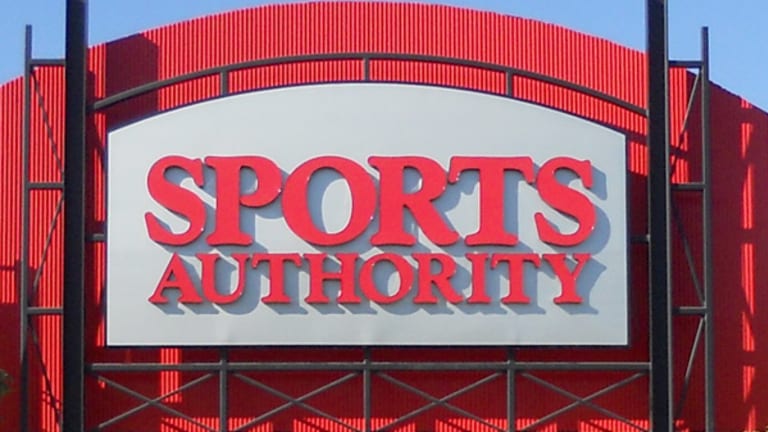 Publish date:
Why Under Armour's Founder Couldn't Care Less if Sports Authority Vanishes
Under Armour has other things going for it besides selling apparel to bankrupt Sports Authority.
Under Armour has other things going for it besides selling apparel to bankrupt Sports Authority.
For Under Armour (UA) - Get Under Armour, Inc. Class C Report , it pays to be diversified. 
Ailing sporting goods retailer TheSports Authority decided over the weekend against reorganization and instead will opt to liquidate its 450 stores in 27 states. The company, saddled with more than $1.1 billion in debt, initially filed for Chapter 11 bankruptcy in early March and planned to close about 143 stores.
The Sports Authority hasn't publicly announced a closing date.
The eventual disappearance of Sports Authority will likely leave Under Armour without a key long-time partner. But Under Armour Founder and CEO Kevin Plank doesn't think that's too big a deal.
"If there's anything as we think about our business, the good news is that we're not strictly a North American story anymore, as this is a global company. And international is becoming more and more important to us, as we'll be closing in on it being 13% of our revenues, and possibly north of that, as we think about what 2016 will ultimately look like," said Plank to analysts on an April 21 earnings call about the implosion of The Sports Authority.
Plank added, "Posting 30% growth in a quarter where one of our largest customers -- one of our top two or three customers just a few years ago -- filed for bankruptcy is something that just continues to demonstrate the strength of the brand, and how strong our portfolio ultimately is."
Plank pointed to several factors besides international growth as reasons why investors shouldn't fret about Sports Authority's bankruptcy.
First, Under Armour has other more financially sound partners. The company sells a limited line of apparel offerings at about 127 owned shops found within Dick's Sporting Goods (DKS) - Get Dick's Sporting Goods, Inc. Report , a sporting goods chain that be the ultimate beneficiary of Sports Authority's bankruptcy. 
Dick's is planning to introduce a new Under Armour apparel shop design sometime in 2016, but the new format has not yet launched, according to a Dick's spokesperson. Plank also teased the likelihood of expanded Under Armour golf sections at Dick's, as it seeks to capitalize on the growing fame of sponsored athlete Jordan Spieth.
In the meantime, Under Armour has continued to open shops inside of department stores such as Macy's (M) - Get Macy's Inc Report , Bon-Ton (BONT) and Bloomingdales, a division of Macy's. Plank said it has added 275 new women's apparel shops alone this year at various department stores.  
And Under Armour has been quietly building a formidable network of stand-alone retail stores. The company currently operates 162 owned factory stores, which sell more affordable workout gear than is normally found at department stores, online and sporting goods retailers. It also has 36 stores known as "brand houses," which tend to be large in size and feature the very best collections. 
The company said in late January that it will open a whopping 200 stores in 2016 -- it did not disclose what mix of formats those new 200 stores would comprise.
Finally, the company has a growing online business. "We can tell you that our e-commerce business is outpacing our overall growth," said Plank on the call. Under Armour does not disclose its online sales. 
The apparel and footwear maker's first-quarter results went a long way to support Plank's views on the loss of its big partner. Under Armour's first-quarter earnings tallied 4 cents a share, solidly beating consensus forecasts of 2 cents. Total revenue rose 30% year over year to $1.05 billion. Analysts were looking for revenue of $1.02 billion. 
Under Armour saw strong growth throughout its business, helped by the success of its sponsored athletes such as NBA star Stephen Curry and golfer Jordan Spieth. Apparel and footwear revenue rose 20% and 64%, respectively, from the prior year.
Revenue is expected to rise 26% this year to $5 billion; previous guidance was $4.95 billion. Operating profit is pegged to increase 23% to 24% to a range of $503 million to $507 million. Previously, Under Armour guided to $503 million in operating income.