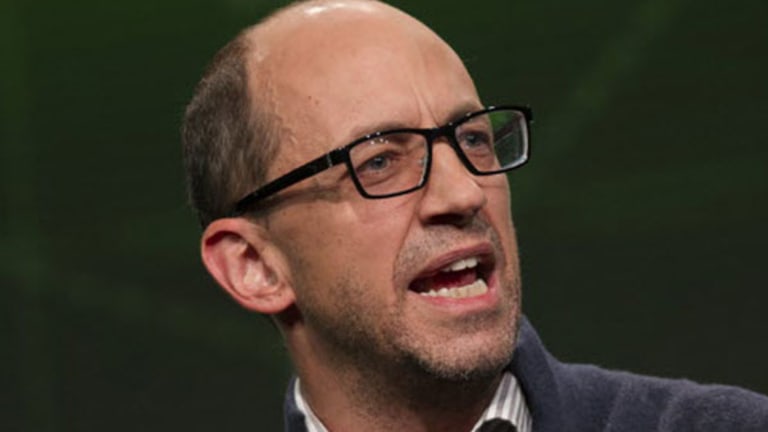 Why Twitter Has Lost Nearly Half Its Market Cap Since IPO
Twitter's CEO Dick Costolo has been on the hot seat as Twitter's stock price has tumbled by nearly half from its peak. What's gone wrong for Twitter?
NEW YORK (TheStreet) -- Becoming better at predicting its revenue growth might actually be hurting Twitter (TWTR) - Get Free Report , which has lost nearly half its value since its 2013 IPO. 
Twitter's revenue growth has a bright spot amid issues with user growth and engagement. But when Twitter unveiled its conservative but "accurate" guidance following the third quarter in October 2014, it snapped the last thread that was holding up its valuations, and that's probably the biggest reason why Twitter's stock is down nearly a quarter since then. That's just the latest issue for the company's stock.
The company's top brass might have stood up for its CEO Dick Costolo after a number of prominent voices have called for his replacement, but the embattled executive isn't breathing easy yet. After its much celebrated IPO and the spirited rally that followed, Twitter has lost nearly half its market cap in a little over a year.
Since IPO, problems have compounded for the microblogging site, which initially came under fire for its slow user growth; questions have been raised about Twitter's scalability; and Twitter's engagement metrics haven't been too encouraging either.
Twitter User Growth: Still Lackluster
Ever since its first earnings release as a public company,
has always been a source of concern, and in spite of a few encouraging upticks, the overall trajectory has been disappointing. The graph shows Twitter's absolute user addition on a quarterly basis and its quarter-over-quarter growth rates.
Things got worse when Twitter updated its earnings presentation after its last release to announce that 11% of its total user base of 271 million monthly active users (MAUs), accessed Twitter solely via third party applications. Further the update went on to say that 8.5% of MAUs who used third party apps may have used third party apps that may have automatically contacted Twitter's servers for updates, "without any discernible additional user-initiated action."
In the third quarter, the percentage of users who accessed Twitter via third party apps rose from 11% to 11.5%. With the passage of time, a lot of comparisons between Facebook and Twitter have been made to look less apt, with Facebook seeming further ahead than initially thought. Further, Twitter's slowing user growth continues to raise questions about its ability to scale.
Twitter User Engagement Adds To The Concerns
Like Twitter's user growth, its engagement metrics have been disappointing. Every quarter, Twitter shares numbers for its total timeline views and timeline views per MAU. The chart below tracks the change quarter-to-quarter in timeline views per MAU and total timeline views (in billions). The company a marked dip in the fourth quarter of 2013: 
Twitter's user engagement numbers showed some improvement in the first quarter of 2014 and then in second quarter, too, which saw a big jump in engagement levels, driven by user activity around the FIFA World Cup. During the event, Twitter users broke several records, like the highest number of tweets related to a single event and the highest ever number of Tweets Per Minute.
The second half of the tournament, which was the record breaking part of the tournament, was held in July 2014, or Twitter's third quarter. Yet, Twitter's engagement metrics in third quarter slid below levels seen in second quarter of 2014.
Twitter has significant room for improvement on both of these metrics.
Twitter's Revenue Guidance Could Have Stirred The Panic
Twitter's revenue guidance for the fourth quarter 2014 ranges between $440 to $450 million, representing 81% to 85% growth year-over-year. Viewed in isolation, that doesn't seem bad at all, but the problem is that the implied growth rates are much lower than Twitter's average growth of 118.4% over the last year.
In the past, Twitter has beaten revenue estimates consistently. However, this time around, Twitter Chief Financial Officer Anthony Noto expressed the management's intention to be "more accurate" in its revenue guidance.
"As we've placed more weight on the opportunities in the quarter come to fruition. For that reason and based on current visibility, we do not recommend projections that deviate meaningfully from our guidance," he said.
Twitter's Future
Twitter might go on to report great revenue numbers in the fourth quarter and the stock might react positively. That said, what the guidance has done is suggested the possibility that growth could slow down very soon. Twitter valuations have never seemed to factor in that possibility.
This article is commentary by an independent contributor. At the time of publication, the author held no positions in the stocks mentioned.