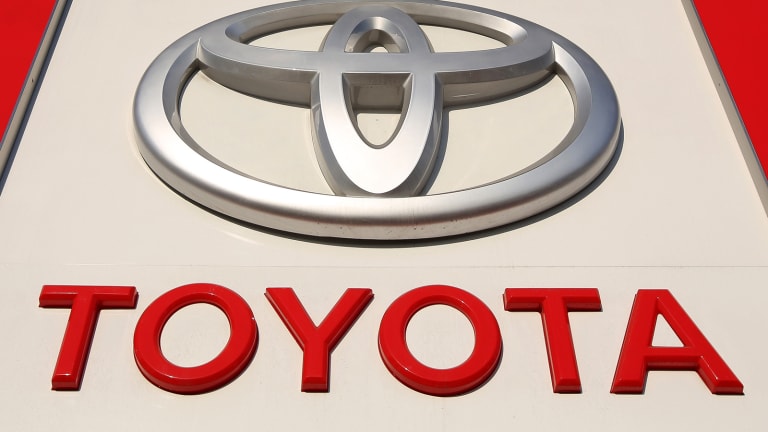 Why Toyota Is Your Best Bet Among Auto Stocks
Auto sales are surging, but which of the sector's stocks make the most sense right now? Here's why we think it's Toyota.
With sales of 10.15 million vehicles in 2015, Japan's Toyota Motor  (TM) has managed to keep its position as the world's top-selling automaker for the fourth consecutive year.
Not only did this figure surpass the 9.93 million vehicles sold by Volkswagen and the 9.8 million sold by General Motors, it even beat Toyota's own forecast for 10.098 million vehicles for the year.
Some investors do not expect the automaker to see the same level of success in the future, however. Their reasons include diminishing positive effects of the weaker yen and disappointing sales in emerging markets and lukewarm response to new IMV vehicles launched for emerging markets, including sales of the new IMV vehicles.
But Toyota is preparing to align itself with an automobile market characterized by a switch to hybrid vehicles and artificial intelligence. We'll explain why it's a smart move to invest in Toyota, which is among a select group of momentum stocks that look strong despite the overall market's dicey prospects in the year ahead.
To lower manufacturing and development costs, Toyota has introduced Toyota New Global Architecture. Taking this approach involves using, as much as possible, common parts and platforms for developing several models.
With lower costs and more easily available resources, Toyota will be better equipped to build lighter, more fuel-efficient, and technologically rich cars.
By 2020, Toyota plans to move half of all its vehicles to the new cost-saving platforms. As an investor, you should always look for companies with competitive advantages, as exemplified by Toyota's New Global Architecture.
To equip itself better to compete in emerging markets, Toyota will likely make minivan manufacturer Daihatsu a wholly owned subsidiary. Right now Toyota has a 51.2% stake in the company. Daihatsu's low-cost production technology will be of immense importance to Toyota, which has a small 5% market share in emerging economies such as Brazil, India and China. Toyota will be able to better compete with rivals Volkswagen and General Motors, which are gaining ground in these markets. By taking full control of Daihatsu, Toyota can also standardize parts that had otherwise been separately sourced.
Owing to a weaker yen, Toyota's operating profit has been propped up by 115 billion yen this fiscal year. A weaker yen compared to the dollar translates to more earnings when converted to the home currency.
Toyota is putting these windfall gains to good use for the company's future by investing in research and development initiatives ranging from fuel cells to artificial intelligence to self-driving technology. The companies with the best long-term prospects are those that steadily invest in R&D.
Toyota is investing $1 billion to set up an institute in Silicon Valley that conducts research into artificial intelligence, according to the Financial Times, and by 2020, Toyota hopes to sell vehicles that will automatically change lanes on highways.
At the recently held Consumer Electronics Show in Las Vegas, Toyota announced its initiatives for smartphone-connected cars and incorporating data communications and artificial intelligence in its vehicles.
For smartphone app services, Toyota has said that it would collaborate with Ford Motor and tech company Livio to install the Livio SmartDeviceLink in its cars.
Toyota decided to give a pass to similar services such as Apple's CarPlay and Alphabet's Android Auto to gain greater control over safety-related issues relating to apps.
Toyota has already established itself as the top-selling automaker, but with all its forward-thinking  initiatives, it is also evident that Toyota is equipped to provide answers to an evolving automobile market.
With Volkswagen still coming to terms with its emission scandal, GM no longer using Indonesia for production, and Ford shutting international operations in Indonesia and Japan, citing profitability and competition as issues, Toyota seems to be the one auto stock that will deliver yet again.
As we've just explained, Toyota has momentum on its side. I've also found a small-cap tech stock that has the potential to surge 100% or more in the coming months. This is a growth story with major momentum, so it's important to learn the full details as soon as possible. The stock is trading at under $8 a share, and its long-term prospects have never been better, making it a great value. I expect this rocket could take off soon, so be sure to click here now and learn more.
This article is commentary by an independent contributor. At the time of publication, the author held no positions in the stocks mentioned.