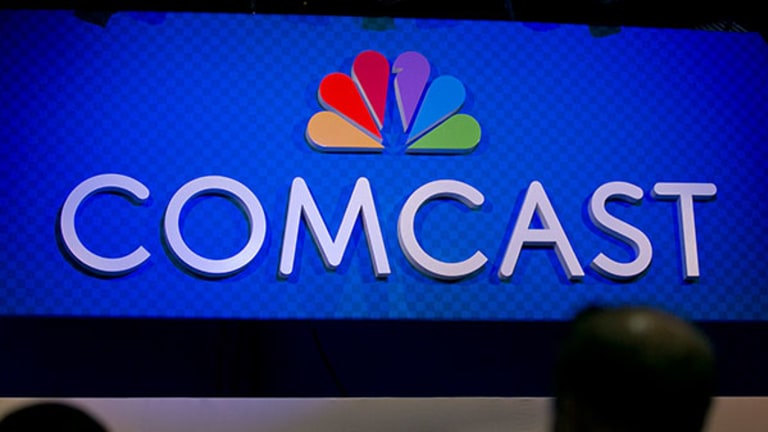 Why Time Warner Cable Can Do Well Even If Comcast Deal Fails
Time Warner Cable's operations are improving and a likely suitor, Charter Communications, is waiting in the wings.
Time Warner Cable's operations are improving and a likely suitor, Charter Communications, is waiting in the wings.
SAN DIEGO ( TheStreet) -- Comcast (CMCSA) - Get Report may not win regulator approval for its $45 billion merger with Time Warner Cable (TWC) . But even if the government rejects the deal, Time Warner Cable's improving finances, and the existence of another suitor - CharterCommunications (CHTR) - Get Report, offer upside to the stock.  
Buckingham Research analyst James Ratcliffe raised his price target on Time Warner Cable to $187 from $183 on Monday citing Charter's continuing interest in buying the cable giant should the Federal Communications Commission, or the Justice Department, move to block the $45 billion Comcast/Time Warner Cable union.
A long-awaited final decision on the pending Time Warner Cable/Comcast tie-up is expected by mid-year, Comcast recently said. Time Warner Cable declined to comment.
The tie-up faces fierce opposition from rivals and consumer advocates who are concerned that the union of two cable powerhouses would put too much control of the country's broadband market into the hands of one giant. Last week, the California Public Utilities Commission called for the state to stop the Comcast and Time Warner Cable marriage in California.
Even so, investors are betting on the deal going through.
Time Warner Cable stock is up about 17% from February 13, 2014, when the merger was announced. Time Warner Cable shareholders would receive 2.875 shares of Comcast stock for each of their Time Warner Cable shares. Ratcliffe gives the deal an 85% chance of going through. Matthew Harrigan, an analyst at Wunderlich Securities, is somewhat less optimistic, putting the odds at 65%, in a phone interview.
But should the government block the deal, there is a 10% chance Charter will succeed in buying Time Warner Cable, Ratcliffe wrote in the report.
"We believe that Charter remains very interested in acquiring Time Warner Cable, should the Comcast transaction not go through," Ratcliffe wrote.
Charter put in a bid for Time Warner Cable in January 2014. That deal, which was worth $138 at the time, is now worth $157, thanks to Charter's improving stock price, Ratcliffe noted, though he would expect Charter to initially lower its offer.
At the same time, Time Warner's prospects as a standalone company are improving under new CEO Rob Marcus. In the fourth quarter the cable giant reported net customer additions of 67,000.
"Current management is doing a decent job turning around the company," Harrigan said. "The entire cable industry has a lot going for it."
Nonetheless, if Time Warner Cable is left at the altar, there would be a downside for the stock, though it would be "modest," Ratcliffe wrote.
"We believe downside is modest and view a $150 per share value as justified, given improved operating trends at Time Warner Cable," he wrote.
This article is commentary by an independent contributor. At the time of publication, the author held no positions in the stocks mentioned.