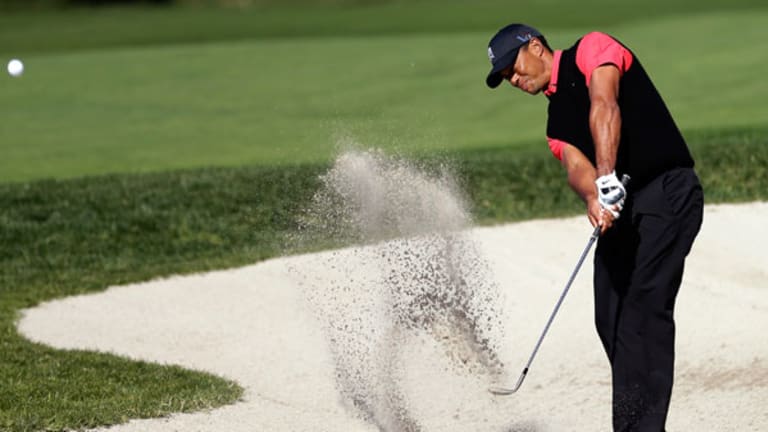 Why Tiger Woods and Apple Are Cursed
Woods and Apple are burdened by fans who demand 'what have you done for me lately?'
NEW YORK (TheStreet) -- It's a sad tale due to this insatiable world we live in.
Incomparable performances are held to extreme expectations that ultimately lead to knee-jerk disappointment because said expectations will undoubtedly level off.
I caught a little of
GolfChannel's
post round coverage after Tiger Woods earned his 75th PGA Tour win Monday at the Farmers Insurance Open. Not surprisingly, the analysts fretted more about how Tiger won by "only" four shots instead of by eight or 18 and that he struggled to 4-over on the last five holes.
Right there it dawned on me that golf's Big Cat suffers from the same malady as his ridiculously successful tech counterpart
Apple
(AAPL)
.
Their stratospheric achievements fuel fervent fans' unfair expectations to perpetuate -- the typical curse of stalwart performers. It's the same old "victim of your own success" saga.
They blew away our beliefs of what a golfer and tech company could accomplish as they bludgeoned their competition into mere afterthoughts. Woods and Apple are
the
Pied Pipers and all follow the dynamic duo's every move to the point of constant overblown reaction -- especially when there's a little performance hiccup.
If you read
TheStreet.com
consistently, you'll notice the site is peppered with Apple headlines either screaming it's doom and gloom or predicting an amazing rise from a stock price freefall. Apple moves the needle like no other -- as the Web hits validate.
Golf publications, Web sites and networks firmly attach their viewership numbers on Tiger's cape. CBS even suspended its Monday afternoon programming to broadcast Woods' winning coronation. There isn't another golfer alive that remotely attracts as many eyeballs.
Yet, as much as Woods and Apple have performed at such lofty levels, they are burdened by fans who vehemently demand "what have you done for me lately?" It's the dreaded can't-win curse of meeting and exceeding the impossible while we scream for
more!
Woods has won 14 majors in his 18 years as a Tour pro. That's 10 ahead of his nearest current competitor. He's the sole reason for the Tour's swollen purses keeping his peers in mansions and private jets. He has simply exceeded the incredible hype foist upon him. To wit, Woods took only 294 starts to earn his 75 victories. Jack Nicklaus' 73 wins required 594 events. Enough said.
But -- and it's a big but -- he hasn't won a coveted major since his U.S. Open playoff win at Torrey Pines with a broken leg(!) in 2008. Even he acknowledges the journey won't be complete unless he catches Nicklaus' hallowed major mark of 18. Winning three events last year barely raised an eyebrow because he laid a big goose egg at the Masters, U.S. Open, British Open and PGA Championship.
So, what have you done for us lately?
I love Apple products (I own a MacBook Pro, iPhone5 and Apple TV). They're attractive, simple to use and integrate seamlessly. I gladly pay the premium because my peace of mind is worth it. Millions of consumers obviously mirror the opinion.
Apple revenue has grown faster than a St. Bernard puppy. Their coffers are swollen with more than $100 billion in cash -- nearly enough to cover the total amount of U.S. student loans. Until recently, the stock price had risen faster than Justin Bieber's Twitter followers.
But -- and it's another ample but -- investors didn't see -- or simply ignored -- the dark cloud warnings of iPhone5 supply issues or the lack of ground-breaking innovation on the horizon. Euphoric lemming buying led to panic stock sell-offs for a company with incomparable balance sheets.
Again, what have you done for us lately?
The Woods/Apple similarities are like overachieving twins separated-at-birth.
Both are at the top in their fields. No two entities enjoy and endure such a cult following. They are equally beloved and despised. Check out the message board battlefields of fans and enemies emotionally defending their overzealous support or loathing.
Both underwent significant changes. Woods completely changed his swing three times, underwent four knee operations and endured a very sordid and publicly dissolved marriage. Apple lost its leader and inspirational soul in Steven Jobs.
Both are industry leaders in style. Woods powerful influence instantly made the mock collar acceptable at stuffy country clubs. Apple's sublime design and packaging made every product feel special -- and their competition 20th century archaic.
Both inspired their competitors to make wholesale changes. Fitness buff Woods inspired doughy foes to hit the gym. Apple inspired competitive innovation to raise their smartphone capabilities and ergonomics.
Both are facing the warning signs of their own mortality. Woods is a not-so-spry 37 years old, struggles with an iffy driver and facing formidable rivals -- especially the No. 1 golfer and new Nike (NKE) stable mate Rory McIlroy. He's also running out of feasible opportunities to nab those hallowed four to five major trophies. To wit, Phil Mickelson's entire career has yielded four major wins.
Apple's lofty perch is threatened by invigorated challengers and without the inspirational Jobs as a guiding rudder. Its bellwether iPhone 5 sold 17 million fewer units than
Samsung's
Galaxy SIII in the 3rd quarter. And, the company's die-hard consumers are impatiently tapping their feet for the next groundbreaking technology in the pipeline. It's a high bar to maintain.
The critical crossroads for both iconic performers are nigh upon them. They certainly realize that past performance doesn't guarantee future success and in fact makes them prisoners of stellar achievement.
Question is do they have enough left in the tank to sooth the naysayers?
The "what have you done for us lately?" echoes are growing louder by the day.
At the time of publication the author had no position in any of the stocks mentioned.
This article was written by an independent contributor, separate from TheStreet's regular news coverage.