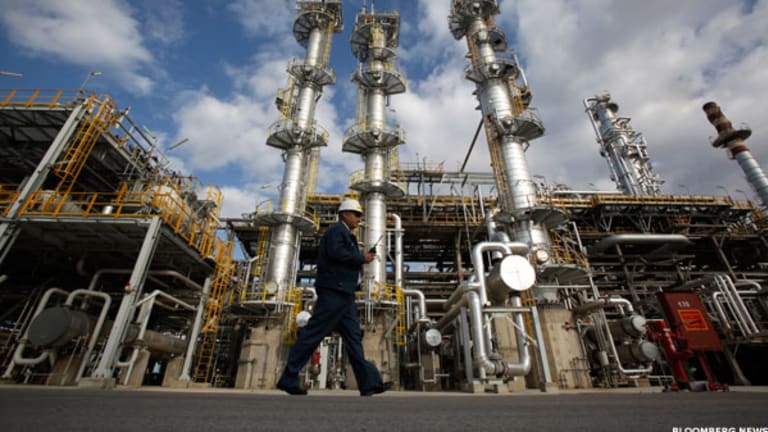 Publish date:
Why This Icahn-Backed Refiner Is Not for the Faint of Heart
CVR Refining has decent long-term growth prospects but with only two refineries it does hold risk.
CVR Refining has decent long-term growth prospects but with only two refineries it does hold risk.
NEW YORK (TheStreet) -- CVR Refining (CVRR) is an independent refiner based in Sugar Land, Texas, with a market cap of $3.3 billion. The firm, which is a master limited partnership (MLP), was formed by CVR Energy (CVI) - Get Report to handle its refining and related logistics operations. The most recent quarterly earnings of the refiner witnessed a significant drop. But that was largely due to an equipment failure at one of its refineries, which caused a considerable drop in throughput. More important, CVR Refining has cut down its cash distribution. The business is a variable rate MLP and has just two refineries, which makes it an inherently riskier investment than other traditional MLPs. Although CVR Refining has decent long-term growth prospects, it is certainly not for the fainthearted.
CVR Refining owns two of the seven refineries in Group 3 of the PADD II region of the United States: a 115,000-barrel-a-day oil refinery in Coffeyville, Kan., and a 70,000-barrel-a-day oil refinery in Wynnewood, Okla. The refiner also owns pipelines, crude oil gathering tank farms, storage capacity and other related assets.
The company supplies its products to Kansas, Oklahoma, Missouri, Nebraska and Iowa. This is an area where the demand for gasoline and distillates has exceeded the supply. As a result, CVR Refining benefits from favorable market fundamentals.
CVR Refining is backed directly, and indirectly, by the activist investor Carl Icahn. The billionaire owns 80% of CVR Energy, the second biggest holding in Icahn's portfolio. CVR Energy owns 71% of the common units of CVR Refining. This gives Icahn a sizeable indirect exposure to the refiner. According to data provided by Thomson Reuters, Icahn has also purchased 6 million shares CVR Refining in the first half of the current year, giving him direct exposure to the company.
Earlier this month, CVR Refining released its quarterly results that came well below investors' expectations and as a result, its shares dropped by 9% on the day of the earnings release. The business reported a net income of $86 million from net sales of $1.9 billion, a significant drop from net income of $319 million and net sales of $2.3 billion in the same quarter last year. The huge decline was attributed to a one-off event in which an equipment failure at the Coffeyville refinery had an adverse impact on its operations. The refinery ran at just 79,400 barrels a day, which is 35,600 barrels below its normal capacity. Moreover, the firm also suffered from reduced crack spreads and narrowing crude differentials.
CVR Refining also cut down its cash distribution to just $0.30 per unit. This is a big drop because the company has paid out $2.93 in the first half of the current year. CVR Refining was one of the six MLPs that reduced their cash distributions in the previous quarter. This list also includes
CVR Partners
(UAN) - Get Report
, the nitrogen fertilizer arm of CVR Energy.
The cut in cash distribution was a big blow for investors who usually invest in an MLP with an assumption that the cash distributions will likely increase over time. But the risk of a cut is always there.
In terms of the risk of a reduction in cash distributions, CVR Refining is inherently riskier than most of the other MLPs out there. This is because CVR Refining is a variable-rate MLP, which means that unlike other MLPs, CVR Refining can cut its cash distributions to zero.
CVR Refining's current policy is to distribute all of its available cash, which it generates in each quarter, to its unit holders. However, according to the partnership agreement, CVR Refining is not required to make any distributions at all. While a zero-cash-distribution would be an extreme measure and I don't see that happening in the near future, it is still a risk that should be accounted for before making any investment decision. This risk became all too real for the unit-holders of
Alon USA Partners
(ALDW)
. In its quarterly results announced earlier this month, Alon USA Partners revealed, much to the dismay of the unit holders, that "there is no cash available for distribution this quarter."
However, the good news for CVR Refining's investors was that the struggling refinery, which happens to be the bigger of its two refineries, became fully operational by Sept. 11 and operated at normal capacity throughout the remaining quarter.
In the next quarter, with the Coffeyville refinery operating at full capacity, CVR Refining will post a significant improvement in its total throughput from 167,563 barrels per day to between 180,000 and 190,000 barrels per day.
This brings us to the second point that makes CVR Refining an inherently risky investment. Unlike the other non-MLP refiners, like
Valero
(VLO) - Get Report
,
Marathon Petroleum
(MPC) - Get Report
and
Tesoro
(TSO)
, CVR Refining has just two refineries. If it experiences downtime at any one of these facilities, then that would translate into a significant drop in overall production. This was evident in its recent quarterly results discussed earlier.
On a positive note, since CVR Refining returns all of its available cash to the unit holders, therefore, during good times, the business can generate significant returns for its owners. Like most refiners, CVR Refining's business is cyclical in nature. The firm experiences an increase in demand during the summer months and a drop during the winter months. Therefore, barring any unforeseen incident, the business should be able to generate healthy returns for its shareholders in the second and third quarters of 2014.
While there are risks associated with CVR Refining's variable-rate structure, it also means that CVR Refining is not required to pay any incentive distribution rights, or IDRs, to the general partner CVR Energy. Therefore CVR Refining operates at a lower cost of capital, which gives it an advantage over other traditional MLPs.
Moreover, CVR Refining's crude oil refineries at Kansas and Oklahoma have access to cheaper, local crude whose prices are linked to WTI. The bigger Coffeyville refinery has more supply flexibility as it has access to cheaper Canadian crudes as well. Due to the higher quality of its assets, CVR Refining has been one of the lowest cost operators. For the 12 months ending September 2013, CVR Refining spent $5.70 as operating expenses for each barrel of crude oil refined. This ratio puts CVR Refining ahead of some of its other competitors such as Tesoro,
HollyFrontier
(HFC) - Get Report
and
Western Refining
(WNR)
.
At the time of publication, the author had no positions in to stocks mentioned.
Sarfaraz A. Khan is a capital market analyst and finance writer. Khan earned an MBA from the University of Aberdeen, located in the heart of the UK's oil and gas industry. Not surprisingly, his specialty lies in energy stocks. He also covers consumer goods, services sector, technology stocks, emerging markets and ETFs. His work appears on Seeking Alpha, Motley Fool and TheStreet.