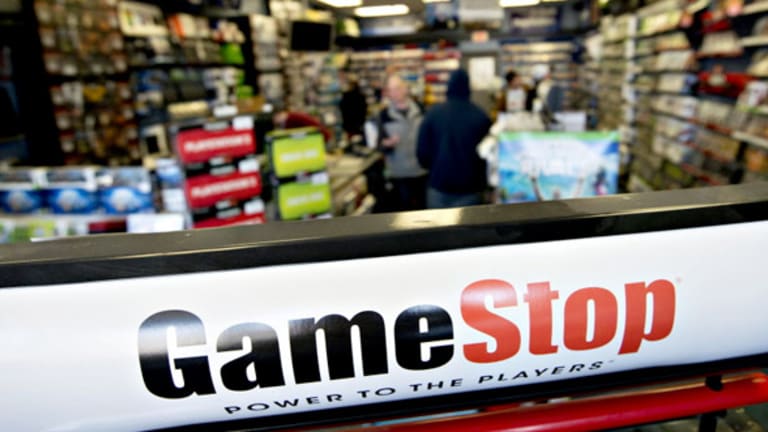 Why There's No Stopping GameStop
Analysts like this company, even with its shares lower. Here's why.
Analysts like this company, even with its shares lower. Here's why.
In the last year, GameStop (GME) - Get Report  shares are down about 31%. Despite the decline, the analyst community is very positive on the shares. Can anything stop Game Stop?
On Aug. 25, GameStop reported second-quarter results. Revenue fell 7.4% to $1.63 billion and earnings of $0.27 per share were in-line estimates. Global same-store sales fell 10.6% versus the -4% to -7% guidance. Revenue at the company's Technology Brands business increased 54.6% to $175.9 million. Sales in the mobile and consumer electronics business increased 43% to $203.3 million.
Management sees third-quarter earnings between 53 cents and 58 cents per share and comparable store sales to range from -2% to 1%. The company also reaffirmed fiscal 2017 guidance that calls for earnings between $3.90 and $4.05. Same store sales are anticipated to range between -4.5% to -1.5%.
The stock sunk 8% in the after hours on the disappointing results. Analysts point out the second quarter is the slowest quarter in the year and the back half of the year will be much better. Wall Street is banking on strong holiday sales of new gaming consoles and a flood of new games to drive business.
Microsoft's (MSFT) - Get Report Xbox One S hit the shelves Aug. 2. The console, which is 40% smaller than the original Xbox One and has a faster processor, can stream 4K videos from Netflix (NFLX) - Get Report and Amazon (AMZN) - Get Report . The Xbox can also play Ultra HD Blu-Ray discs and it will upscale 1080p video to 4K. With the new High Dynamic Range feature, the One S can display a wider variety of colors to create more detailed images. The Xbox One S sells for $399 with a 2-terabyte hard drive.
In May, Sony (SNE) - Get Report said it has sold more than 40 million PlayStation 4 consoles. Analysts estimate Microsoft has sold a total of 20 million Xbox One consoles.
Back in June at the E3 show in Los Angeles, video game makers previewed some of the latest games in development and those that are scheduled to ship over the next 18 months. By my count, there are 21 major titles to be released in the second half of calendar 2016 and probably another 25 titles into 2017.
Analysts are also excited about Sony's virtual reality set-up. The PlayStation VR, codenamed "Project Morpheus" is scheduled to launch Oct. 13 and will retail for $399. The VR has a 5.7 inch OLED panel that straps to the users face. Sony estimates there will be 50 virtual reality games that will be available when the VR ships.
The new consoles and a flood of new games should boost GameStop's second half. For the full year, fiscal 2016 earnings are expected to be $3.98 and as much as $4.23 next year. Analysts see revenue growing just 2% from $9.32 billion to $9.51 billion in 2017.
Because of the low-single-digit growth, the stock multiple is relatively modest. Historically the stock trades between 7 and 9 times forward estimates. Therefore, it probably has upside to the mid $30s. If the Sony virtually reality console is a big hit, positive investors sentiment could take the shares higher.
In my opinion, if you want to speculate on a holiday pop going into a big gaming season, there is nothing to stop Game Stop.
This article is commentary by an independent contributor. At the time of publication, the author held no positions in the stocks mentioned.