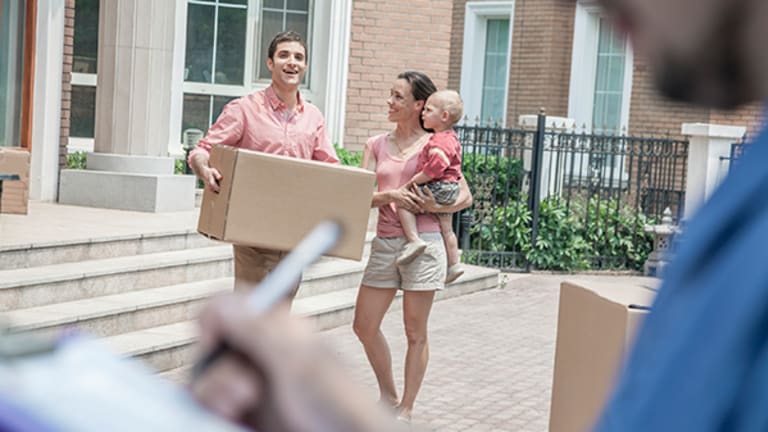 Why the U.S. Housing Market Is Good -- and Getting Even Better
Existing-home sales dropped 3.2% in July to an annual rate of 5.39 million units, with the median price rising 5.3% from a year ago to $244,100.
Housing is doing better. It's not doing great -- but it doesn't have to be right now, for either investors or the economy.
The National Association of Realtors said today that existing-home sales dropped 3.2% in July to an annual rate of 5.39 million units, with the median price rising 5.3% from a year ago to $244,100. That missed expectations for a 5.5 million-sale annual rate.
New home sales, meanwhile, hit a forecast-busting 654,000 units annually, the best in nine years, according to a Census Bureau report Tuesday.  "[It] turned out to be the forecasting equivalent of Katie Ledecky against the field," Regions Financial chief economist Richard Moody said afterward.
The news is pretty good in the short term, but not all that huge in the context of time. New home sales are still weaker than in any year since 1992, as the Wall Street Journal's Nick Timiraos reported yesterday.
Adjusted for population, they're at about 63% of their 50-year average level -- way better than in 2011, but nowhere near heated, Trulia.com (Z)  economist Ralph McLaughlin said. Existing-home sales are better -- they're right about where they were in the late 1990s amid the Internet boom. They're consistent with a strong economy, but they haven't matched the soon-regretted peaks of 2007, or even kept up with the population growth since 1998.
The housing market is, basically, good enough to do the job -- if the job is to push unemployment a little lower and demonstrate that consumers are willing to spend a little more each quarter and keep the nation's third-longest expansion since World War II moving.
And that ought to be at least fairly favorable for home-building stocks like KBHome (KBH)  and Pulte Home Group (PHM) , not least because it gives them room to keep growing steadily for a few years before anything like a housing correction. Indeed, the problem with existing-home sales is that there are too few such homes on the market, said Lawrence Yun, chief economist of the National Association of Realtors.
"Severely restrained inventory and the tightening grip it's putting on affordability is the primary culprit for the considerable sales slump throughout much of the country last month," Yun said in a statement. "Lack of supply is stifling the efforts of many prospective buyers attempting to purchase while mortgage rates hover at historical lows."
That's especially true in the condo market that serves first-time buyers in high-cost markets like California, he said. The pent-up demand is benefiting home builders, though, as recent earnings reports demonstrate.
Luxury builder
Toll Brothers
(TOL)
said Tuesday its
quarterly earnings
jumped 69% to 61 cents per share, while revenue rose 23.5% from a year earlier to $1.27 billion. Analysts had expected $1.25 billion, according to estimates compiled by
Thomson Reuters
.
"Our business is really, really good," CEO Doug Yearley said Tuesday on CNBC. "The pent-up demand is continuing to build."
Builder stocks surged after the new-home sales data reported Tuesday, bringing the year-to-date return of the S&P Home Builders Select Industry Index to 5%, lower than the gains of the S&P 500. All of that money has been made in the third quarter, as concerns about a recession have begun to dissipate.
In the existing home market, Realogyundefined and Re/MAX (RMAX) , the two largest publicly traded real estate brokers, have gone in different directions. Realogy is down for the yea and missed forecasts for each of the past two quarters, while Re/Max is up by more than a third since February.
A better way to bet on a consumer-led housing recovery may be investing in home improvement stores like Home Depot (HD) and Lowe's (LOW) , which cash in on renovations."
The bullishness comes amid reports that home ownership hit a multi-decade low in the second quarter. Purchases by Millennials, the largest generation in U.S. history, have been held down by student loan burdens and low wage growth, as well as a recession that hit hard at the initial post-graduation incomes of young workers.
But the future for Millennials is brightening, as it is for the work force as a whole, with the economy lumbering into the fatter stages of this expansion.
As Washington Post columnist Catherine Rampell points out, Millennials want to buy homes once they can afford one. And consumer fundamentals are very strong: Interest rates are rock bottom, the ratio of monthly debt payments hasn't been this low since 1981, and low inflation is helping push real median income back toward all-time highs reached in the early 2000s. 
Consider this: Interest rates are so low now that a family can buy the median-priced U.S. home on income of less than $45,000 a year -- about $11,000 less than the median household income. And half of America's houses are cheaper than that.  
"Demand for homes is very healthy," McLaughlin said. "Inventory is plaguing buyers, and homebuilders may be hedging against the economic cycle." And that's a relatively easy problem to let time handle. 
With demand-side facts on the ground as favorable as they are, the challenge Rampell cites is being solved -- slowly, as nearly all of the intractable problems the 2008 financial crisis have been solved.
That it is happening slowly doesn't mean it isn't happening, and for investors, that signals that the good news isn't all priced into the stocks yet.
"The question still is: Is it demand or supply that is driving the market," said Joel Naroff of Holland, Pa.-based Naroff Economic Advisers. "If it is not for sale, it is hard to buy it. That seems to be the case, though that doesn't explain the soft permit numbers.
This article is commentary by an independent contributor. At the time of publication, the author held no positions in the stocks mentioned.