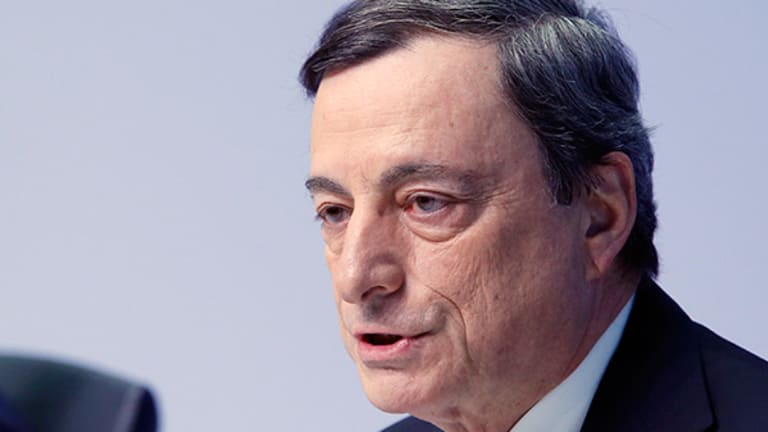 Why the U.S. Dollar Is Topping
Euro strength signals that the U.S. dollar top may be in.
Although it may seem odd that a currency would strengthen amid policy easing, that is exactly what is taking place. The European Central Bankunleashed one of its most ambitious attacks to raise inflation and growth measures on Thursday by cutting rates deeper into negative territory, leading the euro higher by more than 2% against the U.S. dollar.
This is not the first time, however, that we have seen this. Earlier this year, the Bank of Japan similarly slashed its lending rate below zero, causing a nearly 10% rally of the yen against the dollar in subsequent days.
The issue is that negative interest rates lead to no subsequent change in economic structure. Real global unemployment remains high, alongside low inflation rates and economic activity. The U.S. is a good example of how low interest rates mean little for growth. Since the turn of the millennium, companies have built up record cash hoards, bought back large quantities of outstanding shares, and issued increasingly more debt.
What haven't been externalities of low interest rates are increasing real investment in non-commodity related assets, real wage increases, and research and development. Financial engineering can lead to gains in the bottom line, ultimately pushing share prices higher, but the real economy is left behind.
Market participants are finally beginning to question the efficacy of policymakers across the globe because of this, leading to uncertainty, and the selling of higher risk assets. The U.S. dollar has also been a casualty of the selling. PowerShares DB US Dollar Index Bullish (UUP) - Get Invesco DB US Dollar Index Bullish Fund Report is up by close to 20% since the middle of 2014, but has formed a large topping formation and experienced weakness over the last year.
The logic behind dollar weakness is that the Federal Reserve's rate hike is being negatively affected by a weak global environment. If growth and inflation are both trending lower it is difficult to justify higher rates, which will only hurt U.S. companies further in global trade, and weigh on top-line growth.
Negative, or near zero-bound interest rates are then expected for all global central banks, outside of those currently fending off hyperinflation and capital flight. This expectation is leading many to rethink their long dollar positions, as it was developed on the premise that the key U.S. rate would be near 1% by year's end. This, then, justifies a lower dollar, as it is repriced in coming months, more than likely resulting in a 5%-to-6% correction from current levels in PowerShares DB US Dollar Index Bullish.
If you are a player in equity markets, it is best to move towards cash or equivalents considering the uncertainty of the current situation. For those in currency markets, it is difficult justifying anything to own, as they all have large underlying negative catalysts. A cliché, but profitable trade for myself has been in SPDR Gold Shares (GLD) - Get SPDR Gold Shares Report , Market Vectors Gold Miners ETF (GDX) - Get VanEck Gold Miners ETF Report , as well as McEwen Mining (MUX) - Get McEwen Mining Inc. Report more specifically. Gold has been a natural hedge against global uncertainty in years past, and seems suitable now as well.
This article is commentary by an independent contributor. At the time of publication, the author was long MUX calls.