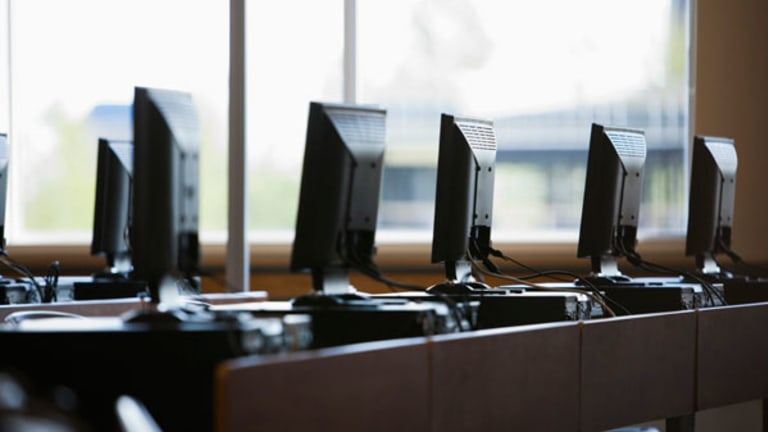 Why the Stock Market Is So Confusing Right Now
Here's why the broader market has failed to break down, even as many of its components have been stumbling.
NEW YORK (TheStreet) -- Every week we see stock market benchmarks the Dow Jones Industrial Average and the S&P 500 index near highs. We read and hear that we "are due for a correction," that there are bearish divergences based on endless indicators and that we are in a bubble that can't sustain itself. Yet we look at the indices and nothing looks ominous. Yes, the PowerShares (QQQ) - Get Report, which tracks the Nasdaq 100 index, and the iShares Russell 2000  (IWM) - Get Report have had a bit of a correction recently, but nothing to really cry about. Everything seems just merry on the surface.
Simple Explanation: I have a very simple explanation for what is taking place in the overall market. The relentless bid we have seen is proof that we are in a very strong market environment (whether it's due solely to the Fed or other factors is irrelevant to this conversation). In such an environment, corrections take place through time and not price. In other words, they tend to be range-bound and rotational.
Instead of having 10%, 15% or 20% corrections in the indices, individual stocks and sectors that have outperformed will take on the burden of the corrections and pass the baton to another sector to outperform.
In such an environment, breadth will be weak and bearish divergences will exist. Whether this continues or the divergences are finally heavy enough to pull the overall market into a correction remains to be seen. But until price follows the bearish indicators, short-selling in this market will be frustrating with the exception of very quick trades.
Strategy for This Week: I prefer to use index options for short-term trades when I see a good risk/reward setup based on strong resistance and support levels. But the narrow ranges leave me sticking to individual stocks for now. The path of least resistance is still to the downside. Selling rallies in stocks, specifically the momentum, highly liquid stocks that have been underperforming recently, is currently the approach that makes the most sense. However, in order to remain open-minded about further upside rallies and a new bullish trend, I have outlined a list of things I will be looking for that would shift my views:
Momentum stocks gain lasting momentum. Many of the previous highfliers, such as Facebook (FB) - Get Report, Netflix (NFLX) - Get Report, Google (GOOGL) - Get Report, Tesla (TSLA) - Get Report and Priceline (PCLN) , have moved off their lows, but not by much. The move up last week should be viewed as an oversold bounce until proven otherwise. Seeing follow-through will be important.
Stocks rally upon delivering good earnings instead of selling off. Some examples from last week include LinkedIn (LNKD) and Yelp (YELP) - Get Report. The former failed to rally, and the latter wasn't able to hold onto gains from its initial rally.
iShares Barclays 20+ Year Treasury Bond ETF (TLT) - Get Report comes back down. On Friday, even after the monthly jobs report showed a drop in unemployment, bonds made a high not seen since June of 2013. If bonds continue to rally, risk-off will continue to be the story.
The QQQ gets back above its 50-day moving average.
The IWM gets above its 50-day moving average or at the least continues to rally.
An increase in the number of S&P 500 components making 20-day highs.
Downside follow-through of the Utilities Select Sector ETF (XLU) - Get Report vs. the Consumer Discretionary Select Sector ETF (XLY) - Get Report sector.
And lastly, signs of accumulation through price and volume acceleration. 
Absent such developments, I will continue to view the market with a more defensive approach. The level to watch on the S&P 500 on the upside is the all-time high at 1897. On the downside, key levels to watch are 1872, 1850, 1834 and 1814.
To learn more about my trading process, please visit my Web site and follow me on Twitter.
At the time of publication, the author held no positions in any of the stocks mentioned.
>>Read More: Market Hustle: Stocks Fall Amid Poor China Manufacturing Data
>>Read More: Why Amazon, Jeff Bezos Are in the Hot Seat Now