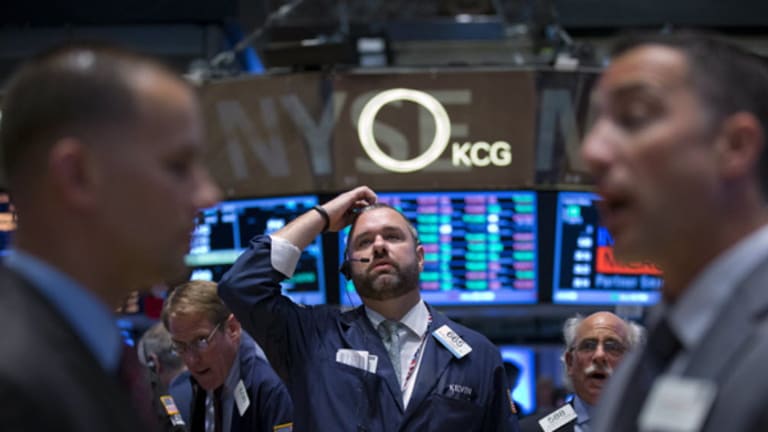 Why the S&P 500 Will Decline and You Should Watch Goldman Sachs
The charts show the S&P could decline again, and this time it will last longer. Meanwhile, Goldman might be at an attractive low.
I still feel that stocks are vulnerable to another failure below their May 2015 highs. I also believe that if the S&P 500's decline resumes, it's likely to last much longer in both time and price than what we've seen so far in other pullbacks since the market's peak last May.
I've been watching a couple of things very carefully recently. The first is a key weekly support decision that's now been violated. That paves the way for a continued decline -- eventually -- from below the May highs. It doesn't guarantee this will occur, but it was a break of rather important support, so I'm staying open to that possibility.
The second thing I've been watching is the cluster of Fibonacci timing cycles due Jan. 18-22 that were suggesting, at the minimum, a tradable bounce. We did see a very clear reversal of the decline into these cycles on Jan. 20, as this S&P 500 daily chart shows:
Since a low was made into this time window and was followed by some very clear buy signals, I now consider this to be a pivotal low for the S&P 500.
I know these timing cycles provide an important decision point in the market, but what I don't know is how much of a rally we'll see off of this decision. So I suggest stops should be trailed up on any long positions. After all, we've already seen the S&P 500 stage a 96-point rally from this low. I also plan to start running a Fibonacci price-and-time analysis to see where we should watch for the current rally to terminate.
The charts below illustrate a couple of areas that I'm focused on for possible resistance to the current rally. The daily S&P 500 chart shows that we're currently at the top of the 1,911.55-1,915.15 area for the S&P 500:
I've also included a 120-minute chart of the S&P 500 March futures contract that delineates the current resistance levels we'll needs to clear if this rally is indeed going to continue. These areas come in at 1,902.50 to 1,904.75, and then at 1,908.00 to 1,910.75:
Let's also look at the next grouping of time cycles that would suggest resistance to the current rally off the Jan. 20 low:
The first group of cycles comes in between Jan. 26 and Jan. 29, then a stronger cluster of cycles arrives between Feb. 2 and Feb. 5. This second group of cycles shows a stronger confluence of time relationships. For example, the time projection of prior rallies (10 or 11 trading days) overlaps the other cycle due Feb. 2-5.
I often find that many corrective swings tend to be similar in time to prior swings. So, if we have a continued rally into this second time window, then the current rally would be similar in length to the others (10 or 11 days long). Therefore, it's important to watch for the rally's possible termination at that time, unless we reverse before then.
To recap: I believe we had a pivotal low in place on Jan. 20 due to Fibonacci time cycles evident at that time. But since the S&P 500's larger pattern remains bearish and price remains below the key 200- and 50-day simple moving averages, I'm watching for a potential failure of the current rally and resumption of the decline. I expect that either around the Jan. 26-29 or Feb. 2-5 time cycles.
In other words, I think this market remains vulnerable to a deeper downside correction. But if you don't see any reversal indications into these next cycles, then just continue to trail up stops on any long positions as you go. Let's take this market from one decision to the next!
A Look at Goldman Sachs

Let's also look at two charts of Goldman Sachs (GS) . I'm starting to see a larger two-step pattern on Goldman's weekly chart, along with some timing parameters that are telling me to start stalking this name for a tradable low.
The stock's weekly chart illustrates a pattern that shows we're testing some key support at the $147.46-$151.52 area:
And the daily GS chart illustrates key support and some Fibonacci timing ratios at the stock's recent lows:
The bottom line: These parameters tell me to stalk GS for buy triggers in the coming sessions. My risk on any entries can be defined below the support clusters illustrated on these charts.
Editor's Note: This article was originally published at 11:30 a.m. ET on Real Money Pro on Jan. 25.
At the time of publication, Boroden had no positions in the stocks mentioned.