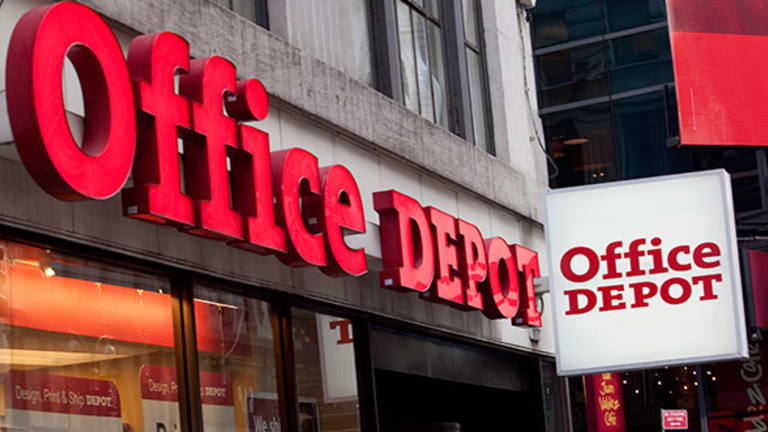 Why the Office Depot-Staples Merger Will Never Happen
With the deal all but dead and buried, what lies in store for the beleaguered Office Depot?
With the deal all but dead and buried, what lies in store for the beleaguered Office Depot?
This week, the speculation about a merger between Office Depot (ODP) - Get Report and Staples (SPLS) , two office supply retailers, can all but officially be laid to rest. With hopes for a deal now dead and buried, what does the future hold for Office Depot's stressed-out and toxic stock? Office Depot is part of a group of distressed and "Stressed Out" stocks that TheStreet will be monitoring through these choppy markets.
The intention for the merger was initially announced more than a year ago, on February 4, 2015. Behind the idea was activist-investing hedge fund Starboard Value. Starboard first pushed for a merger between Office Depot and its former competitor Office Max. Once Office Max had been bought out, Starboard then began to push for Stapes to purchase Office Depot.
The deal would have been worth $6 billion. But from the start, Starboard's efforts have been stymied by regulatory agencies.
Back in December, the Federal Trade Commission (FTC) challenged the merger with violating antitrust laws in an administrative complaint. The case is slated to come before a judge in May of this year, but in the meantime the FTC has sought an injunction to block the merger.
The companies have responded by stating that such an injunction would signal the end of the deal, since the May 10 court date is too close to the extended merger deadline of May 16.
In addition, Office Depot and Staples have entered into a divestiture agreement with office supply wholesaler Essendant. The merger would involve more than $550 million in product revenues and related assets. This move was taken in the hope of allaying some of the regulatory anti-trust concerns involving the companies' business-to-business operations. However, the FTC has already rejected this approach.
The FTC clearly does not want Staples to acquire Office Depot and is willing to pull out all stops to prevent such a deal. In fact, this is the second time this has happened -- in 1997 the FTC rejected a similar buyout. And back then these companies weren't the beleaguered and troubled messes that they are today.
But now Starboard Value, the brains behind the merger idea, has dumped its long positions in Office Depot. From a stake of around 45 million shares, the fund now owns 25.05 million shares, and these are all underlying call options. This sends a clear signal that the likelihood of a merger occurring is miniscule at best.
Office Depot maintains an outdated and troubled business. It has failed to create an online business powerful enough to battle rivals such as Amazon, and its in-store prices are beaten by discount retailers such as Wal-Mart and Target. A potential acquisition by Staples was the primary reason why many investors were holding on.
And recently, the company announced fourth-quarter earnings results that missed the analysts' consensus estimate for revenue by more than 2%. That sent many investors headed for the exit.
Office Depot stock is continuing on its losing steak, down around $5.18 today. While it might appear to be a bargain, by no means should you grab shares now. With the odds of a merger now looking to be nil, Office Depot is a dangerous stock with value continuing to decline.
For more articles on distressed stocks to avoid, read Real Money's "Stressed Out" stocks coverage. You can find more information on the index here.
As you can see, Office Depot looks like a stock to avoid. However, if you want to see a list of the absolute worst stocks you can own right now, I urge you to take a look at this report called 29 Dangerous Stocks: Sell Now! Inside, you'll see a full list of the market's most overvalued stocks, and learn the process you can use to keep avoiding them in the future. Click here now for a copy.
This article is commentary by an independent contributor. At the time of publication, the author held no positions in the stocks mentioned.