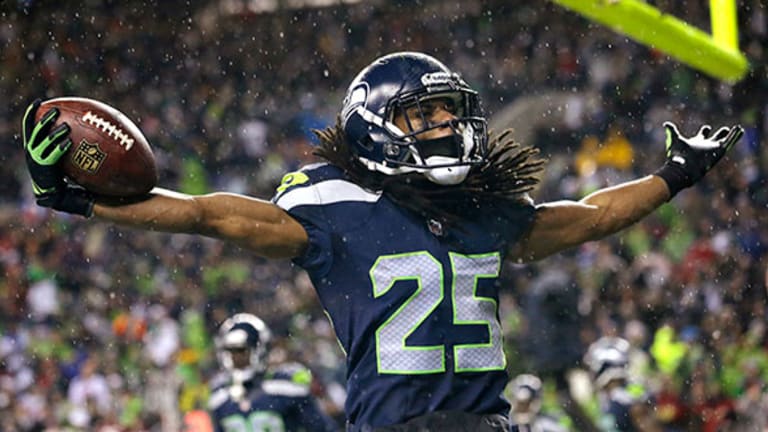 Editors' pick: Originally published Oct. 28
As the National Football League suits up for the weekend of its eighth week, all eyes are on a continued decline in ratings and how the league's prime-time games perform on a national level.
Coming off last Sunday night's barn burner of a game between the Seattle Seahawks and Arizona Cardinals--a game that ended in a 6-6 tie after overtime and clocked in at an 11.6 rating (well below the 13.6 mark for the same time slot last season in the same week but still better than the previous week's Sunday night tilt between the Indianapolis Colts and Houston Texans)--the league had yet another lackluster matchup to kick off the week: with the Jacksonville Jaguars (2-4) and the Tennessee Titans (3-4) squaring off on the NFL Network.
While ratings did ticked up from Last Thursday's game, the ailing TV numbers for the NFL continue to be an issue. But when do NFL owners start to panic? Do they need to worry about the values of their trophy assets and--in many cases--family businesses? The long and short of it is no: Owners have a number of tricks up their sleeves to continue to monetize the game and bring in more revenue even as their largest revenue stream seems pressured.
The league is coming off a high-water mark in 2014 and 2015 driven by unique story lines (Peyton Manning riding into the sunset and Deflategate ring a bell?) and the explosion of daily fantasy sports, it should come as no surprise NFL ratings are down, especially when you factor in that many of the key NFL games have been juxtaposed against marquee sports coverage (for example, the Major League Baseball playoffs) and political coverage.
A host of key revenue drivers still in place and chugging along (and a host of options still open to further monetize the game), reports of the NFL's demise may be greatly exaggerated. Not to mention the league is adjusting to a new digital age that is seeing tech players such as Twitter (TWTR) - Get Twitter, Inc. Report and Yahoo! (YHOO) and the league's own Red Zone Network take a chunk out of prime-time viewership.
"TV ratings are only one piece of the puzzle. ... The 32 teams share a majority of the TV and national sponsorship revenues and about one-third of ticket revenues, but what's really driving team valuations is new and renovated stadiums," explains Chuck Baker of DLA Piper, who works with team buyers on prospective deals, as well as a plethora of other sports-related transactions. "It's the luxury suites, naming rights deals and new stadiums that are continuing to drive NFL team values higher, and I don't see that spigot turning off any time soon, especially if public money is still helping finance some of the league's new venues."
The Rams for instance, which moved from St. Louis to Los Angeles over the offseason, increased in value from $930 million to $2.9 billion on Forbes' list of the league's most valuable franchises between 2015 and 2016. The Atlanta Falcons, which are set to move into a new stadium in 2017 after getting about $200 million in public money to fund the development and $310 million over 27 years from Mercedes-Benz for naming rights, increased in value from $1.67 million to $2.1 billion.
According to Forbes, "relocation and new stadiums in general drove NFL team values 19% higher over the past year, to an average of $2.34 billion."
Sure, each NFL team garners about $200 million in television revenue, and those dollars could be in trouble if the ratings decline continues and the national TV contracts come up for renewal. (The Monday Night Football contract of Disney's (DIS) - Get Walt Disney Company Report ESPN is up in 2017, while 21st Century Fox's (FOXA) - Get Fox Corporation Class A Report FOX, Comcast's (CMCSA) - Get Comcast Corporation Class A Report NBC and CBS (CBS) - Get CBS Corporation Class B Report all will need to renegotiate their contracts in 2023 to keep them.)
Comcast is aholding in Jim Cramer'sAction Alerts PLUS Charitable Trust Portfolio. Want to be alerted before Cramer buys or sells CMCSA? Learn more now.
But those dollars will shift, explains Ed Desser, the former vice president and general manager of NBA Entertainment, who now runs his own sports media consulting firm, Desser Sports Media. The league likely will figure out ways to better monetize its on-field product, he added.
"The sky is not falling by any means, and this is a long, long way off from affecting valuations," Desser said.
And there are still more arrows left in the NFL's quiver.
Sports gambling is still illegal in 48 states, and daily fantasy continues to be a hotly debated issue in a number of states despite recently being legalized in New York, the largest market for DFS.
Americans bet an estimated $4.2 billion on Super Bowl 50 between the Denver Broncos and Carolina Panthers, up 8% over the previous year, according the American Gaming Association. Less than 4%, however, was gambled legally, the trade group estimated. According to The Washington Post, an estimated $80 billion to $380 billion is wagered illegally in the U.S. annually, compared with less than $4 billion bet on sports legally in Las Vegas.
According to a September study from Nielsen, commissioned by the AGA, the relationship between sports betting and the NFL would be beneficial to both parties.
"The federal government ban on sports betting is failing miserably," AGA President Geoff Freeman said in a statement. "Broadcasters and advertisers who desire highly engaged viewers would reap the benefits of shifting tens of millions of sports bettors from the $150 billion underground betting market to a legal, transparent environment."
So-called kit deals, plastering corporate logos on the front or backs of jerseys as professional soccer has done for years, is another avenue yet to be explored, explains Larry Grimes, head of media-focused investment bank W.B. Grimes. There's also the continued use of in-game time, and sort of dead-air time between plays, that could be exploited for additional ad revenue.
"We don't have kit deals yet, and that's $60 to $80 million per year just for those kits that could make up for any deficiencies in the ratings," Grimes said. (Manchester United gets $80 million annually from GM's (GM) - Get General Motors Company (GM) Report Chevrolet, according to Forbes, while Chelsea, also in England's Premier League, receives $57 million each year from Yokohama Rubber.) "Plus the digital rights haven't come wholly into effect yet. There is a shift, and I think that shift will continue [to digital]; you just have to make sure that revenue moving from TV ads to digital ads isn't trading dollars for dimes."
Finally, it's important not to forget that the league in an exclusive club of 32 members, and when one of those teams goes up for sale -- even in lackluster markets -- people are still willing to pay up for a seat at the owners meetings. The lowly Buffalo Bills, dead last on Forbes' list of NFL valuations this year, still sold in September 2014 for a record $1.4 billion. 
"I think ratings will almost definitely pick up when the matchups get better and all the stars return. ... I think it's a bit too early to forecast, but I am anticipating another fourth-quarter, come-from-behind victory for the NFL," Baker said.