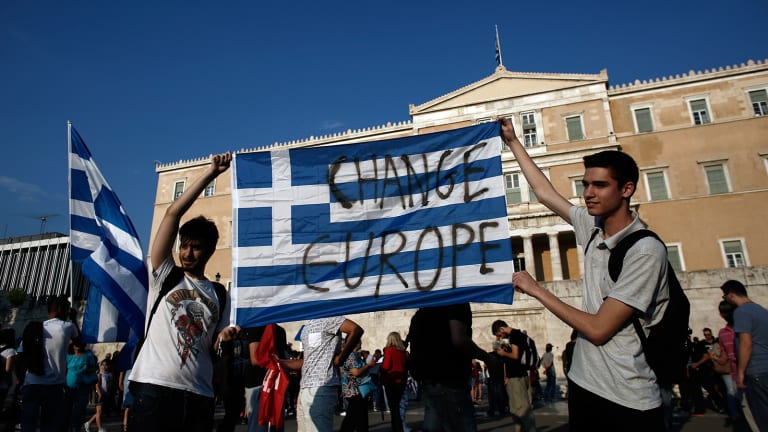 Why the Greek Crisis is Unlike Anything You Saw With Lehman Brothers
More data on the problem and time to move risky investments have minimized U.S. exposure to Greece.
NEW YORK (TheStreet) -- With Greece moving ever closer to leaving the Eurozone and China's economy slowing, assurances that U.S. investors will suffer little fallout seem increasingly suspect.
Many find them, in fact, uncomfortably reminiscent of the subprime lending crisis: People presumed to be experts said first that traditional credit lines wouldn't be affected, that the crisis was contained, and later that Lehman Brothers' bankruptcy wouldn't cause significant harm. 
Billions of dollars in bailouts later, it was obvious they were wrong.
But analysts and professors who have studied Greece's struggle to repay its debts say there are crucial differences that make the risk of contagion in that case much lower.
Before the 2008 financial crisis hit, policymakers, analysts and regulators largely ignored academic research on the impact that Lehman's debt default would have on U.S. markets, said Paolo Pasquariello, an associate professor of finance at the University of Michigan's Ross School of Business.
In contrast, Europe has taken the risks of a Greek default seriously since that country's debt problems began in 2010 and knows the risks, he said.
"This time around, the ECB is ready to deal with any systemic consequences of a Grexit, a disorderly Greek default, or both," he said in an email, citing the EU's decision in March to start buying government bonds to control rises in interest rates and drops in liquidity as part of a quantitative easing program.
Additionally, money and hedge fund managers "now routinely factor in the worst-case scenarios of spillover and amplification of local crises" when quantifying risk, he said. That's something they didn't do pre-crisis.
Still, as recently as last month, the Fed's most powerful policymakers were concerned about contagion from Greece weighing on an economic recovery in the U.S.
At their June meeting, members of the Federal Open Market Committee worried that a Grexit would cause "disruptions in financial markets in the euro area, with possible spillover effects on the United States" just as the Fed is considering raising interest rates for the first time since cutting them to almost zero in 2008, according to minutes from the meeting.
Even after Greece missed a €1.6 billion-payment to the International Monetary Fund and voted against a deal from its European creditors in the three weeks since the Fed met in mid-June, markets have not been rocked as much as the central bank might have expected, said Darrell Duffie, a professor at the Stanford Graduate School of Business.
Although markets worldwide declined Monday, a day after Greeks rejected the plan from their country's creditors, Duffie said the crisis hasn't put permanent downward pressure on U.S. markets and isn't likely to. "The concerns of the Fed might be somewhat allayed," he said.
In some ways, Greece's current debacle is the inverse of the one it faced in 2010, when the European Union approved the country's first bailout. With austerity policies in place around the continent and Greece's bailout just one of several, there was much more risk for the EU and, less directly, the U.S., five years ago.
"It was a weak time for the European countries and their financial system," Duffie said, adding that many analysts thought the crisis could be "every bit as harmful as what happened in the U.S. with the Lehman affair."
This time, "what's happening is more serious for Greece, but not for Europe," he said. In the five years in between, investors with exposure to Greece have moved their money elsewhere, and EU bailouts for Spain, Portugal and Ireland have brought more stability to those countries' economies.
Although debt from Greece's bailout is held by European governments, "they can handle that loss" if it happens, Duffie said.
China, the world's second-largest economy, is an altogether different -- and largely uncertain -- matter. The country's stock market has slowed considerably compared with its performance over the past year, and that slowdown is only one part of a larger picture, said Linda Lim, a professor of strategy at Michigan's Ross School.
"Prior to the current market turmoil, China was already entering a lower-growth phase of its development," which hurt nations that exported commodities to China, such as Australia and Canada, Lim said.
That slowdown coupled with China's stock troubles means "the negative impact on the rest of the world is even greater," she said.
China's "relatively closed capital market" may make direct effects on the U.S. scarce, though, said Stanford's Duffie. Despite opening its stock markets to foreign investment last fall, less than 5% of Chinese stocks are owned by foreigners. That means American exposure -- indeed, international exposure -- is limited.
Additionally, the U.S. is ahead of China on the consumption of some key commodities, including oil, according to data from the World Bank. That's another positive indicator of continued economic viability.