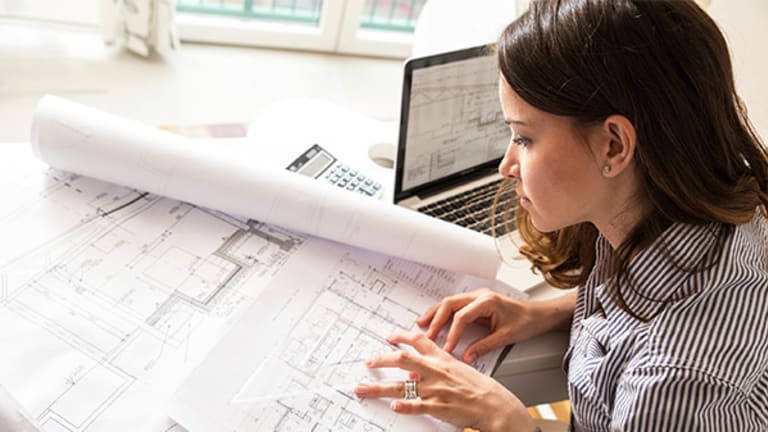 Why the Financial Services Sector Should Embrace Design Thinking
These institutions need to evolve rapidly on this front or else risk disruption at the hands of nimble start-up companies.
Design thinking has certainly captured the zeitgeist of our times, moving beyond the realm of digital-product management.
Google Trends shows that interest in the topic increased by four times in the past five years. Financial services institutions need to evolve to rapidly embrace design thinking or they risk disruption at the hands of nimble start-up companies.
Design often connotes simply a beautiful product, without enough attention focused on its utilitarian aspects. This is ill-fated, as a well-designed product or experience solves a human need and is something with which users want to engage and for which they want to advocate.
Simply said, design thinking places the user at the core of an organization's agenda. It spans traditional functions within product development such as experience design and visual design, all the way to strategy and innovation.
Through extensive customer research, designers identify not just the functional needs of users but build true empathy. Designers create propositions to best serve these needs and continually test these hypotheses with customers.
The financial services industry is the perfect sandbox for design thinking. The reasons are simple.
The industry facilitates many of life's biggest decisions: buying a house, saving for retirement and paying for children's education. Planning for retirement is an emotional topic, so this makes thoughtfully designed experiences a necessity.
In addition, investors face an array of complex investment choices, which require scrupulous analysis prior to investing. Design can address the complexity of investing and empower users to feel confident in the decisions that they make.
At E*TRADE, design thinking allows the company to help investors get smarter.
E*TRADE's approach to design thinking takes its cues from the Double Diamond design process, developed by the British Design Council. There are four stages in this design process: discovery, definition, ideation and delivery.
In the discovery phase, designers and product managers conduct research to understand customer pain points. This phase is divergent as we search for new questions and unmet needs.
Techniques such as customer listening are effective enablers.
In phase two, E*TRADE synthesize customer research and converge to the problem statement. This requires ruthless discipline to ensure that the company isn't boiling the ocean.
Creating customer personas highlights differences in needs and aspirations of various customer groups. Customer journeys illuminate the path of the customer as they complete a task navigating outside and inside E*TRADE.
Next, E*TRADE creates early prototypes to visualize potential concepts in the ideation phase. Customers are part and parcel of this process and co-create these concepts.
Last, convergent thinking is employed to deliver a high-fidelity prototype, which is ready for developers to code. In this final phase, customers play a vital role in testing the usability of the new experience.
Consider E*TRADE's new Adaptive Portfolio offering, which combines automated advice with access to financial consultants. Early on, in the discovery phase, E*TRADE's research showed that customers were seeking peace of mind and transparency in their search for the right investing solution.
So E*TRADE designed with a simple problem statement: to help users go from idea to investment in five minutes. During the ideation phase, E*TRADE paid special attention to create an uncluttered design for the risk tolerance questionnaire, with intuitive questions, actionable steps and persistent help.
E*TRADE also heard that customers were interested in confirming their tolerance for risk before finally signing up. So E*TRADE designed a series of engaging visualizations to compare and contrast the company's model portfolios by risk tolerance.
Finally, in the delivery phase, E*TRADE conducted usability interviews with customers to further optimize the work flow. E*TRADE is measuring interaction data across this experience and continue to refine it based on user behavior.
Employing a user-centric mindset in the brokerage industry comes with its challenges, given the spectrum of users. E*TRADE has sophisticated traders who have honed their craft over the years and instinctively deploy a virtual army of strategies as they move in and out of positions every day.
At the same time, E*TRADE has buy-and-hold investors who take long positions for income and are more interested in long-term performance. Finally, E*TRADE has delegators, who are interested in self-adjusting solutions such as Adaptive Portfolio that are professionally managed.
Making sure that the design is flexible enough to scale becomes paramount.
There are four key considerations that can help strike the right balance.
Get commitment from the top. Senior management needs to set the tone for the importance of designing an exceptional customer experience. E*TRADE Chief Executive Paul Idzik listens to several hours of customer calls every week and encourages employees to "put themselves in the customer's shoes" at all times.
Create an aspirational north star. Every organization needs to find purpose in its customer agenda. This agenda needs to speak to all, from customer service representatives, to engineers to designers to operations staff. In fact, the company has memorialized eight design tenets in posters and digital screens across E*TRADE to remind employees of what it means to deliver exceptional customer experience.
Share the glory. Customers and stakeholders across the organization need to co-own the outcomes. The financial services industry needs to place particular emphasis on co-creation given the complexity of investment choices and the changing regulatory landscape. Connecting designers, product managers, engineers and compliance experts early and often creates a shared responsibility.
Test, learn, re-test and re-learn. The user-centric mindset means the process is iterative. Design thinking fits perfectly with E*TRADE's continuing transformation toward an agile software development process. Continuously analyzing data on how customers are using products and services ensures that E*TRADE evolves and learns.
Investors have entrusted the companies in this industry with a major responsibility: to help them manage their money. 
Furthermore, their expectations are being set by digital leaders outside the financial services industry, who are constantly upping the ante. As a result, their expectations will only increase.
This industry has a narrow opportunity to embrace design thinking and position the customer at the core of its agenda. This has significant implications on talent mix, product development processes and tools, and project portfolios.
The most profound impact is in transforming the industry's culture to be design-forward.
Kunal Vaed is a senior vice president and the head of digital at E*TRADE Financial in New York.
This article is commentary by an independent contributor.