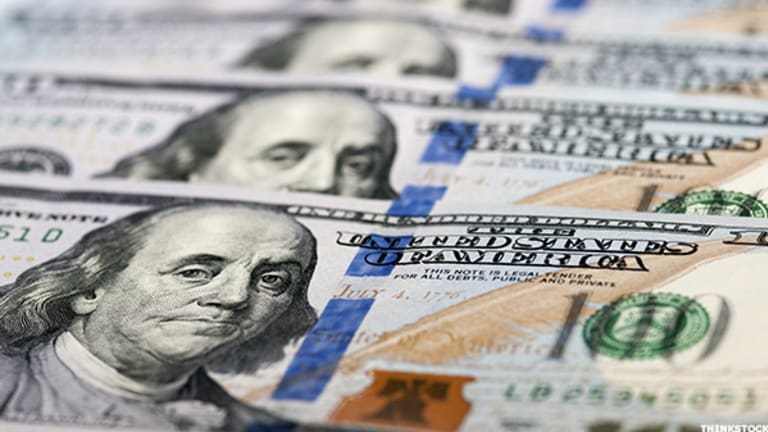 Jobs Growth Is Weak but Will Fed Still Raise Rates?
Job growth was unexpectedly weak in August, raising more questions about whether the Federal Reserve will raise interest rates later this month.
Job growth was unexpectedly weak in August, raising more questions about whether the Federal Reserve will raise interest rates later this month.
This story has been updated and recast following the August jobs report.
NEW YORK (TheStreet) -- Jobs growth was unexpectedly weak in August, raising more questions about whether the Federal Reserve will raise interest rates later this month.
Friday's report showed 173,000 jobs were created last month, far below from the consensus estimate of 213,000 new jobs in August, which is a third lower than the norm in late 2014.
U.S. stocks were down sharply in trading early Friday afternoon.
Even before the number came out at 8:30 a.m. EDT, Richmond Fed President Jeffrey Lacker grabbed the market's attention by calling for an end to zero interest rates.
"It's time to align our monetary policy with economic progress," he said Friday.
Lacker is only one of the voting members on the Fed policy committee, so it's unclear whether the other members, including Chair Janet Yellen, will heed his call and raise the benchmark federal funds rate for the first time since 2006.
Still, if the standard is U.S. growth that is reasonably stable and at or above the long-term trend of about 2.5% a year, with nearly-full employment and some risk of emerging inflation, the Fed should probably hold off.
"Are we there yet?" asked Bankrate.com economic analyst Mark Hamrick, likening the market's waiting-for-Godot interest rate watch to kids on a long car trip. "We don't know. But we feel like we're not.''
Tracking forecasts for third-quarter growth still point to a sharp slowdown from the second quarter. The annual growth rate looks likely to be about 2.5%, bringing the first nine months of 2015 to a clip of 2.2% or so.
That's not exactly brisk -- especially not heading into the winter, which has disappointed for several years in a row.
Especially not when wages still haven't really broken out of their long post-recession torpor (though low inflation is rebuilding purchasing power). Not when there are still nearly 2 million Americans working part-time because they can't find full-time work, when a leading trading partner like China is clearly at risk and when another, Canada, has just entered a recession.
The uncertainty pervades even the professionals. Bankrate did a mid-August survey of 65 economists in early August asking when the Fed would boost rates, and two-thirds said September.
Contacting the same group this week, that was down to 40%, Hamrick said.
The main culprit was the gyration in the markets. The Fed has never raised interest rates with the VIX volatility index at recent levels, and rarely if ever on the heels of a 12% decline in the S&P 500.
And yet, there is no U.S. economic disaster, and by many measures the U.S. news is fairly good.
The situation demands that the market and the Fed ask themselves an old question, and answer it with fresh eyes. Seven years later, what are near-zero interest rates really for?
The conventional answer is that super-low rates were a post-financial crisis measure to stabilize financial markets, and with the crisis over it's past time to "normalize" rates. That was true -- in 2008, and maybe even last year, when U.S. growth was stronger than it is now.
The corollary idea is that easy monetary policy has enriched already-rich Wall Street hedge funds and banks, and that the gravy train of indirect subsidies to the dollar-sign-suspenders set needs to end.
But near-zero rates and quantitative easing were implemented to prop up the real economy, too. That real economy is still fragile enough, even in the U.S., that interest rates shouldn't be going up. That's the 2015 reason for cheap money.
Like it or not, the Fed changed the facts on the ground by basing a recovery on nearly-free credit, and attention must be paid to that fact.
It's fine to argue that home buyers (to pick one important audience) should not overreact to higher rates because housing affordability will still be solid in most U.S. markets. But the level of new single-family home sales is still about a third of prerecession peaks -- at a cost of perhaps 4 million jobs, using rules of thumb that say each new house creates three to four jobs.
A housing market that functions only in fits and starts with 4% mortgage rates isn't likely to improve with rates at 5%. The same is true of corporate investment. If the case for investment is weak now, it will be marginally weaker after a handful of rate hikes.
The absolute level of interest rates clearly matters -- but their direction matters nearly as much. You raise rates, you get less activity. And the question is really whether even the U.S., the world's most solid economy, has enough activity going on to spare some.
The data say it doesn't.
Then there are the financial markets, which could still use some rope if the Fed can spare it. As Hamrick points out, whether we enjoy enriching hedge funds or not, volatility can work its way into both consumer confidence and credit availability if policy makers aren't careful. (They're both OK for now).
And the Chicago Fed's index of financial conditions shows money is tighter than it has been since late 2012, sharply moreso in recent weeks.
Finally, there's the utter absence of inflation, which has risen only 1.2% in the last year, excluding food and energy. Fed Vice Chair Stanley Fischer made a show last week of arguing that inflation will eventually rise and the Fed needs to be ahead of the move, but core inflation hasn't had a year where prices rose more than 2.25% since the early 1990s.
The Fed knows you don't "normalize" rates simply because high rates are good for you. You raise rates because a tight economy breeds inflation. And that is nowhere near the case now.
The economic projections of the Fed's staff that leaked in July show they don't expect the U.S to reach the central bank's 2% inflation target until 2020 or later. No surprise, since the economy isn't tight.
The case for waiting to raise rates boils down to two words: uncertainty and slack. But, really, what is the case for tighter money now?
This article is commentary by an independent contributor. At the time of publication, the author held no positions in the stocks mentioned.