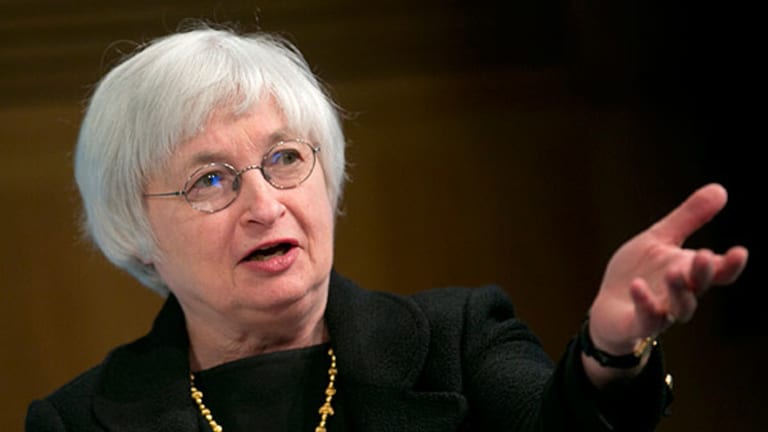 Why the Fed Should Hold Off Signaling Higher Rates for Now
A forecast exclusively for TheStreet suggests that even a simple change in the Fed's rhetoric on interest rates could have significant consequences.
NEW YORK (TheStreet) -- The Federal Reserve could send markets reeling tomorrow if it removed assurances that near-zero rates will continue for "a considerable time." Such a move would immediately spark speculation that the central bank could hike rates as soon as March, much earlier than previous forecasts.
With few short-term pressures on inflation and with the risk higher rates pose to high-performing sectors like autos and to weaker sectors like housing, there's little reason for the Fed to rush.  And there are millions of reasons to wait.
We've already seen the damage it can do. Last year, an offhand remark by then-Fed chair Ben Bernanke suggesting that ever-so-slightly tighter money was coming moved trillions of dollars of assets, raised mortgage rates by a full percentage point and nearly aborted the housing recovery. That could happen again if the Fed moves too soon.
TheStreet asked Moody's Analytics to forecast the impact of a 100-basis-point increase in 10-year Treasury rates, which is less than the spike that followed May 2013. The results: The gain would trim car and truck sales by an annual rate of almost 1 million by late 2015, hurting companies like Ford (F) and GM (GM) . It would shave about 1.5 percentage points off the likely annual gain in housing prices. It would reduce housing starts by builders including D.R. Horton (DHI) and Pulte (PHM) by an annual rate of about 70,000. And it would raise the unemployment rate by about 0.1 percentage point.
Those are real-world consequences, especially for a recovery that is already tepid at best and challenged anew by weakness in Europe. That weakness helped quell the economy's effort to bounce back more strongly in 2011. Even the price of crude oil has dropped to about $93 from $105, as Asia wobbles too. 
At the same time, the domestic economy is not exactly showing the hot spots that beget the next bubble (and recession to follow). Overheating would force prudent central bankers to tap the brakes. Inflation remains muted, with prices rising the last 12 months by 1.4%. Existing home sales are running at about 5.1 million a year, about 400,000 less than a traditional healthy level and 40% below their mid-2000s peak. New home sales are half their normal pace for an expansion, costing three or more jobs for each house not built. Even social media stocks, which Fed Chair Janet Yellen mildly criticized, are mostly fine.
That's one reason skeptics like David Robin, managing director at futures trading house Newedge, think the Fed will delay changing the language. "Once they tip their hand, they will not be able to control" interest rates, Robin said. The risks from the Fed moving too quickly and not fast enough are about equal, Moody's chief economist Mark Zandi said.
Most economists and traders think rates will move higher next year, as the labor market moves closer to normal. But the weak August jobs report, negative growth in the U.S. as recently as last winter, the problems in Europe and the fact that the U.S. is still almost 4 million jobs from full employment all argue that the Fed should be cautious.
Between now and December, there is every chance of getting two more excellent quarters of growth. There's also the possibility that the unemployment rate will move below 6% and that wage growth -- which has ticked up in recent months -- will find more solid footing. Employment full enough to move wages has been Yellen's goal since taking her job last winter. The right time to tweak the Fed's language will be then, suggesting a rate hike around June.