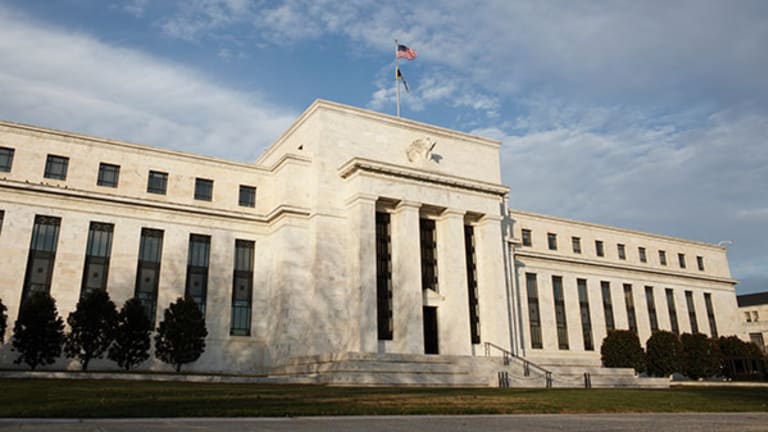 Why the Fed Is Right to Sit Tight on Rates
Outlook stays the same because the economy still has a backlog of weakness and some industries are still dead.
NEW YORK (TheStreet) -- The Federal Reserve is right to sit tight.
The central bank wrapped up its latest Board of Governors meeting with an announcement that's now routine: It trimmed another $10 billion off its monthly pace of bond purchases to push down interest rates, which were $85 billion monthly until last December, to $25 billion beginning in August. In its statement announcing the move, the Fed used the same language about future interest rates that it did on June 18 -- saying short-term rates will stay near zero "for a considerable time after the asset purchase program ends."
This might seem odd after the government announced Wednesday morning that the economy grew at a 4.0% annual clip in the second quarter, and with the unemployment rate expected to stay at a relatively-low 6.1% or fall slightly when the July report hits Friday. For several reasons, a drop is likely. But this is not an ordinary recovery, just as the 2008 financial panic sparked something much worse than a normal recession. Workers and companies alike need more time with easy financial conditions to recover from all the damage done to asset values, business confidence and most of all ordinary people's incomes.
"We've seen a lot of good news, but you can't discount what people have been through," said Mike Schenk, chief economist of the Credit Union National Association. 
For all the strength in this morning's GDP report, even the recent data isn't uniformly positive, after all.
By my informal count, 11 of the most recent 19 major economic indicators missed the consensus forecast as calculated by Econoday. Included in that is a relatively-weak report on retail sales -- and, recall that consumer spending is 70% of the economy -- and several discouraging reports on housing, including this week's report of a decline in contracts to buy existing homes in June and very poor results for new home sales and housing starts.  Those have cut hard into the shares of builders like D.R. Horton (DHI) - Get Free Reportand Ryland Group (RYL) .
Coupled with that are weak July hiring patterns in the key industries of manufacturing and construction, which helped pull Wednesday's hiring by private-sector employers lower in July, according to the ADP payroll report released Wednesday. And median wages are still below pre-recession levels, meaning workers haven't had an inflation-adjusted raise since 2007.
Taking more time to let the recovery percolate will let now-rising consumer confidence buoy sales (and stocks) of consumer durables companies like Best Buy (BBY) - Get Free Report, Whirlpool (WHR) - Get Free Report and La-Z-Boy (LZB) - Get Free Report. Just as General Motors (GM) - Get Free Report and Ford (F) - Get Free Report were boosted last year when consumers got sick of driving the oldest fleet of cars on record, now it's almost time for consumers whom Schenk says have the oldest set of fridges and furniture since World War II to go shopping for the other stuff they have put off.
But the driver for that improvement probably needs to be an improving housing market, he says. 
Thus, the Fed stands pat. Two years ago, quantitative easing was a must to keep interest rates low enough that people would take the plunge on a house at all. Especially with wages still weak, keeping home payments modest is still important to free up money for other consumer buying. Getting housing construction stronger is also key to generating more middle-income jobs, in a recovery that was initially dominated by low-wage retail and tourism work and more recently led by higher-wage technology and business services jobs, Schenk said.
The most important point Janet Yellen has made in her new job as Fed chair is that middle-income families and their wage concerns matter as much as CEOs and masters of the bond universe. Giving the economy enough time to recover for everybody, even at the risk of a slight gain in inflation, is the choice she and her advisers have made. And for families and small investors, that is the right call.
At the time of publication the author had no positions in stocks mentioned, although positions may change at any time.
This article is commentary by an independent contributor, separate from TheStreet's regular news coverage.