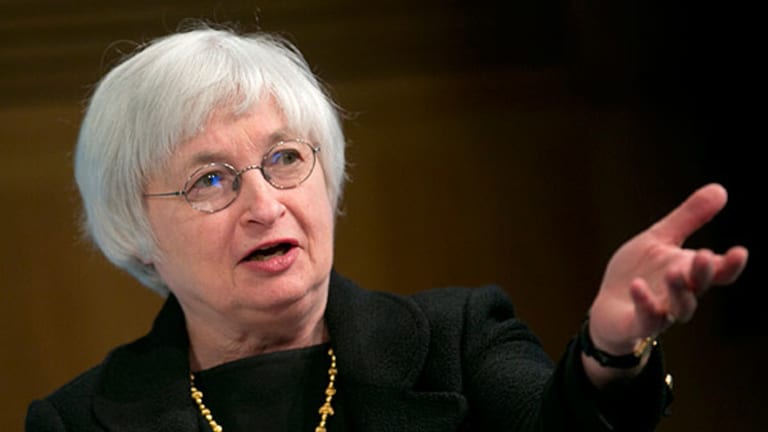 NEW YORK (TheStreet) -- After years of bailing out the stock market, the Federal Reserve is finally stuck on the sidelines, unable to print money or jawbone the market higher.
If Fed Chair Janet Yellen remains committed to ending QE3, then global asset prices -- and most immediately, U.S. stocks -- are headed even lower.
Even if Yellen & Company decide to backtrack and keep the current stimulus in place -- or even amp it up -- investors will just think the Fed knows something they don't and head for the exits. Trying to help the markets will only cause more panic.
That's the Fed's Catch 22.
Yellen did manage to talk the market off its jaw-dropping lows on Wednesday. Stocks were near correction territory -- a 10% drop from their highs -- when the Fed chair expressed confidence in the U.S. economy. That staunched the selling, even though stocks still ended sharply lower.
You don't have to be an expert in technical analysis to see that the Fed's limited ability to calm markets means further losses are ahead.
The Fed is between a rock and a hard place. The punch bowl is gone.
Dallas Federal Reserve President Richard Fisher made that point clearly, telling Fox Business on Wednesday afternoon, "It's way too premature to talk about another QE [Quantitative Easing] because the market is actually doing the work."
Exactly. Lower asset prices are the only way out of this.
It took a month for this to come to light. It was Sept. 17 when the Fed announced the reduction of its bond-buying program by $10 billion. Since then, it's becoming increasing clear to Fisher and the rest of the Fed that the second half of 2014 is not going to grow by 2%.
That means that share prices are overvalued.
Just look at Walmart's (WMT) - Get Walmart Inc. Report reduction late Wednesday of its fiscal 2015 sales guidance. Consumers, both domestically and globally, are not increasing their spending despite an improving job picture and lower oil prices. In fact, they are a bit tired.
Haven't they done enough the last four years coming back from the Great Recession?
Everyone -- the consumer, the Fed, even the President -- is due for a breather. More importantly, they don't have a choice.
At the time of publication, the author was long SPXU.
This article is commentary by an independent contributor, separate from TheStreet's regular news coverage.