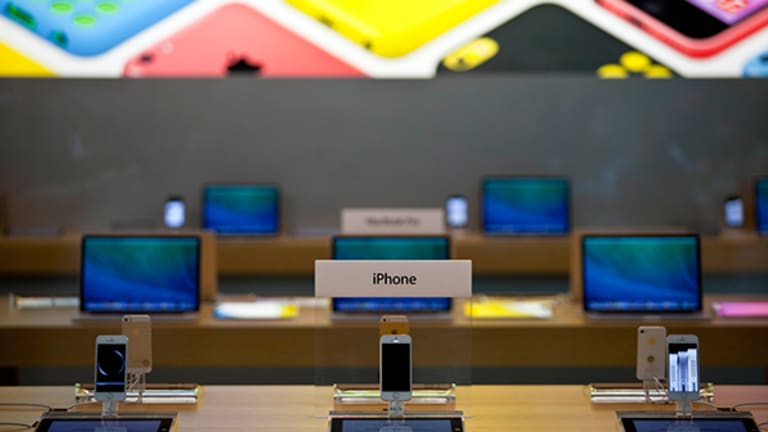 Why Apple's Overseas Tax Probe Is a Black Eye on U.S. Lawmakers
Apple's not 'evading' taxes. The real shame here is those ugly U.S. corporate tax law that drove $2 trillion in taxable money offshore in the first place.
NEW YORK (TheStreet) -- The European Commission Union is preparing to launch a formal investigation against Apple (AAPL) - Get Apple Inc. Report and Starbucks (SBUX) - Get Starbucks Corporation Report, among other U.S. companies, to determine the extent of their exploitation of overseas tax breaks.  
It's a "global crackdown" on corporate "tax evasion." The U.S. has long been looking into companies who evade taxes. Now it's the EU's turn. 
But "exploit" and "evade"? Those terms should not be used to describe legal options that are available to U.S. corporations. Besides, rather than eye on Apple and Starbucks, real energy needs to be invested into making U.S. corporate tax law more attractive. High corporate tax rates are what's driving trillions of untaxed earnings offshore in the first place.
Read: IBM Sees the Cloud's Silver Lining Expanding Big Blue Horizons
So Wednesday it was announced that the EU will be looking at the tax laws in Ireland, which is where Apple's cash is held.  The Commission plans to extend its investigation to other European areas like the Netherlands and Luxembourg as well. 
The United States' corporate tax laws have always been the subject of much debate. Regulators and politicians rarely agree on what a "fair" percentage should be for companies to pay on their billions in annual earnings. Federal tax rates on corporate taxable income vary from 15% to 35%. Some states, as well as local governments disagree on how these monies are to be used.
Making matters worse, these disagreements go beyond the money and are often turned into moral and political issues.
CEOs are not going to wait for a consensus. They have a business to run and shareholders to please. With their hands tied and earnings to preserve, they've had to stash large sums of their profits in their overseas subsidiaries. The alternative is to bring that cash home and pay a significant ransom to the U.S. Treasury, as those safe havens shrink.
"We paid all the taxes we owe, every single dollar," Apple CEO Tim Cook said to defend his company's reputation when accusations flared last year. Cook told U.S. lawmakers that reforms in how the government taxes multinational companies is the real issue.
Read: What Samsung Better Be Planning for Thursday's Gala
The U.S. Congress should adjust its tax laws to allow corporations the freedom and flexibility to bring home the corporate earnings currently held overseas. It is believed that more than $2 trillion in corporate untaxed profits are being held overseas. Until big biz has some incentive to repatriate this cash, the U.S. will see very little of it.
That's the real travesty.

Taxes on that $2 trillion could have been used to repair some potholes caused by this year's severe frost. It could also be used to spur U.S. economic growth and create jobs.
Last year, U.S. Senate investigators said they discovered that Apple paid very little corporate tax on at least $74 million in revenue dating back from 2009. Investigators said that Apple "exploited a loophole" in Ireland's tax code. This is what may have prompted this sudden "crackdown."
European governments are now under pressure to comply with the 12.5% tax rate, which is the required payment for multinational corporations. In the case of Apple, it was determined by a U.S. Senate committee that the Irish government allowed Apple to pay a rate of 2% or less.
Read: E3 Roundup: The Best News From Day 2
At the conclusion of the EU's investigation, companies will be forced to payback any "sweetheart deal" they were found to have received by European states. But the EU will have to prove that Apple and Starbucks, or any other company, knowingly accepted special tax breaks in return for favors.
The EU has every right to impose any sanctions it deems necessary upon the conclusion of its investigation. If Apple, Starbucks or any other company is found to have violated European tax laws or received special tax deals  -- knowingly -- they should face the consequences. EU forbids tax breaks to be given to companies, fearing it breaches fair competitive practices.
"We not only comply with the laws, but we comply with the spirit of the laws. We don't depend on tax gimmicks," Cook said last year.
It remains to be seen what comes out of the EU's investigation.
U.S. corporate tax debates will continue in the meantime.
At the time of publication, the author was long AAPL.
This article represents the opinion of a contributor and not necessarily that of TheStreet or its editorial staff.