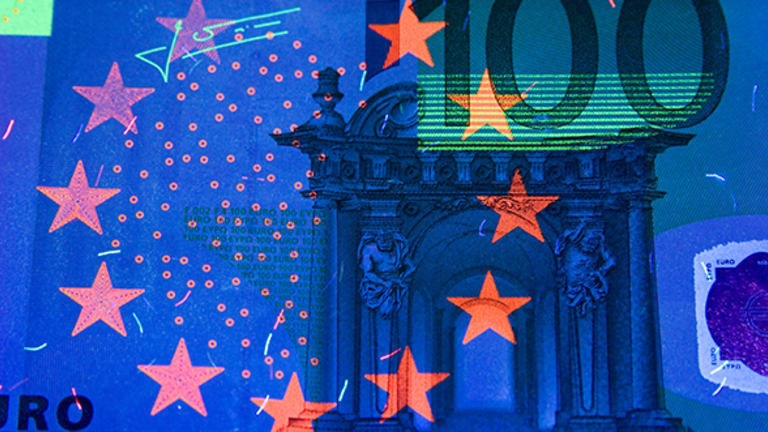 Why the Euro Should Head Even Lower Against the Dollar This Year
As monetary policy diverges in the U.S. and Europe, the value of the euro should decline against the dollar.
Much has been made about the significant divergence of monetary policy in the U.S. and the eurozone over the last year. After last week's U.S. jobs report, it is all but certain the Federal Reserve will begin raising interest rates by year-end. Conversely, the European Central Bank has made it clear that further easing initiatives are possible, beginning as early as December.
The question then is, What will happen to currencies next based on this divergence? The price action of Guggenheim CurrencyShares Euro Trust (FXE) - Get Free Report has tracked the headlines out of the U.S. and Europe closely over the last two years. (This trust is designed to track the value of the euro.) Initially, when the ECB stated it would engage in quantitative easing, the euro fell sharply against the dollar, approximately 25% from April 2014 to February of this year. Then, consolidation ensued for much of this year as probabilities were adjusted for when exactly the Fed would make its move.
As was stated earlier, in recent weeks officials from both the Fed and ECB have clarified they would each do what was best for their respective economies, acknowledging that policies may diverge in coming months. This sign of confidence regarding divergence could mean a further large decline for the euro in coming months. Although many economists and investors cite that further ECB stimulus is already priced in to the market, one only needs to look at the price action of the yen and dollar over the last five years to show that investment opportunities exist. Take a look at the chart of the Guggenheim CurrencyShares Japanese (FXY) - Get Free Report , which is designed to track the value of the Japanese currency.
Although each round of stimulus by the Bank of Japan has been fairly evident in the weeks and days leading up to the move, investors had continuous opportunities to short the Japanese currency.
The euro is on a similar path lower against the dollar, and traders can take advantage of that. If the Guggenheim CurrencyShares Euro Trust makes a clear break of $102.50, that would signal a good entry point for selling short the trust. This should come if the Federal Reserve raises rates by year-end.
This article is commentary by an independent contributor. At the time of publication, the author held TK positions in the stocks mentioned.