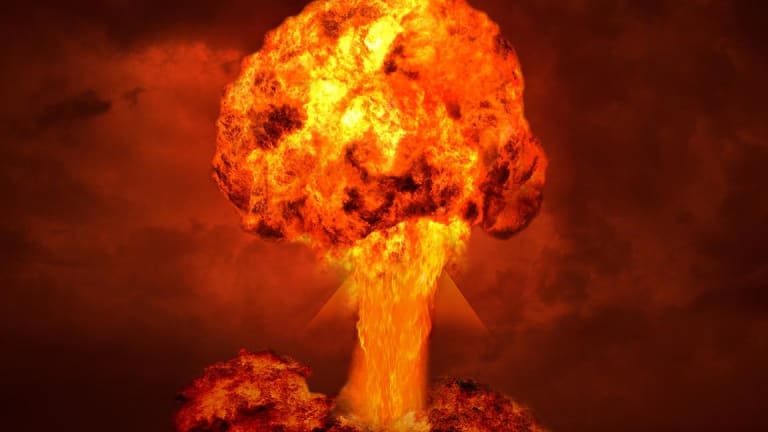 3 Reasons Why the Dow Jones Industrial Just Got Smashed to Pieces
So much for the market's rally off the February correction lows. Investors now appear to be adjusting to several new realities.
So much for the market's rally off the February correction lows. Investors now appear to be adjusting to several new realities.
It's time to grab a stiff drink, maybe 10 of them.
The Dow Jones Industrial Average finished down 724 points, or 2.93%, on Thursday as President Trump unveiled fresh tariffs on China. It wasn't much better for the S&P 500, which tanked 2.51%. The Nasdaq Composite tumbled 2.43%. Leading the Dow lower were prominent big-cap names Caterpillar Inc. (CAT) - Get Report , 3M Co. (MMM) - Get Report  and Boeing Co. (BA) - Get Report .
"If you take away everything we want to buy, you are going to take away the bull -- that's what happened today where there simply weren't enough sectors worth buying, which causes the tsunami of selling you get today," explained TheStreet's founder and Action Alerts Plus portfolio manager Jim Cramer. 
Here are three things that sparked the selling. 
Trade War Fears
Perhaps by this time next year, investors will look back on Trump's decision to impose tariffs on China and be pleasantly surprised how Corporate America managed. But in the short-term, investors will fear the worst and price it accordingly into stock valuations.
President Donald Trump issued a presidential memorandum on Thursday levying as much as $60 billion in new retaliatory tariffs against China in a bid to thwart intellectual property theft in the country.
"The word that I want to use is reciprocal," Trump said at a briefing.
The presidential memo directs the Office of the U.S. Trade Representative and the Treasury Department to enact "what could be" $60 billion in tariffs to offset what the trade representative's office found to be about $48 billion in harm done toward the U.S. via Chinese trade practices.
The action in well-known multinational stocks reflected investor unease on a potential trade war: General Mills (GIS) - Get Report , Procter & Gamble (PG) - Get Report , Kimberly-Clark (KMB) - Get Report , General Electric (GE) - Get Report and Harley-Davidson (HOG) - Get Report all plumbed fresh 52-week lows.
Facebook...
Action Alerts Plus holding Facebook (FB) - Get Report had another tough day, with shares falling 2.6% as investors weren't sold on Mark Zuckerberg's prime-time TV appearance on Wednesday. Shares of the social media giant are down about 11% over the past five sessions. 
The reason why Facebook's troubles are weighing on the broader market are somewhat simple to grasp. The government may use the opportunity to snoop around other massive companies sitting on a profound amount of data. Investors aren't keen on that. Further, a regulated Facebook could easily mean regulation on other high-growth tech companies with access to intimate consumer data. 
Watch more below.
Federal Reserve's New Hawk
New Fed chairman Jerome Powell managed to do what he is now known best for on Wednesday: spooking stock markets. Powell sounded a touch more hawkish on rates than Wall Street expected, causing risky positions in hot areas like tech to be unwound. 
"In less than 24 hours, we learned the Fed upgraded their economic projections - sending the message that higher rates are coming - and that tariffs on imports aren't just talk but are a reality. Investors are not warm to either of these outcomes as low interest rates and low inflation have been underpinnings of the 9-year bull market," reminds Bankrate chief financial analyst Greg McBride.