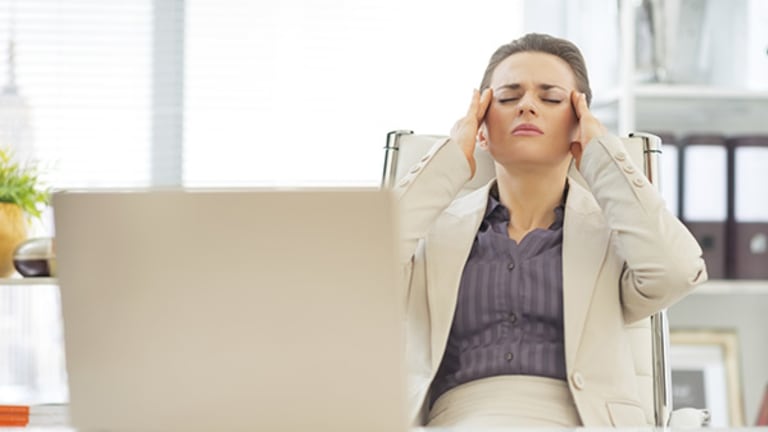 Why the American Worker Is Miserable This Labor Day
The unemployment rate is down, but the jobs being occupied at Walmart, Starbucks and elsewhere aren't giving workers much time, stability or money.
The unemployment rate is down, but the jobs being occupied at Walmart, Starbucks and elsewhere aren't giving workers much time, stability or money.
PORTLAND, Ore. (TheStreet) -- If you're a member of the workforce fortunate enough to get three days off this Labor Day weekend, congratulations: You're less miserable than most of your post-recession colleagues.
In a survey by travel site Expedia, U.S. workers reported earning 14 vacation days, but used only 10 and left twice as many vacation days on the table in 2013 as they did in 2012. Not only does that vacation day allotment trail the 30 earned by workers in France, Spain and Denmark, but the days U.S. workers actually take off exceeds only the eight taken by workers in Thailand and seven by laborers in Japan and South Korea. Meanwhile, a Harris survey indicates that more than 91% of U.S. workers do work-related tasks on their personal time, with 37% devoting more than 10 off-the-clock hours to work each week.
But that's old-fashioned, just nose-to-the-grindstone American work ethic, right? Nope. It's workers' fear that jobs or hours will be pulled right out from under them. A Gallup survey finds that full 43% of U.S. workers are afraid they're going to have their benefits cut, down just slightly from 46% at the peak of the recession in 2009. Another 31% see a pay cut in their future, which is nearly the same as the 32% from four years earlier. Meanwhile, 29% are worried that they'll be laid off, which is a smaller percentage than the 32% in 2009, but still greater than the 26% who feared getting the fired in 2010.
A not-so-small part of that equation is that the recession left workers more cash-strapped than they would like to be. A full 29% of U.S. workers surveyed by Cigna said they would exhaust their resources in a month or less if they left their job for any reason. A much greater concern 2006, the retail and wholesale sector has cut more than a million full-time jobs and added half a million part-time positions.
The Federal Reserve Bank of Chicago reports that a tepid job market is driving down wages as a great number of part-time employees seek full-time work. Those employees who live in constant fear of losing their current jobs are less inclined to spend as a result. That directly impacts retailers, which are paying their salaries in many cases. However, none of that is reflected in the 6.2% unemployment rate, the headcount of 9.7 million unemployed U.S. workers or the 6.3 million actively seeking work.
No, this is the kind of thing that only crops up in the results of a Salary.com survey that found only 38.5% of Americans felt fulfilled by their jobs, while only 52% said they were totally committed to their work. Only 19.5% put in extra hours because they enjoy their work and 72% are motivated solely by their paycheck.
It shows up in a Gallup poll that finds that not only do many U.S. workers absolutely hate their jobs, they've grown to resent their employers for exploiting their misery. Roughly 52% of all full-time workers in the U.S. are not involved in their work and put only as much into it as they're forced to. Of those, 18% are "actively disengaged" and so bitter about their work that they're actively trying to sabotage the workplace and make life miserable for everyone else.
So find some other job, you say? OK. The No. 1 job in the country belongs to the retail salespeople wearing the colorful smocks of Walmart (WMT) - Get Report , Target  (TGT) - Get Report , Home Depot (HD) - Get Report , Lowe's (LOW) - Get Report and other big-box stores. Nationwide, 4.3 million retail salespeople are making an average of $25,000, or well below the annual mean wage of $45,790. America has more retail workers than Kentucky has citizens and a larger big-box workforce than the populations of Wyoming, Vermont, Washington, D.C., North Dakota, Alaska and South Dakota combined. Keep in mind that a retail sector in which Sears (SHLD) , Target and Walmart have all reported shaky results of late as clearance stores and online retailers bite into their bottom lines.
As a result, the number of young workers is diminishing as older workers take their part-time jobs and as retailers leverage their desperation into employee-unfriendly scheduling "solutions." Both The New York Times and The New Yorker recently shared stories of retailers and restaurants including Walmart, Starbucks (SBUX) - Get Report and Jamba Juice (JMBA) - Get Report forcing worker into unpredictable "flex time" schedules at a moment's notice. It's efficient for the employers, but chaotic for employees with few other choices.
So why does it matter? Well, from a broad economic perspective, it's driving off workers. Though the unemployment rate among workers ages 16-19 has dropped from a whopping 23.4% last July to 20.4% in July 2014, the number of workers that age who dropped out of the workforce entirely rose from 10.95 million to 11 million.
From a societal perspective, it's creating disenfranchisement that has far broader implications than the general mood in the break room. As analyst Dick Bove of Rafferty Capital Markets indicated in an August report, "The riots in Ferguson City may have been set off by a police incident, but a look at the basic statistics of the city suggest that deep-seated economic and demographic issues may really be at the heart of the trouble." While that was the cornerstone of his defense of government mortgage entities Fannie Mae (FNMA) and Freddie Mac (FMCC) the greater point was that disenfranchisement and ensuing economic inequality breeds unrest -- and that unrest can do damage more significant than any employee-associated losses a company may incur.
Part-Time Headache
However, if you're going to unsuccessfully try to pry the human element away from this issue and come at it as a pulse-deprived investorbot, there's one big reason to bring more full-time jobs into the market: Flooding your business' floors with part-time employees just doesn't work.
A study conducted by the University of North Carolina at Chapel Hill, found mixing temporary and part-time workers into the full-time workforce could boost profits by nearly a third. However, part-time workers bring less skill and experience into the mix and aren't nearly as productive as full-timers. To get that big boost, researchers say a typical store should have four or five part-time employees to every 10 full-time employees.
Even retailers are starting to get it. Last fall, Walmart investors got tired of wiseacre business publicationssnapping photos of Walmart's empty shelves and decided to link the compensation packages of executives in Bentonville, Ark., to how well the shelves are stocked at Walmart locations across the country. Shortly thereafter, the retailer announced that it would shift 35,000 employees from part-time to full-time status.
The U.S. labor forces has little to be happy about, but making companies see how their misery affects quarterly earnings might just earn them a Labor Day worth celebrating.
-- Written by Jason Notte in Portland, Ore.
>To contact the writer of this article, click here: Jason Notte.
>To follow the writer on Twitter, go to http://twitter.com/notteham.
>To submit a news tip, send an email to: tips@thestreet.com.
At the time of publication, the author held no positions in any of the stocks mentioned.
This article is commentary by an independent contributor, separate from TheStreet's regular news coverage.
At the time of publication, the author held no positions in any of the stocks mentioned. This article is commentary by an independent contributor, separate from TheStreet's regular news coverage.