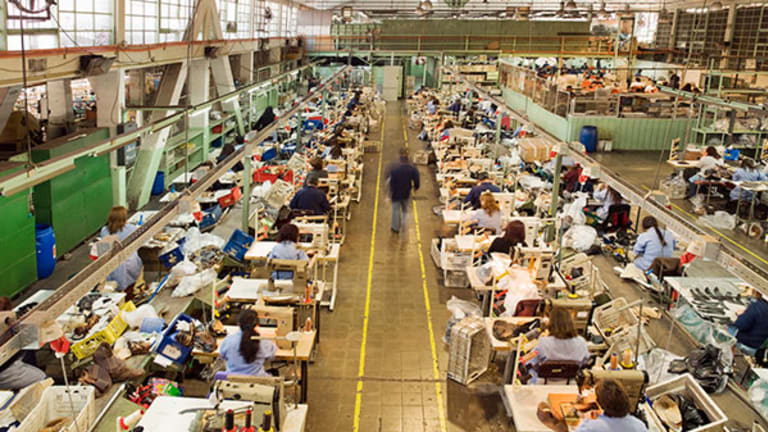 Why the American Worker Is Miserable
Finances are still shaky, options are limited, outlook is bleak and the next day off is far removed. Companies are focused on productivity and workers need to fend for themselves.
PORTLAND, Ore. (TheStreet) -- When you spend enough time scrolling the business pages and reading between the all-caps, bolded lines of tech IPOs and banking settlements, two things become immediately apparent: It's a grim scene outside corner offices and Silicon Valley, and those toiling under that pall are getting increasingly frustrated by the experience.
A few days ago, my colleague Rocco Pendola used
Tesla
founder
as an example of the media's fixation with building personalities up just to knock them down. He posited that folks like Musk who are out there creating PayPal and electric automobiles hold up a mirror to the rest of us as a reminder of what we haven't and, in many cases, won't achieve. The only flaw to Rocco's argument was limiting it to only the media.
The economic tumult of the last half decade or so has riddled many in the United States -- media credentialed or not -- with insecurities we just aren't accustomed to.
reminded us of the results of a
Salary.com
survey that found only 38.5% of Americans felt fulfilled by their jobs, while only 52% said they were totally committed to their work. Only 19.5% put in extra hours because they enjoy their work and 72% are motivated solely by their paycheck.
Meanwhile, in
by travel site
Expedia
(EXPE) - Get Expedia Group, Inc. Report
, U.S. workers reported earning 14 vacation days, but used only 10 and left twice as many vacation days on the table in 2013 as they did in 2012. Not only does that vacation day allotment trail the 30 earned by workers in France, Spain and Denmark, but the days U.S. workers actually take off exceeds only the eight taken by workers in Thailand and seven by laborers in Japan and South Korea. Meanwhile, a Harris survey indicates that more than 91% of U.S. workers do work-related tasks on their personal time, with 37% devoting more than 10 off-the-clock hours to work each week.
This isn't just a workforce morale issue or a nationwide case of burnout, it's near malaise that should concern both those afflicted and the companies they work for. U.S. workers absolutely hate their jobs. Roughly
52% of all full-time workers in the U.S.
are not involved in their work and put only as much into it as they're forced to. Of those, 18% are "actively disengaged" and so bitter about their work that they're actively trying to sabotage the workplace and make life miserable for everyone else.
So why don't they just quit in grand fashion and do something a bit more rewarding? Because the housing bubble's burst and the recession made them afraid to do so, and their employers know it.
finds that since the economic crisis peaked in 2009, there's been no better time to exploit the U.S. workforce for longer hours and less pay.
A full 43% of U.S. workers are afraid they're going to have their benefits cut, down just slightly from 46% in 2009. Another 31% see a pay cut in their future, which is nearly the same as the 32% from four years earlier. Meanwhile, 29% are worried that they'll be laid off, which is a smaller percentage than the 32% in 2009, but still greater than the 26% who feared getting the fired in 2010.
Frankly, workers' finances haven't recovered well enough for them to leap from their current drudgery without taking a long look ahead. As
MainStreet's Ellen Chang
discovered, 29% of U.S. workers surveyed by Cigna said they would exhaust their resources in a month or less if they left their job for any reason.
Besides, have you seen the job market lately? It's not exactly a dream factory, or any factory for that matter. The nation added 208,000 jobs in October, according to the Labor Department, but nearly a quarter of those jobs came in the leisure and hospitality sector. There are three unemployed U.S. workers for every job opening, compared to 1.5 in 2007, and 45% of the nation's unemployed are between age 18 and 34. The U.S. economy would have to add another 4.1 million jobs before young adults get back to prerecession employment levels.
The economy has regained just 6 million of the 8.7 million jobs shed during the recession and wages are sliding. A full 65% of those regained jobs are low-wage. Nevermind that nearly 60% of all jobs lost during the slump paid middle-income wages or better, according to the National Employment Law Project. You have nearly 300,000 college graduates working minimum-wage jobs just to get by and, between 2009 and 2013, low-wage jobs grew to outnumber high-wage jobs by 800,000.
The No. 1 job in the country belongs to the retail salespeople wearing the colorful smocks of
Wal-Mart
(WMT) - Get Walmart Inc. Report
,
Target
(TGT) - Get Target Corporation Report
,
Home Depot
(HD) - Get Home Depot, Inc. (HD) Report
,
Lowe's
(LOW) - Get Lowe's Companies, Inc. (LOW) Report
and other big-box stores. Nationwide, 4.3 million retail salespeople are making an average of $25,000, or well below the annual mean wage of $45,790. America has more retail workers than Kentucky has citizens and a larger big-box work force than the populations of Wyoming, Vermont, Washington, D.C., North Dakota, Alaska and South Dakota combined.
The result is a workforce that's been laid off and downsized multiple times, is overeducated or underpaid for the jobs it found afterward and is only in its current position because the bosses keep signing the paychecks. Meanwhile, companies are left with either a transient workforce with no allusions of loyalty to its employer or, on the other end of the spectrum, a growing number of groveling serfs that the folks at headquarters can bend to their will.
So what's the answer? Well, employees could hope that their company starts handing out Google-type benefits or takes Fort Collins, Colo.-based New Belgium Brewing Company's lead and converts to an employee ownership model, but those kind of pipe dreams died out a long time ago. Instead, maybe they should look to their millennial coworkers for some guidance. A Harris survey for the University of Phoenix found that 80% of workers in their 20s say they want to change careers, compared to 64% of 30-somethings and 54% in their 40s.
Granted, it's a lot easier to say something like that with no family or mortgage tying you down, but the Labor Department found that the average 25-year-old has already worked 6.3 jobs since he or she turned 18. Jumping around to different companies isn't exactly new, and the Harris survey indicates that the jobs millennials are working now are seen as launching points for jobs in the arts and sciences, business management, technology and health care. A survey of Harvard graduates earlier this year found them not only shunning Wall Street, but gunning for jobs at
Google
(GOOG) - Get Alphabet Inc. Class C Report
and St. Jude's Children's Hospital with equal fervor.
Again, that's a tough leap to make when you're already facing either family responsibilities, financial burdens or some mix of both. However, is taking a stab at the unknown really worse than taking a lackluster paycheck from an employer that only makes you miserable and resentful? It's not an easy decision, but the easy route of giving yourself an ulcer and spewing vitriol at folks like Musk and Apple CEO Tim Cook under a comments-field pseudonym isn't doing the world any favors, either.
-- Written by Jason Notte in Portland, Ore.
>To contact the writer of this article, click here:
Jason Notte
.
>To follow the writer on Twitter, go to
.
>To submit a news tip, send an email to:
.
RELATED STORIES:
>>Here's Your Thanksgiving Playlist
>>We Keep Paying The Cost Of Our Wars
>>Blockbuster's Self-Inflicted Tragedy Is Our Loss
Jason Notte is a reporter for TheStreet. His writing has appeared in The New York Times, The Huffington Post, Esquire.com, Time Out New York, the Boston Herald, the Boston Phoenix, the Metro newspaper and the Colorado Springs Independent. He previously served as the political and global affairs editor for Metro U.S., layout editor for Boston Now, assistant news editor for the Herald News of West Paterson, N.J., editor of Go Out! Magazine in Hoboken, N.J., and copy editor and lifestyle editor at the Jersey Journal in Jersey City, N.J.