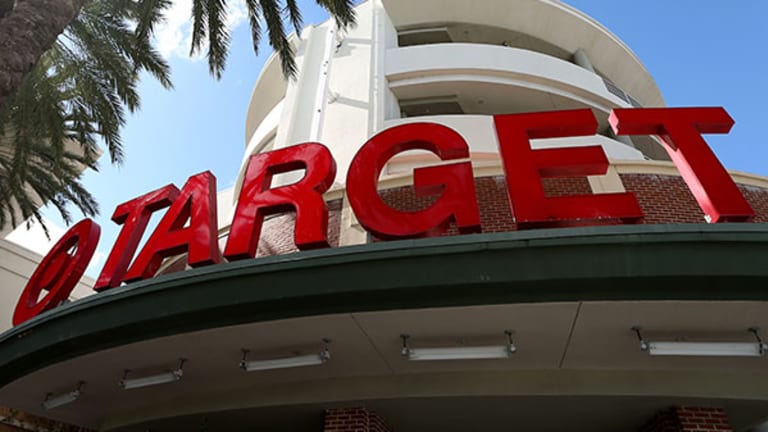 Why Target Canada Is Still Failing to Attract Customers
Target Canada is lowering prices to attract customers but rather than appealing to the masses, it's hurting revenue.
NEW YORK (TheStreet) -- Target's (TGT) Canadian business has been a major headache for the Minneapolis retailer ever since it opened in March 2013, and a recent pricing survey suggests that rather than boosting sales, the decision to lower prices to attract customers has only generated less revenue than expected.  
According to research firm Kantar Retail, an identical basket of consumer goods in August cost 3.9% less at Target Canada than at Walmart's (WMT) Canadian business. The sample basket was made up of 33 identical national brand goods from edible and non-edible grocery and health and beauty categories at Walmart and Target stores within five kilometers of one another in Toronto. Kantar Retail found that 36% of the 33 items at Target were on sale compared to one item at Walmart.
When reached by phone, a spokesman for Target downplayed the Kantar Retail survey, noting that the company "tries to price within 1% to 2%" of the lowest price for a product in the market, which is "usually Walmart." He added "there is nothing new" regarding pricing thus far for Target Canada in the third-quarter relative to statements the retailer made on its second-quarter earnings call.
On that call, Target's chief merchandising and supply chain officer, Kathee Tesija stated: "On pricing, while both our own studies and external surveys show that we are already priced very competitively, the team has made decisive changes to ensure we respond even more quickly to pricing dynamics in the Canadian marketplace, including comparison shopping our prices vs. competitors on more items more frequently, implementing enhanced tracking of competitor promotions to ensure we react quickly, and implementing a price match policy, which includes online and local competition with a more flexible process for guests."
Target's apparent willingness to continue to forego strong profit margins in an effort to lure in customers and drive sales may come as a surprise to investors and Wall Street. Shares of Target, which my firm Belus Capital Advisors rates a sell, have risen 14% since the company released second-quarter earnings on Aug. 20. According to Bloomberg, third-quarter earnings estimates on Target have remained virtually unchanged from Aug. 20 at 49 cents a share. The same could be said for full-year earnings estimates that currently stand at $3.25 a share.
To right the ship, Target Canada is executing on other tactics besides more competitive pricing. "To address in-stocks, the team is taking action on four dimensions, better reporting to identify in-stock issues sooner, retraining our teams on best methods, developing new best methods tailored to Canadian segment systems and reconfiguring systems to work more effectively over the long run," said Tesija. The company is also adding more exclusive items and designer partnerships to its Canadian stores. By the holiday season, Target estimates that of the 70,000 items in a typical Canadian store, 30,000 will be new.
While Target is trying to get its operational house together at 130 stores located in 10 Canadian cities, Walmart is full steam ahead with a host of initiatives. The company is expected to spend about $500 million on 35 projects in Canada in its present fiscal year; the initiatives include more fresh food offerings and six new stores. The series of actions by Walmart in Canada may be weighing on the pace of Target's turnaround -- in the second quarter, Walmart Canada posted a 0.2% same-store sales increase compared to a mouth-dropping 11.4% decline at Target Canada. For the first time, Target began reporting comparable sales in Canada in the second quarter as 48 stores became mature at various points within the quarter.
At the time of publication, the author held no positions in any of the stocks mentioned.
This article is commentary by an independent contributor, separate from TheStreet's regular news coverage.