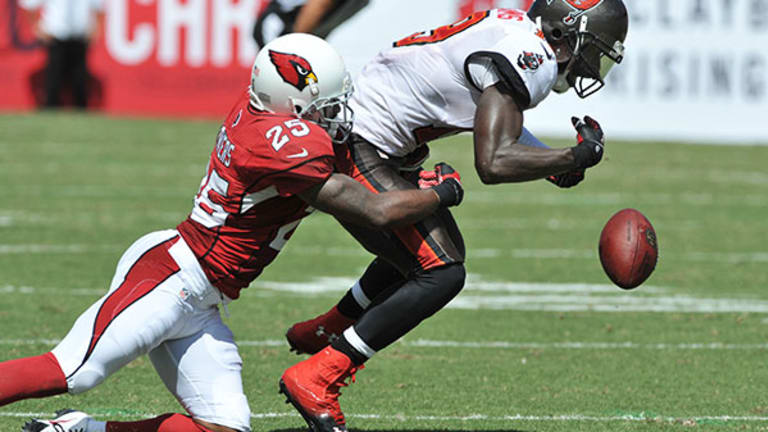 Why Tampa Bay Bucked NFL Blackouts
By vowing to keep the team's home games on television for the rest of 2013, Buccaneers owners offered fans a return on their investment.
PORTLAND, Ore. (TheStreet) -- As the volume of the debate surrounding the National Football League's blackout policy has increased in recent years, perhaps no NFL team has been mentioned more frequently in that discussion than the Tampa Bay Buccaneers.
Between 2010 and 2012, just five of the Bucs' last 24 home games have been shown on local television thanks to a league blackout policy dictating that games not sold out 72-hours ahead of kickoff be blacked out by stations broadcasting within a 75-mile radius of the home team's stadium. In this case, that building is Tampa's
Raymond James
(RJF) - Get Raymond James Financial, Inc. Report
Stadium, which was the only NFL stadium built within the last 20 years by using only public funding. Simply put, both Tampa-area Bucs fans and non-fans alike were being prevented from watching games played in a $168.5 million stadium they paid for.
Despite a revision to the blackout policy last year that allowed teams the option of keeping a game on local television if just 85% of nonpremium seats were sold -- an option the Buccaneers organization accepted, the Bucs ranked 31st among 32 NFL teams in average announced attendance (55,102) and percent of stadium filled (83.9%).
This season, the team is off to an 0-4 start. Josh Freeman, who began the season as the Bucs starting quarterback, is now with the Minnesota Vikings after being granted his outright release -- with the Bucs still paying a large portion of his salary. The man who ushered Freeman out the door by benching him, head coach Greg Schiano, has also angered star cornerback Darrelle Revis and chafed other members of the team with his brusque coaching style.
But no matter how many people show up in Tampa for Sunday's game against the Philadelphia Eagles or how ugly the result is on the field, Buccaneers fans are guaranteed a televised home game. In fact, the team's owners are buying up any unsold tickets under the 85% attendance threshold and keeping the Bucs on local television for the rest of the season.
While the Glazer family of owners can't currently vouch for the quality of what fans will be watching, their active role in preventing home-game blackout is 2013 is worth rooting for.
The Tampa area was hit especially hard by the housing market's collapse and ensuing recession, to the point that a 10-6 Buccaneers season in 2010 wasn't enough to draw people to the stadium to spend cash they didn't have. Meanwhile, the Glazer family seemed preoccupied with its other major sporting franchise -- English Premier League soccer's Manchester United -- and followed up a "home" game in London in 2009 with another in 2011.
The combination of the Glazers' apparent apathy, fans' growing disillusionment and a continued string of blackouts blocking Tampa's access to its sizable public investment made the team look like
a good candidate for relocation
at the beginning of the season. But the Buccaneers' latest move isn't that of a franchise with wandering eyes: Complaining about facilities, squeezing a market for stadium upgrades, making regular trips abroad,
openly sniping with their host city or state
.
This is a franchise returning the public's investment at a time when the NFL's come under increased scrutiny for gorging itself on public funds and providing little in return. Republican Sen. Tom Coburn of Oklahoma has targeted the league's
and the millions it isn't paying on $9.5 billion in revenue. Fellow Republican Sen. John McCain of Arizona, meanwhile, introduced legislation that would prevent NFL teams from blacking out games played in NFL stadiums paid for with public money.
Meanwhile, fans are becoming increasingly aware of -- and frustrated with -- the NFL's largesse. Thanks to the league's nonprofit distinction, it's been revealed that Commissioner Roger Goodell makes roughly $30 million a year. It's also come to light that about half of the NFL's revenue comes from lucrative television contracts.
Fox
(FOXA) - Get Fox Corporation Class A Report
,
CBS
(CBS) - Get CBS Corporation Class B Report
and
Comcast's
(CMCSA) - Get Comcast Corporation Class A Report
NBC
agreed to pay the NFL $28 billion for broadcast rights through 2022.
Walt Disney's
(DIS) - Get Walt Disney Company Report
ESPN
has a separate $1.9 billion annual deal for Monday night football, while
DirecTV
(DTV)
has a $1 billion per season agreement for the NFL Sunday Ticket package that is set to become even more lucrative once the current contract expires in 2015.The league's television revenue is slated to rise from an average of $4 billion a year to $5 billion annually as new contracts kick in.
For their investment, the networks get ratings doubled those of their prime-time offerings. Last fall, 31 of the 32 most-watched television shows were NFL games. But the public doesn't see any dividends from that success and still had 15 NFL home games blacked out in 2012. That's down from 16 last in 2011 and 26 in 2010, but not a significant drop considering last season's change in blackout policy -- which most NFL teams didn't sign on for.
In that context, compare what the Glazers are doing to keep the Bucs on television to what's happening in Buffalo, where the team still blacks out late season home games, plays one "home" game a year in Toronto and just squeezed both Buffalo and New York State for more than $200 million in stadium upgrades that only guarantee its presence for another eight years. That's a better deal than Charlotte, N.C., got when it approved $87.5 million in public funds for upgrades to
Bank of America
(BAC) - Get Bank of America Corp Report
Stadium that will only keep the Carolina Panthers around for another six years, but at least that team's sponsors and television affiliates buy out unsold tickets.
It's similarly grim in San Diego, where the Spanos family that owns the Chargers is openly courting other cities as the city patently refuses to build the team a new stadium on its terms. Negotiations are ongoing, but the man San Diego elected to play hardball with the Spanos clan, Bob Filner, was just ushered out of office amid a scandal.
So why would the Glazers do this? At least part of the answer involves the NFL's other Florida franchises: The Jacksonville Jaguars and the Miami Dolphins. After blacking out almost their entire home slate in 2009, the Jaguars and their fans resolved not to do that again and used a combination of ticket drives, free beer with ticket purchases and an NFL blackout loophole that allows teams, their sponsors and their television affiliates to buy unsold tickets at a third of their face value and give them away to charities. The Jaguars have struggled, but they haven't blacked out a game since.
The Dolphins, meanwhile, have been buying up unsold tickets over the last couple of years as its normally robust attendance has flagged. Season ticket purchases have dwindled from more than 61,000 in 2006 to little more than 40,000 last year, but ownership is looking for $350 million in stadium renovations and seems aware that keeping the Dolphins off television isn't a great way to get them.
As the Miami example makes clear, if the Glazers have any designs on upgrading Raymond James Stadium, they're going to need to play nice with the public. As they're learning from Jacksonville, fans tend to be a whole lot more receptive to shelling out cash and filling seats when the team keeps games on the air and gives its fan base at least some hope that it will stick around a while.
By keeping games on television and making it clear that they're going into their own pockets to do so, they're clearly trying to restore public trust in the team that has taken a beating over the last few seasons. The cynic's view is that they know this is going to be a tough season and that it's tough to get fans in the Tampa area out to the stadium under even slightly better circumstances.
The more optimistic view is that they know that maintaining even the most loyal of fanbases takes work. Younger fans need to actually see their team on a regular basis to form an attachment to it, while older fans aren't as likely to wait out the bad times and spend on the team if they feel ownership isn't in their corner. Either way it's a business proposition, but the latter approach makes fans feel more like people than like assets that are moved around as owners deem necessary.
With the average NFL ticket selling for $81, going to a game has become a significant investment for the average fan as well. With the stakes high on each side of the equation, it takes a mix of concessions and trust to form a bond between a fan and an organization. Much like the relationship between a consumer and a brand, the fan/team dynamic only works if there's value for the buyer and a modicum of loyalty for the seller.
The Glazers took a big step toward meeting their end of the bargain. Time will tell if fans will return the favor.
-- Written by Jason Notte in Portland, Ore.
>To contact the writer of this article, click here:
Jason Notte
.
>To submit a news tip, send an email to:
.
RELATED STORIES:
>>10 Cheapest Beers In The NFL
>>5 Pro Sports Towns Doing Just Fine Without The NFL
>>The United Playlist Of America
Jason Notte is a reporter for TheStreet. His writing has appeared in The New York Times, The Huffington Post, Esquire.com, Time Out New York, the Boston Herald, the Boston Phoenix, the Metro newspaper and the Colorado Springs Independent. He previously served as the political and global affairs editor for Metro U.S., layout editor for Boston Now, assistant news editor for the Herald News of West Paterson, N.J., editor of Go Out! Magazine in Hoboken, N.J., and copy editor and lifestyle editor at the Jersey Journal in Jersey City, N.J.