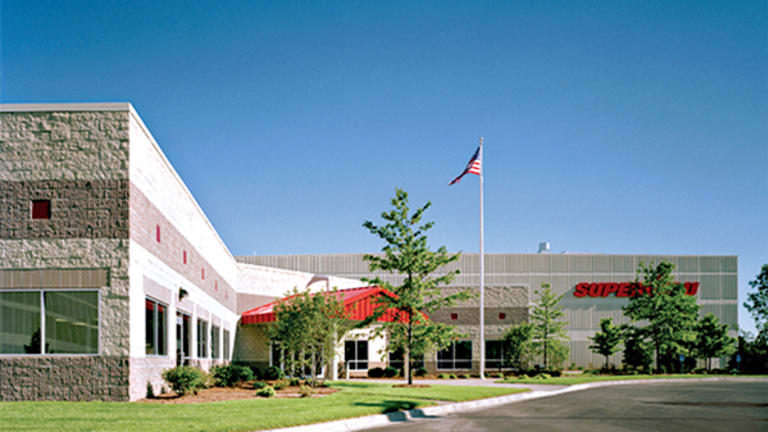 Why Supervalu's Stock Could Rise 75% in 2016
Shares of Supervalu appear to be undervalued. Analysis shows this retail stock could rise about 75% in the next six to 12 months.
Editors' Pick: Originally published Dec. 30.

Supervalu (SVU) shares are a compelling buy, and detailed analysis shows they have the potential to rise 100% from recent levels. Investors should consider adding this retail stock to their portfolios.
This stock closed Tuesday at $6.89. That's 12% higher than its 52-week low of $6.14 and 42% lower than its 52-week high of $12.00. It has a price-to-earnings ratio of 13.7, which is significantly lower than the industry average P/E of 23, according to Morningstar data. This suggests the stock has plenty of room to rise.
Supervalu operates three main businesses. Its largest, called Independent Business, provides wholesale distribution and logistics services to other retailers. This accounts for about 45% of the company's revenue. Its Retail Food business operates supermarket chains including Cub and Fresh Farm. The third business, Save-a-Lot, is a discount grocery chain. The Independent Business did well in fiscal 2014 as it increased customers, but it faces stiff competition in the space, and sales declined slightly year over year in its second quarter of fiscal 2016, which ended on Sept. 12.
Amid an extremely competitive environment, Supervalu has taken steps to try to maximize its return to shareholders and improve its operational efficiency. It has sold off or closed some stores. In July, it also said it was thinking about a spinoff of its successful Save-a-Lot business in order to focus on its other businesses.
The company reported positive earnings for fiscal 2015 and 2014 after a $1.47 billion net loss in fiscal 2013 that was largely the result of sales of Albertsons, Acme, Jewel-Osco, Shaw's and Star Market stores. The company's net loss from continuing operations was $263 million.
Supervalu bounced back in the next two fiscal years, however, reporting a net profit of $182 million for fiscal 2014 and $192 million for fiscal 2015. It's also important to note the company's improving cash flows despite its operational headwinds. Cash flows for the first two quarters of fiscal 2016 were $276 million, up from $158 million a year before. This increase is the result of prudent management of working capital.
In the second quarter of fiscal 2016, operating earnings dropped to $49 million from $54 million in the Independent Business segment. In the Retail Food business segment, operating earnings dropped by almost 50% year over year.  The Save-a-Lot business was the bright spot, however, with a 23% increase in operating earnings compared with the same period a year earlier, the result of of high base margins and lower logistic costs.
Valuation and Earnings Outlook
Please find below the earnings outlook for 2016 and 2017. The estimates are based on my analysis and average of analysts' estimates:
Source: Author's own calculations
These estimates are conservative and assume 6% year-over-year growth in sales and operating profit margin of 21.2%. Please have a look at the profit margins in the past and in the forecast fiscal years:
Source: Author's own calculations
From the above table, we can conclude that the company has bounced back after fiscal 2013 as it turned the negative profit margins into positive profit margins within a year's time by implementing its strategies effectively. The improved and positive profit margins prove the operational efficiency of the company. However, we expect the margins to improve in the coming fiscal years as well.
Valuation
Please find below the estimated valuation of Supervalu:
Source: Author's own calculations
Based on the valuation, we believe that the shares of the retail giant are worth at $12 today, which clearly indicates an upside of 75% from the stock's current price. We used a conservative enterprise value/EBITDA ratio of 6.0, which is almost on par with the historical multiple.
Please find below the table of key ratios and multiples:
Source: Author's own calculations
From the above table, it can be clearly seen that the company has been able to provide its investors with a stable and consistent return on investment (ROI) of approximately 24% in the past fiscal years. We expect the ROI to improve in the coming fiscal years as well on account of improving profit margins. Another thing which should cheer investors is the net debt/EBITDA ratio, which did not increase in 2015 compared with 2014. Generally, net debt/EBITDA of more than 4 or 5 is considered alarming. Based on the company's latest results, consensus expectations and our own analysis, we expect this ratio to fall to 2.4 and 1.7 in fiscal 2016 and 2017, respectively.
The valuations ratios, such as price-to-earnings and price-to sales are also seen dropping in the forecasted years. This also validates the thesis that currently Supervalu is inexpensive both in relative and absolute terms as these multiples indicate how inexpensive the company is compared to its peers.
Based on the analysis above, we have a buy recommendation on Supervalu with a six- to 12-month price target of $12.
This article is commentary by an independent contributor. At the time of publication, the author held no positions in the stocks mentioned.