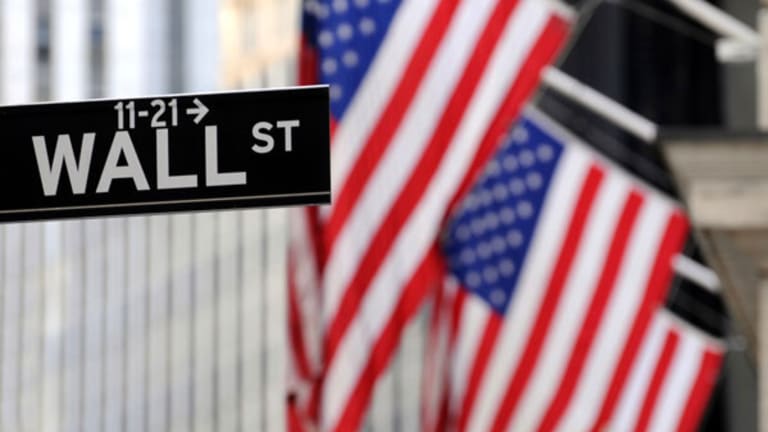 Publish date:
Why Stocks Are Rising: It's The Liquidity, Stupid!
All of the elements that are necessary for the formation of a stock market bubble are coming into place.
All of the elements that are necessary for the formation of a stock market bubble are coming into place.
NEW YORK (TheStreet) -- Macro and micro fundamentals are deteriorating in the U.S. and around the world. Two questions are begged: Why are stock prices represented by indices such as the S&P 500, Dow Jones Industrials and Nasdaq rising so dramatically? Is this rally sustainable?
The answer to the first question is that stock prices are rising due to a confluence of extraordinarily high levels of liquidity on household and business balance sheets, combined with a simultaneous normalization of liquidity preferences. On the margin, this is driving a demand for equity investments.
The answer to the second question is that the current rally is sustainable in the intermediate term and could indeed morph into a full-fledged bubble for reasons described in this article.
Deteriorating Fundamentals
An overwhelming plurality of economic indicators are signaling that the U.S. and global economies are slowing sharply relative to the already modest pace of growth in the first quarter of 2013. ISM and Markit PMI surveys, along with various indicators of industrial production, show that manufacturing activity in the U.S. is slowing sharply.
Furthermore, indicators of consumption such as real disposable income and retail sales are showing signs of weakening. Finally, the pace of employment growth seems to have slowed notably in the months of April and May.
Globally, the macroeconomic situation is even more worrisome, with a brutal recession accelerating in much of Europe, and pronounced slowdowns evident in Australia and China.
>>Also see: Fate of Fed Stimulus Turns Hazy >>
U.S. corporations are starting to show signs of these macroeconomic strains. US corporate earnings estimates for 2013 have come down dramatically in the past month, and look to be revised downwards much further once the lackluster first quarter performance is fully digested by analysts. US corporate earnings are contracting on a year over year (YoY) GAAP basis and is only growing at slightly over 2% YoY if measured on an operating EPS basis.
So why are stock prices rising so dramatically?
Excess Liquidity and Normalization of Liquidity Preference
Below I present a chart of "systemic liquidity." This metric measures most readily available sources of liquidity for U.S. households and businesses as a percentage of total nominal income or GDP. The black trend line is an estimate of a "normalized" level of systemic liquidity, derived by linear regression.
There are two important things to observe in this graphic. The first thing to note is that from 1959 until 2000, U.S. systemic liquidity as a percent of GDP behaved in a cyclical and mean-reverting fashion, just as standard economic theory would predict.
The second thing to observe in this graphic is that systemic liquidity as a percent of GDP failed to normalize after the events of the 2000-2003 period and absolutely exploded as of 2007.
One could very reasonably argue (as I did at the time) that the
Federal Reserve's
accommodation of the spike in the demand for liquidity during the 2007-2009 financial crisis was justified given the high demand for liquidity and that this did not represent a major problem in and of itself in terms of fueling consumer or asset inflation. Liquidity will not cause price inflation (consumer or asset) if it is merely hoarded for precautionary reasons. However, just as in the 2003-2006 period, the problem has been that the Fed has been excessively slow in engineering a normalization of systemic liquidity.
Unfortunately, this failure on the part of U.S. monetary authorities to normalize systemic liquidity levels is likely to result in the formation of asset bubbles, just as occurred during the 2003-2006 period. Indeed, the situation today is much worse. Presently, systemic liquidity is well above 75% of GDP versus a normalized level that should probably be below 55%. This implies that "excess liquidity" in the U.S. economy on in the order of 20% of GDP. This is an utterly unprecedented and dangerous level of systemic liquidity in the context of an economy that has stabilized and is now in an intermediate stage of the business cycle.
>>Also see: 10 Sustainability Tips That Will Save You Cash >>
Why are such extraordinarily high levels of systemic liquidity dangerous at this stage of the business cycle? The reason is that "liquidity preference" or the desire of households and businesses to hold liquidity is what drives the demand for liquidity, and liquidity preference behaves in a mean-reverting fashion driven largely by fluctuations in risk-aversion.
As households and businesses gradually shed their "bunker mentality," they will no longer want to hold so much liquidity. In particular, they will not want to hoard so much of their net worth in liquid assets at negative real rates of interest. This implies that as households and businesses become less fearful and risk-averse, they will increasingly deploy their accumulated cash hoards towards increasingly risky investments that promise an attractive real rate of return.
Given the exceedingly low real rates of return offered by fixed income instruments, as risk aversion declines and liquidity preference collapses along with it investors will increasingly turn to equity investments such as stocks and real estate.
We are currently experiencing this phenomenon in a relatively early stage right now and this explains the vigorous rally in stock prices thus far in 2013. First, companies such as
Apple
(AAPL) - Get Apple Inc. (AAPL) Report
are starting to disgorge their accumulated cash hoards in the form of accelerated stock buy-backs as well as dividend distribution. Second, mutual fund inflows and other data seem to indicate that for the first time in many years, the risk appetite of households is starting to awaken.
Prospects for Stocks
This mean-reverting process of normalization of risk aversion and liquidity preference is still in a fairly early stage. Equity exposure as a percent of total portfolio assets is very low. Furthermore, various intermediate term indicators of risk-aversion such as the relative PE ratios of value versus growth stocks show that investors are, on the whole, still in a cautious mood by historical standards.
To the extent that risk aversion continues to decline in mean-reverting fashion and liquidity preference collapses, the prospect of a runaway stock market bubble becomes very real.
Conclusion
I want to be very clear that stock valuations are currently not symptomatic of a stock market bubble. However, all of the elements that are necessary for the formation of a stock market bubble are coming into place.
Until now, despite the unprecedented levels of systemic liquidity, stock prices have not reached bubble-like heights due to the high degree of risk-aversion that was triggered by a succession of financial and sovereign debt crises in the US and Europe between 2007 and 2012.
As "crisis fatigue" sets in, and US investors in particular become increasingly comfortable with the prospects for the U.S. economy (even if projections be only modest) risk aversion will tend to decline and liquidity preference will collapse. In this scenario, the unprecedented amounts of liquidity on household and business balance sheets will be increasingly deployed towards consumption and investment good.
In particular, given the low real yields on fixed income instruments, I would expect a very large portion of the excess systemic liquidity to be deployed to equity investments and stock market investments in particular, via ETFs such as
S&P 500 SPDR
(SPY) - Get SPDR S&P 500 ETF Trust Report
.
In the short term, deteriorating fundamentals in the second quarter could trip up the ongoing stock market advance. However, in the intermediate term, in the absence of an exogenous macro shock or decisive Fed action to reign in excess liquidity, the requirements of a major stock market bubble appear to be coming together.
At the time of publication the author had no position in any of the stocks mentioned.
This article was written by an independent contributor, separate from TheStreet's regular news coverage.
James Kostohryz has accumulated over twenty years of experience investing and trading virtually every asset class across the globe.
Kostohryz started his investment career as an analyst at one of the US's largest asset management firms covering sectors as diverse as emerging markets, banking, energy, construction, real estate, metals and mining. Later, Kostohryz became Chief Global Strategist and Head of International investments for a major investment bank. Kostohryz currently manages his own investment firm, specializing in proprietary trading and institutional portfolio management advisory.
Born in Mexico, Kostohryz grew up between south Texas and Colombia, has lived and worked in nine different countries, and has traveled extensively in more than 50 others. Kostohryz actively pursues various intellectual interests and is currently writing a book on the impact of culture on economic development. He is a former NCAA and world-class decathlete and has stayed active in a variety of sports.
Kostohryz graduated with honors from both Stanford University and Harvard Law School.
View Kostohryz's LinkedIn profile and connect with him
; follow him on Twitter
and Google+
. When connecting, be sure to identify yourself as a reader from
TheStreet
.