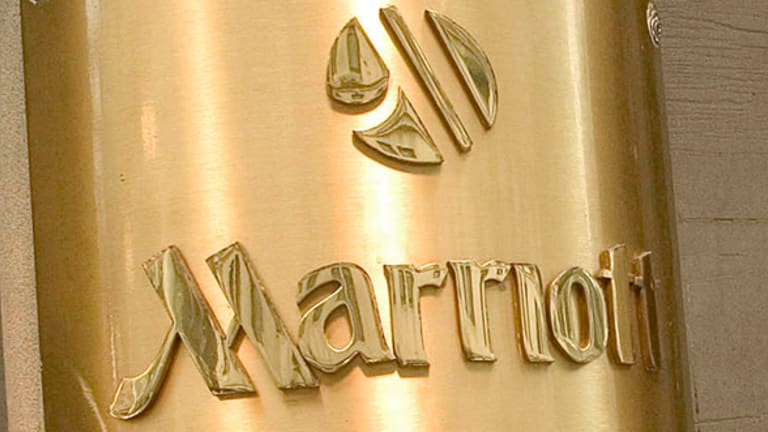 Why Starwood's Two-Suitors Dilemma Is a Win-Win
Talk about HOT. A Chinese company has stepped in to upset the Starwood-Marriott. Expect Marriott to win, but at a higher price
Talk about HOT. A Chinese company has stepped in to upset the Starwood-Marriott. Expect Marriott to win, but at a higher price
Editor's pick: This article was originally published March 14.
Investors expecting an uneventful closing of the proposed merger between
Starwood Hotels
(HOT)
and
Marriott International
(MAR) - Get Report
got a jolt when Chinese insurer
Anbang Insurance Group
stepped up with a higher offer
for Starwood. The situation leaves investors with two options, both of them good.
In one scenario, the $13 billion Anbang proposal turns out to be solid. In the other, the $12.2 billion Marriott offer goes ahead as planned or is raised, giving Starwood holders both cash and a stake in a well-managed company whose latest "up" cycle appears to have several years left to run.
The U.S. hotel industry has bounced back strongly from a sharp decline during and after the 2008 financial crisis. Nationwide room occupancy for 2015 was 65.6%, the highest ever, according to industry bible STR Travel Research. More important, hotels have more pricing power thanks to a combination of a strong-enough upturn and industrywide discipline about not accelerating construction at the first sign of occupancy growth.
Average daily rates rose 4.4% last year to $120.01. That's why revenue per available room, or revpar rose 6.3% to an all-time high of $78.67. RevPAR is a performance metric in the hotel industry that is calculated by dividing a hotel's total guestroom revenue by the room count and the number of days in the period being measured. Globally, the numbers are different but the pattern is the same.
"RevPAR in the U.S. has increased year over year for 70 consecutive months and all of the key performance indicators finished 2015 as all-time highs," STR said in announcing the results.
At Marriott, RevPAR above the industry average has always been the standard and the company will be trying to bring Starwood's RevPAR -- $121.57 for all of 2015 -- up to its own $132.30, which was a 5% 2015 gain driven by a 4% price gain. (Starwood's RevPAR declined slightly). Plus, the companies reiterated the merger will bring about $200 million in cost savings to a company expected to post $20 billion in annual revenues. The combination of higher RevPAR and better cost control is the heart of the case for the merger.
Numbers like these are why hotel stocks in general are running, and why Anbang has already made a $6.5 billion deal to buyStrategic Hotels (BEE) , which owns high-profile hotels including New York' Waldorf-Astoria. The Chinese firm's latest bidding group for Starwood includes the very savvy private equity firm J.C. Flowers. The Baird/STR Hotel Index rose 11.8% in February, not exactly a number that points to an imminent recession in the U.S.
Expansions end when the premises they're based on rot, producing overinvestment and inflation. That didn't happen for hotels coming out of the post-recession slump, though there are signs it's changing now -- rooms under construction are up about 8% from last year in Europe, and by double digits in the U.S., cutting into occupancy gains, according to STR. Marriott gave notably strong guidance about 2016 bookings for its business travel and meetings business, so filling rooms doesn't look like a problem. And inflation in the economy generally is nearly nil, both in the U.S. and Europe.

Neither is Internet-based disruption a threat. Two years ago, Silicon Valley fanboys imagined that Airbnb or HomeAway, now part of Expedia (EXPE) - Get Report , would cut fatally into hotel chains' business. But that hasn't occurred, and it's not in the pipeline. HomeAway's vacation rentals are a completely different market than the business travel that is Marriott's bread and butter and even Airbnb can rarely, if ever, offer the meeting services and banquet staff that a good hotel can.
That leaves investors with two choices. Marriott is offering $2 a share for Starwood in cash, and 0.92 Marriott shares per Starwood share, currently worth $65.40. That stock stands to do pretty well: Since spinning off Host Marriott, which owns hotels, in 1993, the management/franchising company has seen its shares rise 15-fold (excluding dividends). The face value of the Anbang deal is $800 million higher than the $12.2 billion Marriott agreed to pay for Starwood, one reason shares rose 8% Monday to $76.11, $9 more than Marriott's bid.
Since Starwood's market cap hit $13 billion, that's a sign the market is looking at the Anbang valuation as a floor more than a ceiling. That's especially true since Starwood said it's still committed to the Marriott deal, even though Marriott will eventually have to pay up to prevent lawsuits.
But prospects for the merged company -- the cost savings, the historically strong management and stock performance at Marriott, and a moment in the expansion that indicates hotels have a few good years left in them before the next downturn -- all argue for small investors sitting tight while the big boys fight this out. You're going to get paid sooner (by Anbang) or later (as that Marriott stock gets more valuable).
This article is commentary by an independent contributor. At the time of publication, the author held no positions in the stocks mentioned.