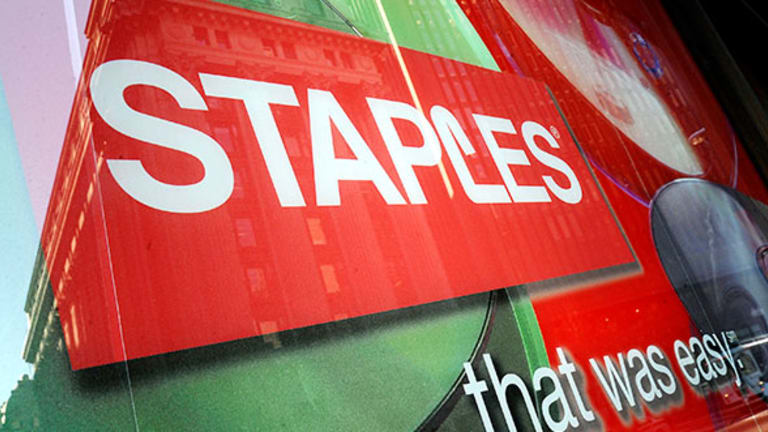 Why Staples Will Continue Shrinking in America
The office supplies giant remains focused on closing stores.
There is likely to be one constant for Staples (SPLS) in coming years -- the continued shuttering of a ton of its hulking U.S.-based office supplies stores.
"We take a look at our stores and how they are performing in each market and what the network is, and make business decisions based on that and we will continue to do that going forward," Steven Matyas, president of North American Retail at Staples, told TheStreet in an interview when asked about the potential size of the company's store base five years from now. He added, "We will focus on making good business decisions and rationalizing where necessary."
Matyas confirmed Staples will close 46 to 50 stores in North America this year, as it attempts to slash costs and reinvest the savings in lower prices to better compete with the likes of Amazon (AMZN) - Get Report  in the wake of its failed bid for Office Depot (ODP) - Get Report .
Staples has closed -- or rationalized -- more than 300 stores and reduced its lease obligations by more than $1 billion in North America since 2011. The company ended the first quarter with 1,288 stores in the U.S.
In May, now former Staples CEO Ron Sargent pinned the blame for the company's shrinking retail presence mostly on its biggest digital foe. "Yes, obviously I won't be talking about Amazon's business specifically, but our views there haven't changed at all. We still think they are a very strong competitor in retail, online and and in contract [business]," Sargent told analysts. He stopped short of saying Staples stores were an albatross to the company's future.
"I can tell you I think stores still provide a competitive advantage for us; people still want to shop in stores," stressed Sargent.
Judging by Staples' bottom line in the first quarter, shutting stores to save some money may not be such a bad idea.
Same-store sales at its more than 1,600 stores in the U.S. and Canada fell 4% in the first quarter. Store traffic and average order size each declined 2%. Operating income for the North America stores segment fell 17% year over year to $62 million.
Sales plunged by double-digit percentages in tablets and tech accessories, and declined by a low-single digit percentage in ink and toner. On the plus side, Staples had some success selling furniture, office supplies, facilities supplies, and copy and print products.
Staples' first-quarter earnings, adjusted for one-time items, were unchanged against the prior year at 17 cents a share. Wall Street expected 16 cents. Total sales of $5.1 billion matched estimates.
Lackluster profit at its stores in North America early this year is nothing new for Staples. In 2015, the segment's operating profit declined 9.3% from the prior year to $429 million. 
Even as it tries to save money by closing stores, Wall Street remains highly concerned over Staples' profit potential. Shares have nosedived about 42% over the past year compared to a 2% gain for the S&P 500.